The Top 4 Benefits of Rapid eLearning for Corporate Training
Do you need a course developed at a rapid pace and at low cost? Rapid eLearning is the solution you are looking for. In this blog, I will outline the top four advantages of rapid eLearning.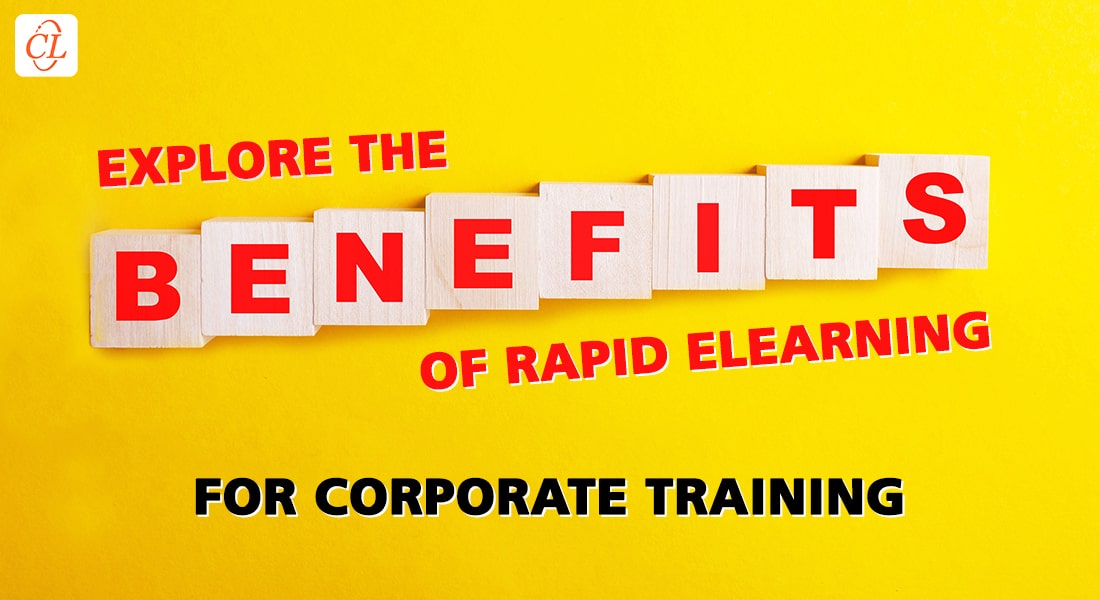 Do you feel it takes too much time and money to create high-quality eLearning courses? What if I told you that isn't the case? With the worldwide COVID-19 pandemic influencing how we approach training; it's become critical to shift our perspective and to rapidly create courses. Developing online courses is becoming increasingly difficult in the face of diminishing budgets and timetables. This is where Rapid eLearning comes in!
Rapid eLearning is distinct from traditional eLearning because it:
Reduces the time and expense of course development
Uses an agile project management method
Increases learner engagement
What are the Benefits of Rapid eLearning for Corporate Training?
Rapid eLearning:
Ensures Quick Rollout
Caters to Millennials
Enhances Training ROI
Supports Multilingual Translation
What exactly is Rapid eLearning you might ask? Rapid eLearning isn't, for example, the use of an authoring tool to build a well-designed PowerPoint presentation. It isn't a lack of inventiveness. It isn't creating boring and uninspiring courses. Rapid eLearning is the Occam's razor of the eLearning world. In other words, it's the faster, leaner version of custom eLearning.
One of the most effective and efficient methods to keep your employees motivated, engaged, and productive is through eLearning. We must adjust rapidly to meet the demands of these changing times. We must take prompt action and upskill employees vis-a-vis rapid eLearning courses built on demand. The more dynamic and current a company's approach is towards training, the more likely it will succeed.
Let's investigate the advantages of rapid eLearning for corporate training now that we've learned more about what it is.
The Top 4 Benefits of Rapid eLearning for Corporate Training
1. Ensures Quick Rollout
Rapid eLearning can save the developers' time by 40 to 60 percent, as they learn to leverage the capabilities of authoring tools and their inbuilt templates to create interactivities and games, as well as use content libraries to design layouts and assessments. It is ideal for corporate training when courses need to be rolled out at short notice. It makes little sense to commit unnecessary time and effort to something that can be accomplished in just a few weeks, especially when the course has a short shelf life.
Rapid eLearning minimizes complicated multimedia features in favor of strong instructional design principles that result in courses that are quick, straightforward, and focused, making them easier to comprehend and recall.
Corporate training is no longer optional for individuals who work from home. Organizations must implement employee training on digital platforms. Rapid eLearning has proven itself as the champion of the corporate training domain.
Most senior management executives work under tight schedules. Rapid eLearning solutions can be developed and rolled out in weeks compared with regular eLearning courses that require months. The faster you train, the faster you get results. The term "rapid eLearning" has become the latest buzzword in the corporate training world.
2. Caters to Millennials
With Rapid eLearning, training can be done in much shorter periods of time. It doesn't have to be tough when creating eLearning courses that cater to the demands of the present-day intergenerational workforce. Rapid eLearning makes learning more interesting by embracing instructional design and adult learning principles and providing learners' access on their mobile devices at any time and from anywhere. You can choose from different eLearning strategies such as microlearning, social learning and virtual training:

Microlearning
Microlearning provides bite-sized learning nuggets that are suitable for learners on tight schedules. Despite there being a range of microlearning assets to pick from, the course's format should be determined by the learning objectives. Keep in mind that form must always follow function!
Social Learning
Implementing video conferencing with the added features of chat rooms and discussion forums is a great way to ensure that learners learn from one another. It is not necessary for social learning to take place in person; it can take place during online courses too. The interactions in a live classroom can be mimicked online using social learning methodologies.
Virtual Training
The pandemic has disrupted training to such an extent that online training is being used to compensate for classroom training. Rapid eLearning makes it simple to create digital assets to be used in self-paced courses as well as in virtual classrooms. Millennials are a significant part of workplace demographics. According to the Pew Research Center, millennials already make up more than 35% of the workforce and are expected to reach 75% by 2025. As a result, it is critical to meet their needs to ensure successful learning.
3. Enhances Training ROI
When it comes to return on investment (ROI), everyone prefers to use rapid eLearning. It is one of the main reasons why training ROI has grown. Rapid eLearning concentrates on the essentials leaving out the bells and whistles. Rapid eLearning courses are extremely cost-effective while also containing vital information. Rapid eLearning comes with a few key benefits such as it:
Develops online courses that adhere to adult learning principles and are supported by robust instructional design.
Reduces the time taken to develop courses by about 40%.
Enables easy reviewing and updating.
Allows for the rapid rollout of responsive courses.
"ROI" is every training manager's worst nightmare. Return on investment is proof that your training is producing the desired outcomes. However, it becomes a challenge when persuading senior management. Rapid eLearning course development has a favorable influence on ROI as courses are designed to fulfill learning objectives for maximum impact on business outcomes. Training ROI rises when development costs are low and training outcomes are high.
4. Supports Multilingual Translation
Translating courses into several languages can be challenging unless done correctly. Rapid eLearning uses Computer Assisted Translation (CAT) technologies to convert the primary language used on the course into multiple target languages. Learners around the globe will be able to access courses in the language of their choosing through a simple drop-down feature called multilingual wrappers.
The first step in providing effective training and connecting with your staff on a global level is to translate your online courses into different languages. Employee training sessions that are translated result in improved knowledge retention and quicker solutions, resulting in fewer complaints and less troubleshooting. As a result, there is an improvement in business growth and profitability.
Summing it Up!
When it comes to delivering training on demand, rapid eLearning has shown its resourcefulness. The days of waiting for months to pass by to launch an eLearning course is over. Rapid eLearning reduces the time and expense associated with eLearning course development, and it does so without sacrificing learning efficacy, making it a welcome addition to any organization's corporate training arsenal.
Now that you have touched the proverbial tip of the iceberg that is rapid eLearning, how about delving deeper? Here's a free eBook called "Rapid eLearning Design for Quick Rollout" that you can download to learn the five key steps to creating quality courses with speed.