How Rapid eLearning Services Can Transform Your Corporate Training Initiatives
Wondering how rapid eLearning helps your corporate training initiatives? This blog will help you understand. Continue reading to know more about Rapid eLearning Services that help you rollout eLearning courses faster without compromising on the quality!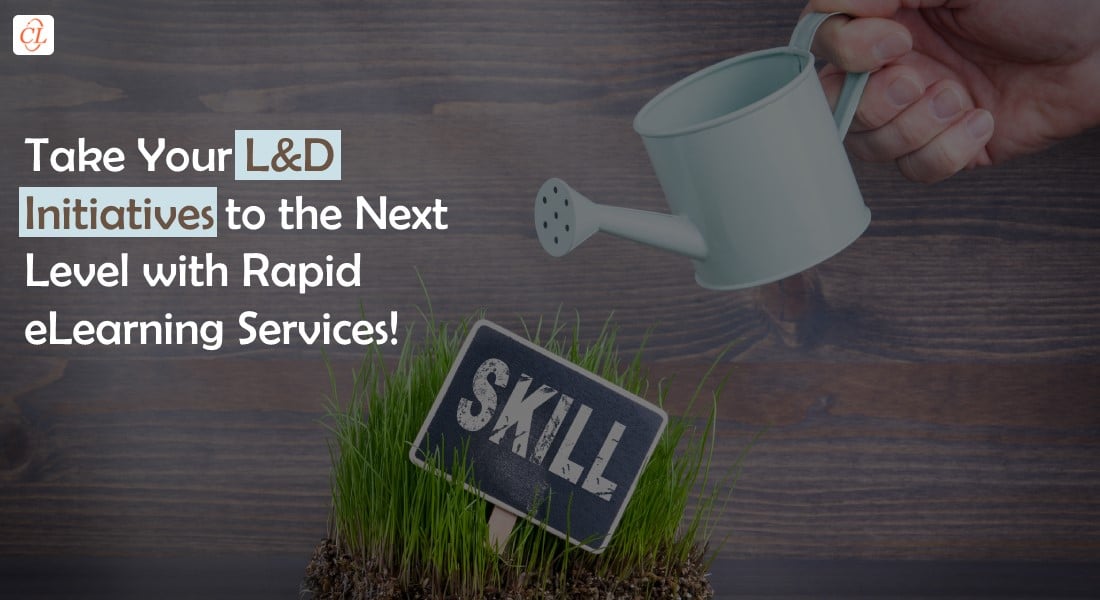 Rapid eLearning development serves as the best solution for organizations looking for a quick rollout of their online learning courses, while also keeping the budget at bay. Through traditional eLearning development, organizations had to spend from months to a few weeks to develop a single eLearning course. But by opting for rapid eLearning services, the time spent on development comes down to a few days. But if you ask, rapid eLearning services are not only about faster course development! The benefits go much further. Some of the benefits are –
Reduced development costs
Direct yet minimal involvement of the time of Subject Matter Experts (SMEs)
Ease of maintenance and upgradation
Scope for reusability by using templates
But how exactly can rapid eLearning services be used to address your training needs? Let us discuss the three key areas where rapid eLearning services can help –
How to Use Rapid eLearning Services For Your Corporate Training?
Here are three ways –
For Classroom Training to eLearning Conversions
For Flash to HTML5 Conversion
For eLearning Translations
Converting Classroom Training to eLearning
Corporate training is integral to an organization aiming at sustainable growth. Training acts as a catalyst to boost employee productivity, and job efficiency, and improves organizational performance on the whole.
L&D leaders and learning managers have used instructor-led classroom training for several years but thanks to the advances in learning technologies, organizations have moved to eLearning to deliver corporate training. The switch to eLearning has grown to become more prominent in recent times, especially in the wake of COVID-19.
While the switch is evident, several organizations are still wondering about the existing classroom training content! What can be done about it? Well, rapid eLearning solves this concern.
Rapid eLearning offers the perfect solution to convert classroom training to eLearning modules while retaining the essence of traditional learning.

Redesigning, which is one of the best features of rapid eLearning, allows to repurpose existing content to make it more suitable for online learning. The development process reuses content types including text, images, videos, audio samples, quizzes, and more, making it possible to roll out online training material in a short time.
The instructional design strategies and authoring tools used in this rapid eLearning service help in converting the traditional training material into more interactive and engaging online learning material.
At the same time, the Agile Project Management used makes it possible to monitor and improve the eLearning modules continuously.
Flash to HTML5 Conversion
Following Adobe's announcement that it would no longer be supporting Flash, the eLearning industry went into a frenzy. Converting legacy courses to HTML5 serves as a viable option. Rapid eLearning makes it possible through its 4R strategy.
A robust Flash to HTML5 conversion strategy involves four Rs –
Record
Republish
Rebuild
Redesign
Record: This step involves recording legacy courses developed on Flash into MP4 formats. The files recorded can include Flash courses without source files, files with basic recall, or ones having low-level interactivities.
Republish: This step involves republishing all the Flash courses developed in older versions of authoring tools to a newer version of the same tool. Republishing can happen only when you have the source files of the courses.
Rebuild: This step is ideal when you have relevant Flash-based courses that need minor edits to make them modern. Such courses can be rebuilt using modern rapid authoring tools.
Redesign: This step is ideal when the Flash course content requires rework concerning instructional design, major content updates, or redesigning them into microlearning assets.
Rapid eLearning authoring tools along with the right instructional design strategies can help convert Flash courses to HTML5. The conversion makes the courses more modern, mobile-friendly, and device-agnostic.
Additionally, the modern eLearning authoring tools supported by HTML5 make it easy for language translation. This is a boon for multinational companies (MNCs) that require language translations with their eLearning materials to cater to their globally dispersed workforce.
eLearning Translations
eLearning translation refers to the process of converting training courses from one language to the other. However, it is not about true word-to-word translation. The translation has to be done while retaining the essence of the course intact. By opting for rapid eLearning for the translations, you can be assured that the work is done by native language experts. They understand the context and work on the conversion to make the courses more meaningful even in the target language.
Using rapid authoring tools, ensures accuracy of the text and also makes sure that the images and the tone of the language are culturally acceptable in the target language.
Rapid eLearning helps in eLearning translations by making sure that –
The work happens in the presence of subject matter experts (SMEs).
Has qualified, native translators and audio narrators to perform the task.
Advanced memory tools are used for translations that were performed earlier.
Content is double checked for language/ context errors.
The translated courses are delivered along with source files.
Summing Up
Be it classroom-to-online learning conversion, Flash to HTML5 conversions, or eLearning translations, rapid eLearning is the way forward. The agile project methodologies of rapid development, and its features like reusability and redesigning of the content, and less coding, accelerate eLearning development without compromising on the quality. Rapid authoring tools – which are at the heart of all rapid eLearning services – make it possible to create faster, more engaging, cost-efficient, and high-performing eLearning content.
Interested to learn more about rapid eLearning development? This eBook is an ideal guide for you!
Editor's note: This post was originally published in December 2022 and has been updated for comprehensiveness.