How Elucidat Can Create Impactful Rapid eLearning Courses for Your Corporate Training
Rapid eLearning courses are developed with the help of rapid authoring tools and Elucidat is one of the most popular online platforms to build interesting courses for a large number of learners efficiently. Explore the various features of Elucidat in this blog.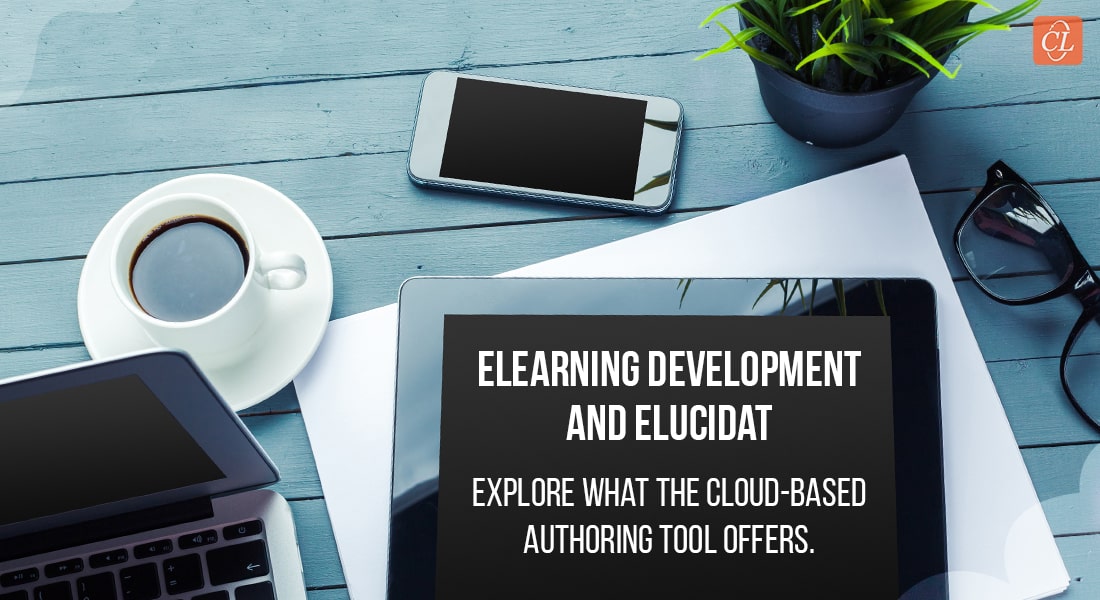 Designing eLearning courses have come a long way, from long paragraphs and videos only accessible on desktops to using multiple instructional design strategies that can engage multigenerational learners effectively. There are multiple authoring tools available to create interactive and engaging rapid eLearning courses. Some are desktop-based while others are made for cloud-based development. Elucidat is one such authoring tool/platform that is entirely cloud-based that helps the learning and development teams to develop and scale their rapid eLearning courses efficiently. This blog will highlight some of the features of Elucidat that makes it one of the most popular cloud-based modern authoring tool.
Have You Tried Elucidat to Develop Effective Rapid eLearning Courses for Your Corporate Training?
Here is an overview of its features to get started –
Easy authoring
Brand control and user management
Content management and collaborations
Interactive assessments and personalized reports
Security and accessibility
Introduction to Elucidat
Elucidat is a cloud-based authoring tool that focuses on developing HTML5-based rapid eLearning courses and enables a lot of options for customization, globalization, management, and security. Some of the basic advantages of using Elucidat are that it consists of easily customizable templates for courses and assessments, enables easy eLearning translations, and seamlessly develops responsive eLearning courses. Apart from these basic functions, it has a lot of advanced and unique functions that help the developers build professional eLearning courses efficiently.
Elucidat provides a 14-day free trial but it does not reveal its pricing model, so you have to contact them directly for their premium subscription of different plans.
5 Most Important Features of Elucidat
1. Easy Authoring
You can either choose to work on templates provided by the platform or create your own company-specific templates. If you choose templates from the platform, you get a downloadable storyboard with a live example supported by in-line guidance. You can easily view the structure of your rapid eLearning course by adding, moving, and setting the page types as you can easily see the changes you do, because of its "what you see is what you get" approach.
As we previously discussed, the courses are already developed with a responsive design, you can actually see how your content looks on different screens and make changes to the images and other media as per the selected device. You can completely customize the page layouts and save your custom-made templates, and even reuse them as much as you want. Multiple advanced features of Rapid eLearning authoring tools like Elucidat makes the development process very easy and efficient.
2. Brand Control and User Management
Elucidat can help you to create custom templates that will help you with the branding of your rapid eLearning course. You can choose and save the preferred fonts, colors, and logos for later use and even customize them as per your preferences. You can even select the icons and themes to use throughout the project. All of your users can be assigned different roles and each role can have its own permissions. As a developer, you can add or remove the authors of your course as per your choice. You can even edit roles and create custom roles that suit your requirements and the permissions under each role can be managed as well.
3. Content Management and Collaborations
You can manage all your multimedia like videos, audio, closed captions, and images in a single place. You can delete the outdated multimedia and update with multiple latest assets at once. Mass updation of assets saves you from the hassle of going through every project individually. Apart from accessing the course through a learning management system (LMS), another option called online link release produces a unique URL enabling the users to access the course on any browser.
You can invite anyone to drop their reviews and feedback on your course which helps to improve the quality of content and fix any errors during the development process itself. You even get a dedicated review page to review the resolved comments left by different stakeholders, subject matter experts, or your team members.
4. Interactive Assessments and Personalized Reports
You can create multiple groups of question papers and randomize the questions so that every time a learner accesses them, they get to see fresh quizzes, and doing so will help the learners with knowledge retention. You can set a margin, users scoring below the margin are marked as fail, whereas the others are marked as pass. After the assessments are finished, users can see their scores and their status. You can even include different types of badges instead of just mentioning pass and fail.
Apart from interactive assessments, you can also generate reports about the status of an entire rapid eLearning course. If there are multiple courses, you can easily figure out which learner has started or finished the course, and if they are mid-way, how much percentage is either completed or left using the analytics suite.
5. Security and Accessibility
Elucidat use ISO 27001 and SOC 2 certified providers so the hosting of rapid eLearning courses is strongly reliable and the advanced encryption protocols make sure all your data is secured while it is stored and delivered. In case of any unplanned circumstances, there is an option to restore and recover most of your lost data. All the courses that are developed within the platform support all eLearning formats like HTML5, SCORM (1.2, 2004), and xAPI (TinCan) and follow the section 508 accessibility standards. For people with disabilities, the courses can also be consumed with the help of a JAWS screen reader, OS X Voiceover, and Window-Eyes.
Parting Thoughts!
Elucidat allows developers to create engaging and impactful eLearning courses flexibly for any device and scale them exponentially because of its vast customization options. You can deliver eLearning to your global workforce with the help of its built-in translation tools and options. Apart from Elucidat, there are other popular authoring tools such as Adobe Captivate, Articulate Storyline 360, Lectora, etc, and each one of them has its unique features. To help you choose perfectly, we have an eBook that covers all the required insights about different authoring tools. Grab your copy now to choose the rapid authoring tool that's just right for you!