How Rapid eLearning Accelerators Ensure eLearning Development is 'Truly Rapid'
For rapid eLearning to stay 'truly rapid' certain tools, technologies, and strategies are effectively utilized, and they are collectively called as rapid eLearning accelerators. This blog ensures you are aware of the most popular and effective ones.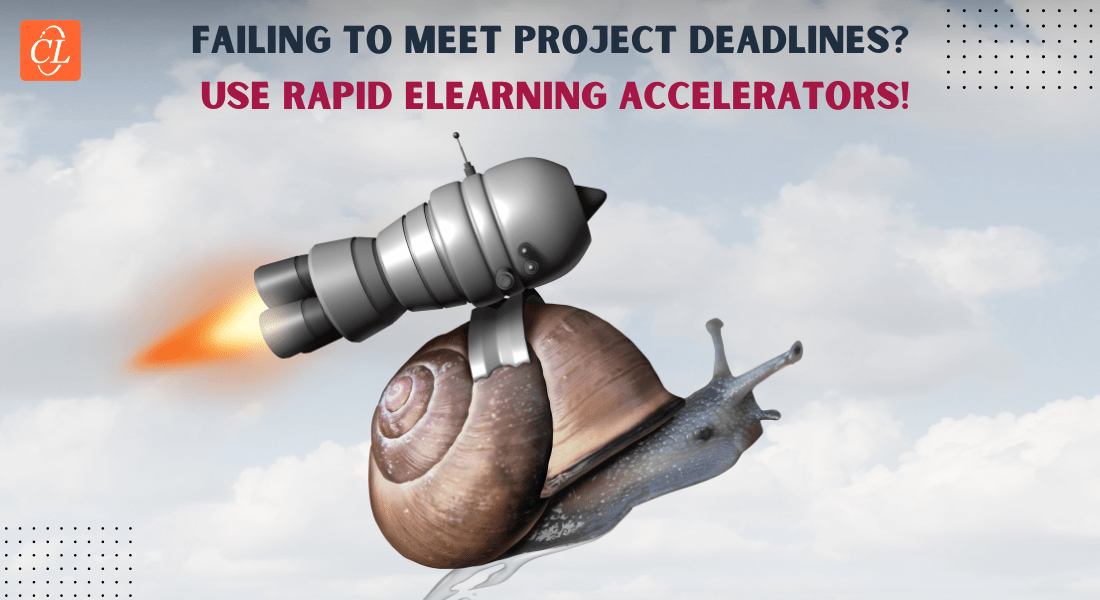 In today's fast-paced world, time is of the essence, and eLearning is no exception. Introducing rapid eLearning, the revolutionary approach to creating engaging and interactive online training courses and assets in a fraction of the time required to develop conventional training materials. Imagine being able to deliver high-quality eLearning courses to your employees or customers in a matter of days instead of weeks or months. With rapid eLearning accelerators, this is now a reality. Say "goodbye" to long development cycles and "hello" to effective and efficient training that keeps pace with the demands of today's digital world.
Failing to Meet Project Deadlines? Utilize Rapid eLearning Accelerators!
Explore the primary ones below –
Rapid eLearning authoring tools
Learning management systems
AI translation tools
Game-based learning platforms
Read on to discover more rapid eLearning accelerators and their multiple use cases.
What are Rapid eLearning Accelerators?
Rapid eLearning accelerators are tools, techniques, and strategies that help speed up the development of eLearning content and make rapid eLearning 'truly rapid'. They provide a streamlined approach to creating high-quality training assets, reducing the time and resources required to produce them. With the help of these accelerators, organizations can quickly and efficiently create and deliver high-quality eLearning courses to their employees or customers. Read on to explore the top 6 rapid eLearning accelerators you need, to win your race against time.
Top 6 Rapid eLearning Accelerators
1. Rapid eLearning Authoring Tools
Various advanced features provided by rapid eLearning authoring tools lay the foundation for eLearning design and development to be actually "rapid". Some of the most important features are responsive authoring, external tool integrations, access to a huge multimedia asset repository, online review tools, and pre-built customizable templates. These features ensure that the quality of eLearning courses is entirely maintained whether it's their visual appearance, instructional design, assessments, or their ease of access. To speed up your development process even more, it is advised to opt for cloud-based authoring tools such as Lectora Online, dominKnow, and Elucidat.
2. Customizable Templates and Multimedia Asset Libraries
Professional course templates take a lot of time when designed from scratch but when they are pre-built and customizable, a lot of time, money, and effort is saved. Authoring tools are not the only software that provides you with templates, so they can be listed as separate rapid eLearning accelerators. The same goes with multimedia asset libraries, authoring tools do have a huge collection of various elements such as images, backgrounds, characters, icons, audio clips, videos, stickers, etc but there are other platforms that can also provide you with equally relevant assets for your specific needs.
3. Learning Management Systems
If authoring tools are responsible for the design and development of rapid eLearning courses, an LMS is responsible for the seamless hosting, administration, management, ease of access, and delivery of these courses. A modern LMS comes with a lot of advanced features such as data relocation, personalized learning analytics report generation, multiplatform accessibility, and built-in gamification tools. Choosing an LMS with a friendly user interface and seamless user experience is recommended to maximize learner engagement and boost the course completion rate. Modern LMS platforms such as Docebo, 360Learning, and Continu have been incorporating the features of LXPs as well to provide an entirely personalized learning experience.
4. AI Translation Tools
The need for eLearning translations is as important as the other aspects of a course such as its design, development, and administration because they ensure the courses are seamlessly accessed in learners' native language. Translations are not limited to text-text ones, or speech-speech, there is a need for text-speech, speech-text, and mixed translations. Most of the modern rapid authoring tools come with translation and localization features but external platforms such as DeepL Translator, Google Translate, Amazon Polly, Microsoft Azure Speech Studio, etc are equally capable of doing the needful.
5. Photo and Video Editing Software
Apart from the photos, videos, and other related assets provided by multimedia asset libraries and other sources on the internet, there is a need for custom content as well. The importance of photo and video editing is well-known to the world, and eLearning course development is no different. Custom images, videos, gifs, infographics, backgrounds, characters, and other important visual assets required either for your course or supplementary resources are designed and edited through these editing softwares. You can do the basic editing using authoring tools itself but for highly personalized edits, you can opt for external software such as Canva, Photopea, Synthesia, etc.
6. Game-based Learning Platforms
The idea of incorporating game elements within eLearning courses to maximize learner engagement is not an entirely new approach but it's definitely among the most popular ones. To use the power of gaming, you can either gamify your courses or provide training directly through games. Both approaches share a common narrative and to make things hassle-free, you can use online game-based learning platforms such as Kahoot!, Gametize, and Quizizz and provide a gamified learning experience. When you have to provide game-based learning, you need to use game design software such as Unity, Unreal Engine, Buildbox, GameMaker, etc.
Parting Thoughts!
In the coming future, rapid eLearning is clearly on its way to be more "rapid" because of the everyday emerging technologies and obviously our creativity when it comes to using them. Due to this, rapid eLearning accelerators are going to be more extensive and efficient as well, so if you want to reduce even more development time and effort, make sure you utilize AI technologies effectively. To understand more about how you can use the various rapid eLearning accelerators, you need to be aware of what's trending in the eLearning industry. Discover the latest eLearning trends for the year 2023 with the help of this free eBook.