Are You Ready For E-learning? 5 Questions You Need To Ask Yourself
Answer these 5 simple questions to know if your organization is e-learning ready.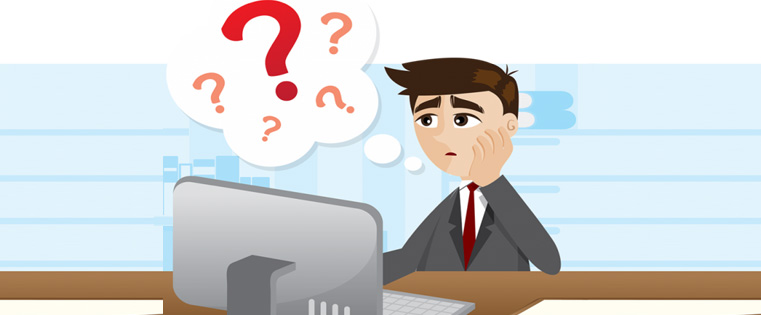 With ever-changing training needs and employees spanning across continents, training today has become more challenging than ever. Training managers are donning different hats to keep up with the changing trends in and out of the organization, from keeping an eye on the changing legislations to monitoring changes in skill development and delivering training that drives both short- and long-term results. Training managers are on a constant vigil to manage and sustain training programs that are aligned with the changing business goals.
An easy way to do all these and much more without spending too much time and money on resources is e-learning! Most organizations have adopted e-learning for its many benefits such as breaking the barriers of space and time for anytime, anywhere training thereby making life and training easier for everyone.
However, before you jump onto the e-learning bandwagon, you need to know if your organization is ready for e-learning. For this, answer these 5 simple questions to know if your organization is e-learning ready!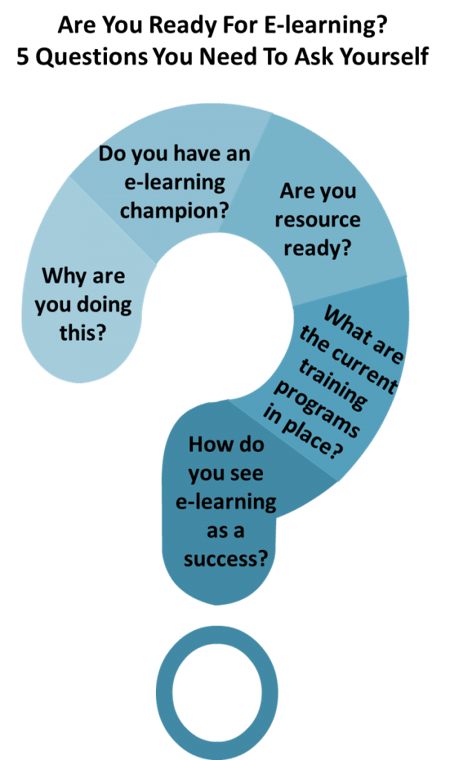 Q1. Why are you doing this?
A simple yet powerful question that makes you introspect on why you need e-learning. Are you opting for e-learning because it is the trend of the day and that everyone else is using it? Or is it because you have major training gaps across different departments that need to be addressed as soon as possible?
If the answer to this question is:
I am opting for e-learning because it is the trend now – You need to reconsider your options, because e-learning is much more than just a trend. It's a global platform to disseminate training to employees worldwide.
I have major gaps in my training programs – Then e-learning is the answer for you! E-learning is the ideal option to address your training gaps; it is not only a great platform to train your employees, but it can also be seamlessly blended with your current classroom training programs. E-learning is a great asset, as it can be used as a standalone or a blended platform for training.
Q2. Do you have an e-learning champion?
The success of your e-learning initiative solely lies in your commitment as a training manager. Mostly, it is the training manager who is the e-learning champion in the organization; however, there can be other individuals in the organization who are equally passionate about good training and act as an e-learning evangelist. Having an e-learning champion for your cause will enable you to:
Reach out to more employees to advocate and motivate them to adopt
e-learning.
Set the stage for change and act as a support to tackle resistive learner attitudes.
Q3. Are you resource ready?
You can't just start e-learning in a day! You need to have a specialized team in place long before you launch your first e-learning course. Remember that e-learning isn't a one-man job but a team effort, where every individual plays a crucial role before you roll out your course. Ideally you need the following resources:
Project manager
Instructional designer
Subject matter expert
Multimedia developers
If you already have these resources, then well and good; if not, you may need to hire them for your e-learning project. Another option to save money on resources is to outsource your e-learning, as e-learning vendors are equipped with a specialized and expert team of designers.
Q4. What is the status of your current training programs?
The state of your current training programs speaks volumes about the progress your employees are making. Commonly, organizations make a move from the classroom to the computer in a hurry, doing away with valuable information that could still be indispensable to the organization. For instance, if you have a classroom training curriculum in place, then you can:
Blend the classroom and e-learning for a short period of time to provide a transition
Create learning activities that start with e-learning and end in the classroom.
This can be done until your employees are completely comfortable with e-learning.
Q5. How do you see e-learning as a success?
Convincing people to take up e-learning is just a part of the process; your success is defined by the training parameters you set. Did your e-learning have a good completion rate? Were your learners able to use the knowledge they have learned through e-learning in their jobs? Did you make any significant gains and savings in costs and productivity? If all these questions have an answer "yes," then congratulations! Your e-learning initiative has been a huge success; however, if the answer is "no," then retrospectively analyze to see the missing link where e-learning fell behind.
There are several ways to determine the success of your e-learning program:
Significant improvement in employee skill
High course completion rate
Tracking learner progress and results
Closure survey to asses if the course was useful to the learner
Before you jump into e-learning, take some time to answer these five questions. Answers to these questions will serve as eye openers to your current e-learning program. It will also help you move forward and be better prepared in your e-learning initiative.