Choosing an E-learning Vendor? Review this Checklist First
Read this blog for a checklist to help you choose the right e-learning vendor.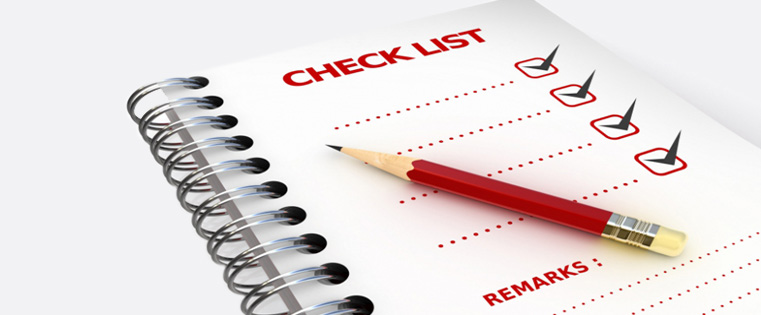 If you have decided to buy your e-learning course or outsource it to a customized e-learning solutions provider, the next step is to choose a reliable e-learning vendor.
You have to choose carefully because there are many companies out there claiming to provide quality e-learning. This is possible only if you know what you are looking for. The best way to do this is to focus on some key areas of e-learning development and ask the right questions from a potential e-learning vendor.
Check these aspects
Composition of the team: In an earlier blog, I talked about the large group of people with diverse skill sets involved in e-learning development. Before choosing an outsourcing partner, it is important to check whether the vendor has a qualified team in place. Check if the team members have the right qualifications and at least 3 to 4 years of experience. Also find out if they would be willing to scale up the team if there is a sudden expansion of the project.
Experience: Experience is an important factor; look for a vendor who has more than a decade of experience. Look at the various organizations the vendor has worked with, this will indicate their understanding of an organization's unique needs and requirements. Experience means the vendor has worked across industries, understands what will be needed, and can suggest the best products and solutions for your needs.
Past work: Ask for samples, demos of past e-learning courses, especially those related to your industry, executed by the vendor. This will give you an insight into their skills in learning design and development. It will help you assess their ability to use appropriate instructional strategies such as scenarios, simulations and other elements such as videos you are planning to include in your course.
Development process: When choosing between vendors, you should understand the development process they follow because there are certain key development steps in the e-learning process. These are:
Content comprehension and finalizing the instructional strategy
Storyboard creation
Prototype and course development
Making the course LMS-compliant
Check if the vendor follows these steps, this can be done by checking the process followed in past projects. Also, find out if their development process is flexible to accommodate the iterative nature of e-learning development.
Focus on e-learning: Ensure that e-learning is their major line of business. If e-learning is their core competency, then you can expect quality output from them. Some companies offer a wide range of services and products under the e-learning label. You need to make sure they can deliver what you need.
Ask these questions
Experts stress on the need to ask potential vendors questions during your interactions with them. They say this will give you more information about them than going through their website or reading about them. It will be helpful if you have a checklist of questions that will help you do a consistent comparison between vendors. Here are some pertinent questions to be asked:
How long have you been in business?
This will indicate the experience of the vendor in the e-learning business and will help you make a quick comparison, the longer in business the better! You can follow this up by asking how many projects they have delivered. A big number indicates a smooth development process with iterations based on past experience and the ability to handle unexpected situations.
Do you have references?
Ask for 3 or 4 references similar to your profile from the vendor. Contact these references and assess the vendor by asking them about details of projects handled by the vendor, technology or software used to develop the project, and adherence to deadlines and the budget.
By contacting these references, you can get an insight on the responsiveness of the vendor and how challenges and setbacks in the project were handled and the level of customer service.
Can you provide samples?
Ask the vendor to provide a few samples of their work –final course samples. This will give you an idea of their expertise. This will also help you assess whether the vendor can meet your needs and expectations.
Can you explain your project management process?
Understanding the project management process of the vendor will help you gauge their project approach which should ideally be clear and easy to understand. This should help you assess whether they adhere to a plan, will warn you of hitches, and whether they will deliver on time within the agreed budget.
Will you be able to provide a 'proof of concept'?
Asking the vendor to provide you a 'proof of concept', either a prototype or a rough storyboard with a 'no obligation clause' helps you qualify the right vendor. The vendor's willingness to provide a sample will indicate confidence and commitment toward customers.
What is your level of technical expertise?
To ask intelligent questions on this aspect, do some research on general e-learning software. Find out whether the vendor has:
Licensed software and authoring tools and the expertise to use them
Expertise in developing SCORM/AICC compliant courses
Access to a paid image bank
What is the 'cost to quality' ratio?
While selecting the vendor, consider the 'cost to quality' ratio. This means considering not only the cost of your e-learning but also determining what you will get out of your investment. When you are clear about the scope – what you want from the project – it is easy to compare vendors in terms of cost and what they will deliver for it. You can also do a comparison by asking about the actual costs of samples provided by the vendors. Most often, the cost would be in terms of charges per learning hour. This will boil down the parameters and make it easy for you to compare.
When you decide to outsource your e-learning requirement, it is important that you have a detailed checklist before selecting a vendor. This will come handy in the future as well, when you plan to scale up your e-learning requirements. For more tips on choosing an e-learning vendor, download our free e-book.