3 New age Learning Strategies for Effective Online Training
Training managers find it difficult to keep up with emerging developments in the eLearning sector. Here's a blog that takes you through three new age learning strategies that can help you improve your online training experience.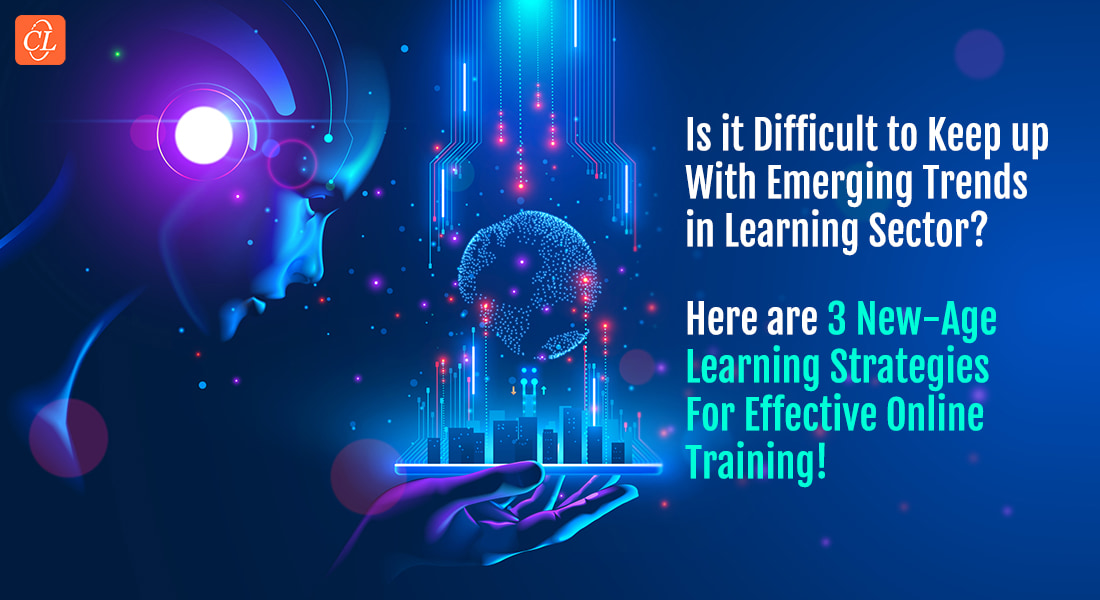 Let's face it. People benefit from the shared experiences and thoughts of others. It's critical to emphasize the significance of personalized learning experiences. Also, a good learning environment is dependent on proper planning and design. As we move away from mandatory corporate training programs, it's time to implement flexible learning strategies for impactful online training. L&D (Learning and Development) teams must redesign advanced learning methodologies and incorporate the appropriate technology into the learning process, as this breathes new life into the learning environment. It's now time to prepare for the next generation of corporate training experts!
It's Easy to Grab Your Learners' Attention with New-age Learning Strategies.
Are you wondering how?
Here are 3 new age online training strategies that can help you:
Social Learning
Microlearning
Gamification
What is New-Age Learning?
The traditional "chalk and talk" method of training, that L&D teams used for several years now, fast-paced technology has taken center stage and replaced by fast-paced technologies. This generation is more comfortable with collaborative workspaces and online technologies. Previously, generations relied on pen and paper. However, in the modern era, the impact of technology on training is unescapable.
For the uninitiated, eLearning is learning that takes place in an electronic, dynamic environment, and L&D teams are adopting it even more in recent times. This is confirmed by the appearance of technologies, such as interactive whiteboards and online classes.
Rather than remaining a niche training strategy, eLearning is quickly becoming the dominant method of imparting knowledge to people of all ages. However, because it's still a relatively new concept, it's always growing and changing.
We've compiled a list of trends that we believe can shape the future of eLearning and its place in the corporate world. This blog is for training managers who want to invest smartly in training and reap benefits in the years to come.
3 New-Age Learning Strategies
1. Social Learning
When you apply the fundamental components of human interaction and group dynamics to the current digital age and the result is social learning. Collaboration has never been more productive, efficient, or easy towing to social learning and its implementation in the electronic arena. This new age learning strategy includes online forums, chat rooms, and file-sharing platforms. Teammates can now engage with each other and gain assistance from anywhere, and at any time.
2. Microlearning
Microlearning is a versatile new age learning strategy that you can use to improve individual performance in a variety of ways. It presents information in small, easily digestible chunks of information, and each module focuses on one learning goal. Learners can complete each mini module in 5 to 10 minutes at one go. Microlearning modules come in a variety of formats, including videos, GIFs, quizzes, animations, infographics, and interactive PDFs.
3. Gamification
Gamification is a technique that uses gaming elements and integrates them with eLearning. It is the most rewarding learning experience. Game-based learning aids in motivating and engaging learners and advancing their online learning experience. It's regarded as an excellent strategy for motivating your learners to finish their course.
Final Thoughts
Regardless of the eLearning trend you choose to apply, there are many benefits to be obtained. When you provide your learners with an interactive and unique learning experience you also ensure that they not only learn but also enjoy their training. If you're ready to implement a few of these new age eLearning trends, then check out our free eBook for in depth insights into creating engaging learning spaces!