The Top 5 Best Practices for Microlearning to Take Off!
Organizations seeking to develop engaging rapid eLearning solutions while also not overloading their learners have turned to microlearning. This article looks at the importance of microlearning and its top 5 best practices.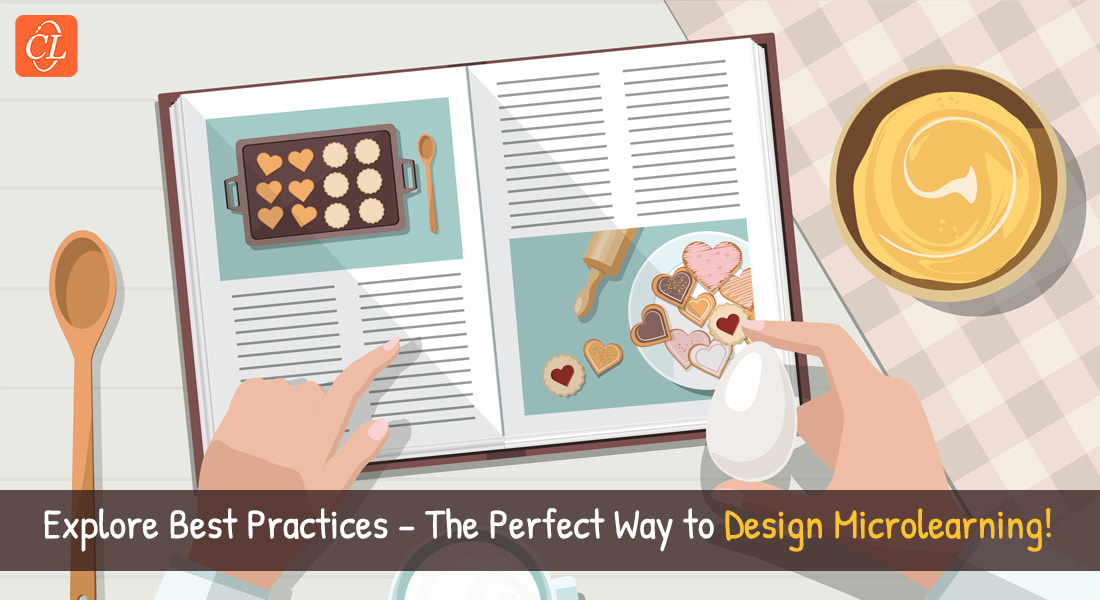 The COVID-19 pandemic has taken its toll on companies across the country, disrupting services and shutting down factories. We need to reconsider our training methods because of shorter attention spans, increased distractions, dynamic workspaces, and the need to keep up in today's fast-paced world. We also need to choose quick ways to remain on top of our work-life balance. One approach is to prepare the emerging workforce for the challenges of the new normal. Thankfully, microlearning for corporate training solves this problem.
What's the secret of effective microlearning?
Here are the top 5 tips to create impactful microlearning:
Assess Learning Requirements
Include Content for a Single Learning Objective
Use Appealing Learning Elements
Ensure Multi-device Compatibility
Make it Fun
Microlearning, as the name implies, refers to mini modules or training material. You might say these courses are too small. It's okay to ask what your learners can gain from microlearning. To answer these questions, I'll use architect Louis Sullivan's famous quote-"form always follows function." Every design is based on its intended function.
Microlearning courses are short, not because they have less relevant information, but because eLearning solutions experts create them to be quick and engaging on purpose. There are several formats that can impart training. They range from PPTs and PDFs all the way to microlearning videos. Microlearning modules are designed based on the module's learning objective. This ensures that form always follows function, and not the other way around.
Examples of microlearning formats include:
Flashcards
Illustrations, infographics, videos, and photographs
Sound bites (audiobooks and podcasts)
Quizzes
Rich media PDFs ‍
People are more likely to employ microlearning modules when L&D trainers are innovative in how they design and deliver them. You have a better chance of engaging learners if you provide a diverse microlearning menu.
L&D professionals use novel channels of training and information dissemination. Microlearning modules can be closely tailored to fill specific knowledge and skills gaps. It helps to be as creative as you can when designing them. This makes microlearning enjoyable for learners and increases and improves their engagement and career growth.
What is Microlearning?
Microlearning is a type of eLearning that focuses on transmitting knowledge in brief chunks on demand. Each microlearning module focuses on one learning objective that lasts 10 to 15 minutes. They are short enough to be delivered in one sitting, and result in incredibly specific and targeted courses. The short and focused information given in a microlearning asset is easier to remember and implement. These assets supplement eLearning and classroom instruction as they are a means for learners to refresh their knowledge anytime and from anywhere. This also provides the learner the opportunity to review and reassess what they've already learned.
Learners prefer short bite-sized learning nuggets, because they:
Are easy to grasp
Are easy to recall
Impart specialized knowledge
Microlearning course developers build these mini modules to offer the desired benefits and serve as a foundation for successful learning. Let's look at some best practices and guidelines to assist in creating the most powerful microlearning:
The Top 5 Tips to Create Impactful Microlearning
1. Assess Learning Requirements
You must analyze the unique demands of your learners for your microlearning training program to be successful. There is no such thing as a one-size-fits-all solution.
A sales representative, for example, may require product training to comprehend their company's product features and recommend the right one. Whereas a service technician may require training to comprehend the product's various parts so they can fix them. As a result, depending on their specific training needs, they would be eligible for a variety of training programs. The first microlearning best practice is to identify the singular learning goal before developing a microlearning module.
2. Include Content for One Learning Objective
Adults, unlike kids, need to know why they are required to attend training. This is critical and is based on adult learning principles.
Microlearning is based on the concept, "one module, one goal." Each microlearning course focuses on and tackles solitary performance-based learning objectives. This way, it:
Provides information that is highly targeted and focused with no duplicate content.
Allows learners to concentrate on what is essential which also bypasses cognitive overload.
Defends against the forgetting curve, that is those people not able to remember what they have learned in a single day.
Microlearning modules need to make an impression in a 10-to-15-minute timeframe. There can only be one learning goal in each module. It is overly broad to think that this form of training tells employees how to be more productive when working remotely. Rather it is likely that these modules address time management skills such as scheduling and task monitoring, and they guide learners on how to eliminate distractions at home.
3. Use Appealing Learning Elements
Even if it is only for a few minutes, no one enjoys reading copious amounts. Reading takes a long time and remembering what you've read can be taxing on the brain. It's critical that you use elements like images and multimedia to assist you when designing microlearning content. Concentrate on the major concepts and come up with a way to portray them with visuals and words. The course developer needs to place the right graphics on the screen. However, keep in mind that the visuals must relate to the learning goal. It's not done to present visuals that divert the learners' attention and don't add value.
Microlearning is all about making a big impact in a short amount of time. What better way to accomplish this than by using visually engaging multimedia elements? This helps your learners to take what they've learned and put it into practice, allowing them to hold this newly learned information in their long-term memory. Interactive components serve as tools for active learning, rather than learners behaving merely as passive onlookers.
Simulations, drag-and-drop interactions, games, and interactive tutorials are all examples of microlearning modules that allow the application of learners' knowledge and abilities. Also, videos and animations help break down complicated concepts.
4. Ensure Multi-device Compatibility
It is critical that your microlearning module functions in a multitude of devices. Use responsive design to guarantee that your course runs well on any device, regardless of size, operating system, or software. Responsive design produces mobile-ready online training content, and it's a great strategy. It gives your learners unrivalled flexibility.
Microlearning courses have an instinctive feel to them due to their short duration. These mini modules are popular because they are not only flexible but highly accessible too. Employees should be able to access microlearning modules anytime, and from anywhere. Microlearning developers create these modules for employees who spend much of their time on the go. Learners have access to microlearning courses using their cell phones, tablets, and computers. Provide your learners with offline access to their online training courses, as it is improbable that your employees would always have an internet connection.
5. Make it Fun
It is no surprise that we learn better when having fun. Employees respond better when they appreciate what they're doing. If the microlearning module is appealing, then it'll boost engagement, participation, and information retention. Uninspiring subjects can be made interesting with a little levity. This makes returning to the microlearning asset something to look forward to.
Wrapping It Up!
The effectiveness of microlearning modules is undeniable. It entails learning from short, bite-sized nuggets of information in quick succession to enhance learner engagement, improve comprehension, and strengthen retention. Gone are the days of boring textbooks and tedious manuals. Time is of the essence in the 21 stcentury. So, why not make the most of it, and go in for designing microlearning courses for your training programs?
If you want to know more about microlearning and find out how it can help you achieve your business goals, then check out this free eBook – Where Does Microlearning Fit in Your Learning Strategy?