4 Key Benefits and Popular Formats of Microlearning
Microlearning solutions provide effective knowledge transfer and better retention as they are short and focused. In this blog, I am going to discuss everything you need to know about Microlearning, its key benefits, and popular formats.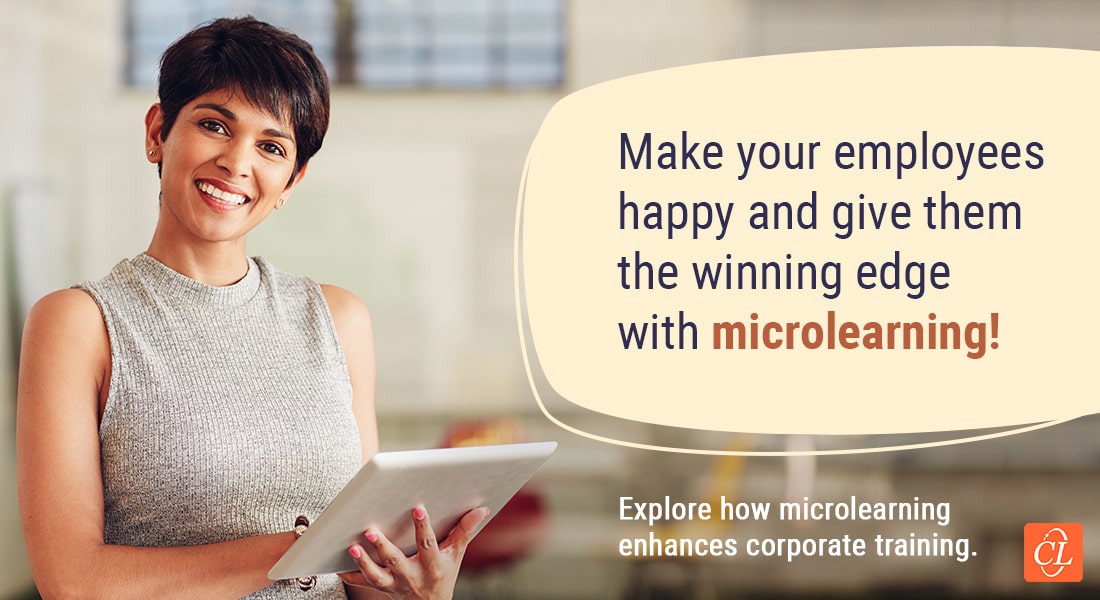 In this era of full calendars and short attention spans, what you need is a learning strategy that is effective, engaging, and fits into everyone's schedule. Microlearning has proved to be a near-perfect training strategy for modern learning needs. Microlearning modules are short digestible learning nuggets that focus on one learning objective and get you desired results and intended performance. With today's ever-changing needs microlearning can be your trusted learning partner.
Microlearning — Proving Big Things Come in Small Packages!
Here Are a Few Key Benefits of Microlearning
Offers short bite-sized learning modules
Focuses on a Single Learning Objective
Provides Multi-Device Compatibility
Supports Different Types of Training
Are you confused whether to include microlearning in your learning program? In this blog, I am going to discuss everything you need to know about microlearning to make it a part of your learning strategy. Starting with the basics let us understand what microlearning is and what it is not.
What is Microlearning and What it Isn't?
Microlearning is a learning strategy that helps provide learning in small and focused content pieces and can be used to enhance individual and organizational performance. It provides information in small digestible learning nuggets focusing on one learning objective. These bite-sized pieces of information are easily accessible and make learning more engaging and immersive. Microlearning modules being short and focused are realistic and relevant to the topic. The focus is on the need-to-know information instead of nice-to-know information. All these features of microlearning help make training intriguing, creative, and inspirational to catch learners' attention
Now, it is also important to understand what microlearning is not. What if you provide your employees with a short video, will you call that microlearning? Is microlearning a new concept? Let me clear up that confusion here. Let us discuss what microlearning is not
Microlearning isn't
A new concept. Organizations have been using the concept of small learning modules, it is now much more refined and expanded to be used widely.
Simply dividing the content into smaller chunks. Instead, microlearning focuses on a single learning objective and is developed based on the learning needs.
A one-stop solution. It might not be appropriate for all types of training. When learners have to master a skill or when comprehensive knowledge has to be delivered like in compliance training, or technical training, microlearning may not be appropriate.
Only one format. The most prevalent misconception about microlearning is it is only in the form of videos. However, microlearning is not limited to a single format. It can also be delivered as infographics, slideshows, podcasts, etc.
There is sometimes a little confusion around microlearning that, it is only a short module providing information. Well, that is far from the truth, microlearning is much more than that. Let's explore different types of microlearning formats.
Types of Microlearning Formats
Microlearning can be created in a variety of formats.
Animations
Animations are a great way to engage learners as it makes courses fun and interactive. Adding elements such as animations to the courses is an effective way to keep learners motivated.
Infographics
Infographics are a graphic visual representation of information. They help in providing short and crisp chunks of information engagingly.
eBooks
eBooks or electronic books can be accessed by learners anywhere, at any time, and on any device. They can help provide in-depth information on certain topics.
Quizzes
Quizzes are a great way to assess learning and analyze learner progress.
Games
Adding game elements to the courses not only engage learners but also keeps them motivated to learn further.
Audios and Videos
Audio and videos make training interactive and are an effective way to learn for all kinds of learners.
Microlearning has gained quite some popularity in the training industry because of the benefits it offers. Microlearning provides benefits for both learners and the organization. Though there are many I have discussed a few key benefits offered by microlearning.
Key Benefits of Microlearning
Microlearning Courses are of Short Duration
Microlearning courses are of short duration and focused on one learning objective. They also cost lesser than other eLearning strategies to create and are quick and easy to develop and deploy. Microlearning courses are designed for users who cannot spare a lot of time for training. With microlearning, they only need a few minutes to complete the learning modules.
Microlearning Focuses on a Single Learning Objective
Microlearning modules are focused on a single learning objective that makes learning effective. Microlearning is targeted and concise, it is an effective way to engage learners. It engages learners with the help of various formats like podcasts, infographics, videos, quizzes, etc.
Microlearning Provides Multi-Device Compatibility
Microlearning modules can be accessed on multiple devices irrespective of their screen size. Learners can access microlearning modules on computers, laptops, mobile devices, etc. Making anywhere and any time learning possible and giving learners the freedom to complete training at their speed and their convenience.
Microlearning Supports Different Types of Training
Microlearning can be used to provide various types of training. It also works very well for the hybrid workforce or employees working in the field. It can be used to effectively provide compliance training, sales training, software training, training to new hires, etc.
Parting Thoughts…
Microlearning is proving that small things can make a bigger impact. It is evident that microlearning is not only small chunks of content, it is much more than that. But with that arise many more questions. How do such small-duration courses provide effective learning? How does microlearning accelerate employee performance? Here is an eBook that will answer all your questions related to microlearning and help you explore where does microlearning fit in your learning strategy.