Convert ILT to eLearning – Why is it a Cost-Effective Proposition?
Looking for ways to save corporate training costs? Here are the key cost benefits of converting your instructor-led training (ILT) program to eLearning.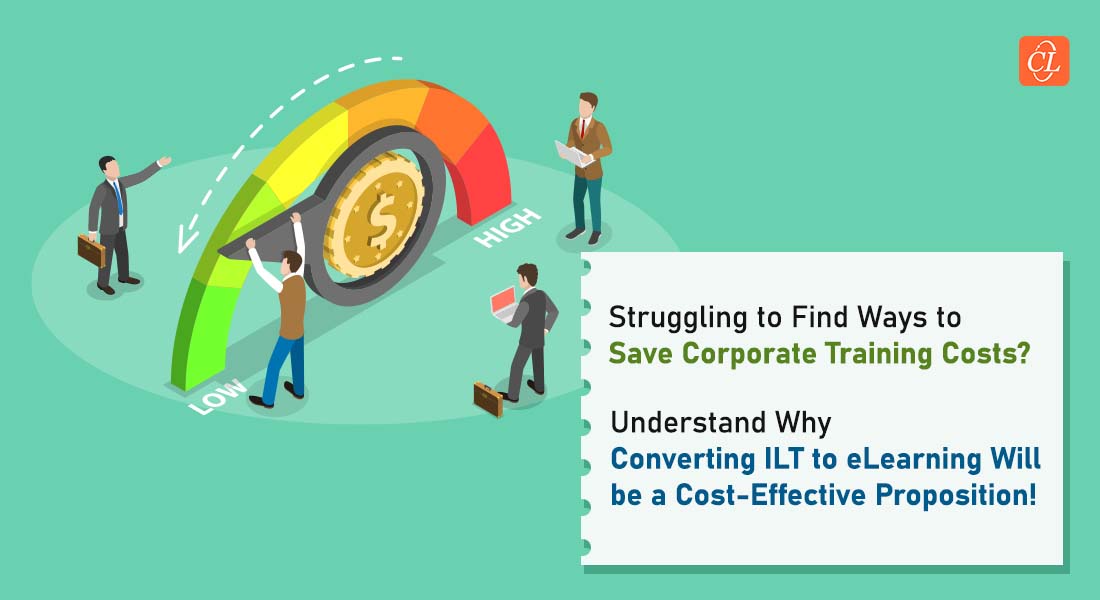 Let's be clear: Instructor-led training or ILT remains one of the most popular corporate training methods in the market due to its several benefits. These include personalized learning, hands-on exercise, immediate feedback, and more opportunities for interaction, to name a few. Even during the pandemic, many companies switched to virtual instructor-led training (VILT) to emulate the feel of a classroom session. However, even though ILT or its virtual counterpart remains a default choice for many companies in the post-pandemic age, eLearning is a more cost-effective proposition.
Do You Think Converting ILT to eLearning Will be a Costly Affair? That's Not True!
Here are the 7 Cost Benefits of Converting ILT to eLearning:
Travel and Accommodation Costs
Meal Costs
Logistics
Tradeoff Costs
Translation Costs
Instructor Costs
Printing Costs
Thousands of companies have equipped their L&D teams with powerful authoring tools like Adobe Captivate and Articulate 360 or hired an eLearning vendor to develop tailored courses. Unfortunately, many organizations feel that introducing this mode of instruction will force them to increase their training budget.
Therefore, in this post, we'll share why you should convert ILT to eLearning by highlighting the seven cost benefits of opting for this venture.
A Pandemic-Induced Change Opportunity
In the post-pandemic digital age, many companies are rapidly revamping their corporate training strategies following the introduction of new technologies, practices, and work models (remote/hybrid). As a result, L&D teams finally have an opportunity to integrate a new training program or at least employ a blended learning approach to adapt according to the new work environment and employee sentiment.
Undoubtedly, eLearning development requires a high initial investment, depending upon your budget and scope of training. However, these costs are a short team. Thus, businesses can save a huge chunk of their budget by converting from ILT to eLearning.
On the surface, traditional classroom sessions look inexpensive. However, they come with several direct and indirect expenses and drawbacks that make them more costly in the long term. This isn't just because of the travel, accommodation, training material, and logistics costs. Traditional instructor-led training sessions can be extremely time-consuming, rendering them ineffective in fast-paced, fluid work environments.
eLearning Benefits for Trainers and Learners in the New Normal
eLearning, at its core, merely involves leveraging different technologies and solutions to develop and deliver a formal training program without the need of an instructor, enabling self-learning. Let's check out some of the main benefits they offer before we dive into the cost benefits:
1. Scalability
One of the key benefits of eLearning is its potential for scalability. With modern, more powerful LMS and mobile-friendly courses, businesses can reach out to their audience, regardless of their geographic location.
2. Consistency
The success of an ILT session mainly depends on the trainer's competence and delivery style. However, eLearning provides the same content and message to all employees.
3. Leverage New Training Trends
With the rapidly evolving workforce, trainers need to develop a flexible training strategy to account for changing learner demographics to maintain or improve ROI. Modern trends include the frequent use of smartphones and devices at the workplace, meaning learning and development (L&D) teams should provide online training in a multi-device format.
Another growing trend in the market is microlearning, which is mainly used to limit the need for information retention and recall as it provides just-in-time information using micro-videos, infographics, and interactive PDFs. Finally, many companies use gamified content and assessment to boost engagement and participation, such as quizzes with badges and simulation, etc.
4. Flexibility and Control
The most important benefit eLearning offers to employees is self-paced learning on the go anytime, anywhere. For years, employees have demanded more flexibility and autonomy at the workplace so they can be in better control of their performance. By allowing them to choose their learning time, place, and pace, L&D teams can improve their learning outcomes significantly.
7 Cost Benefits of Converting Instructor-Led Training to eLearning
Now that you're up to speed with the main benefits of eLearning, let's turn our attention to the cost benefits of converting ILT to eLearning:
1. Travel and Accommodation Costs
Traditional classroom sessions require instructors and employees to travel to a pre-determined location for training. This could be the office, a fancy hotel, or another corporate venue. Regardless, businesses incur the travel cost on behalf of their team and use their training budget to pay for it. The costs become steeper if employees are attending from out of town and need a place to stay.
However, when it comes to eLearning, companies don't need to worry about travel or accommodation costs. Learners can tune into the learning content or course from their devices anytime, anywhere, as long as they have a good internet connection.
A great example of companies that switched to eLearning is McDonald's. The company saved over $6 million in training costs by opting for highly immersive, multi-media-rich training modules. Moreover, the new program led to a 10% increase in sales.
2. Meal Costs
Another major cost associated with traditional instructor-led training sessions is snacks and meals. Many companies also use this opportunity to host corporate dinners or lunches for their employees. This side cost can become unnecessarily steep depending on the number of employees and can easily be eliminated if organizations conduct workshops online.
3. Logistics
One of the core requirements of an ILT session is dedicated physical space for trainers and employees. In many cases, this space is usually a company's conference or meeting room. However, most small businesses don't have sufficient training space or facilities. Thus, they must rent a corporate training venue along with the necessary audio-visual equipment.
Even if they have sufficient space in their facilities, they must procure and maintain speakers, microphones, projectors, computers, and high-speed internet connections.
4. Trade-Off Costs
Instructor-led training sessions require employees and trainers to leave what they're doing to host/attend. This can have a tremendous impact on operational efficiency and productivity, especially in the post-pandemic digital age where businesses are struggling for continuity. Thus, eLearning is a smarter solution that doesn't involve trading off tasks or activities to participate in.
5. Translation Costs
Most modern organizations have employees who are non-native speakers, especially in the post-pandemic digital age where companies are hiring staff from all around the world. Whether it's onboarding or upskilling, they're likely to learn more quickly and effectively if the training is in their language.
In many cases, the company may not have instructors fluent in the required language/s. Moreover, hiring and training professionals to conduct multilingual training sessions can be costly. In such scenarios, eLearning offers a smarter, more cost-effective alternative.
Modern rapid eLearning development tools, such as Lectora Inspire, Articulate Storyline 360, and Adobe Captivate, to name a few. Using these tools, you can create, translate, and even localize your training content to accelerate your training curve.
6. Instructor Costs
Many companies opt for hiring external instructors to upskill or reskill their employees due to the lack of expertise or time, among other reasons. Trainers and instructors need to be paid. Therefore, by opting for eLearning, you can eliminate these costs.
7. Printing Costs
Another great benefit eLearning content and courses offer is a significant reduction in the need for printing training materials since everything is available online. This benefit can come in handy, especially for businesses that conduct frequent training sessions and actively update their content and policies.
Bottom Line
So, there you have it – 7 reasons why converting ILT to eLearning is a cost-effective proposition. However, just because eLearning offers some great cost benefits over traditional classroom sessions, you still must do your homework to determine if it's the right solution for your training needs and employees.
Moreover, as mentioned above, eLearning development can carry a high initial investment. Therefore, whether you're taking the DIY route or hiring a vendor, you must ensure you have the right tools, expertise, and solutions to help you save training costs in the long term.
Now it's time for you to get started with converting your classroom training material to eLearning. Here's a handy guide that might help you in replicating your real classroom virtually.