Applying Gagne's Events of Instruction in E-learning [Infographic]
To make your eLearning courses more effective, adopt Gagne's events of instruction. Take a look at Gagne's 9 events of instruction, in this infographic.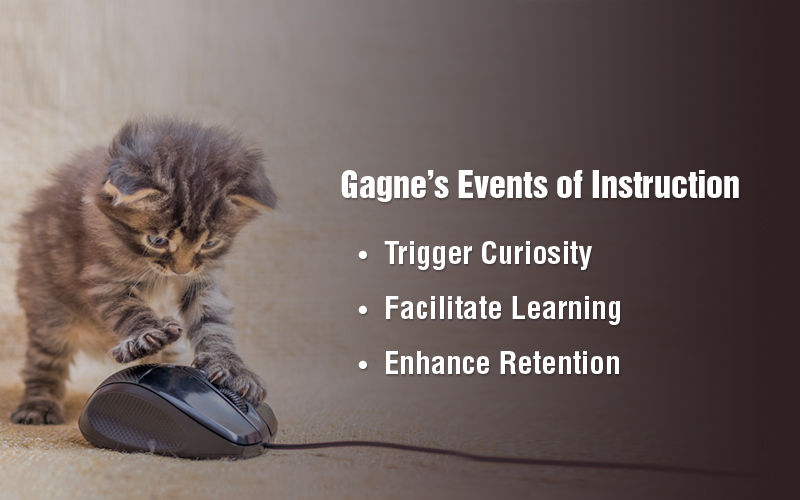 Are you having problems formulating the right process to create an effective online learning solution? Do your eLearning courses have high dropout rates? Maybe you aren't catching learner attention. If learners aren't able to transfer the learning to the job, maybe the course isn't offering enough practice opportunities. If you are looking for a standard to create perfect eLearning solutions without missing out on anything, Gagne's nine events of instruction are what you need!
Framed by Robert Gagne — an educational psychologist — these principles talk about everything an eLearning course needs to have.
Share learning objectives to get employee buy-in
Check the recall of prior learning to bridge the gap
Assess their performance with assessments
Offer links to additional resources
Like any other process, Gagne's first event also talks about gaining learner attention to draw them in. This can be through 'do you know' questions', learning objectives or icebreakers. You then look into other elements such as facilitating knowledge transfer, assessing performance, and offering feedback. It concludes with enhancing retention and transfer of learning.
These events will ensure your learners turn into active participants and engage better with the training. How do they do this? By increasing learner engagement, and therefore their retention! To gain more insights into these nine events of instruction and apply them in e-learning, read this blog.
Gagne's nine events of instruction cater to various learning styles, and they help you in facilitating the learning process effectively. So get your eLearning to be a powerful training solution by implementing these principles of Gagne! Take a look at this infographic for the nine events of instruction.