Looking to Engage Virtual Learners? Try Gagne's 9 Events or Instruction! [Infographic]
Due to the pandemic, learners are in different locations and classroom training is not possible. So organizations are considering virtual instructor-led training (VILT), and engaging learners in the virtual space is becoming an important issue. Learn how Gagne's 9 Events of Instruction can come to aid.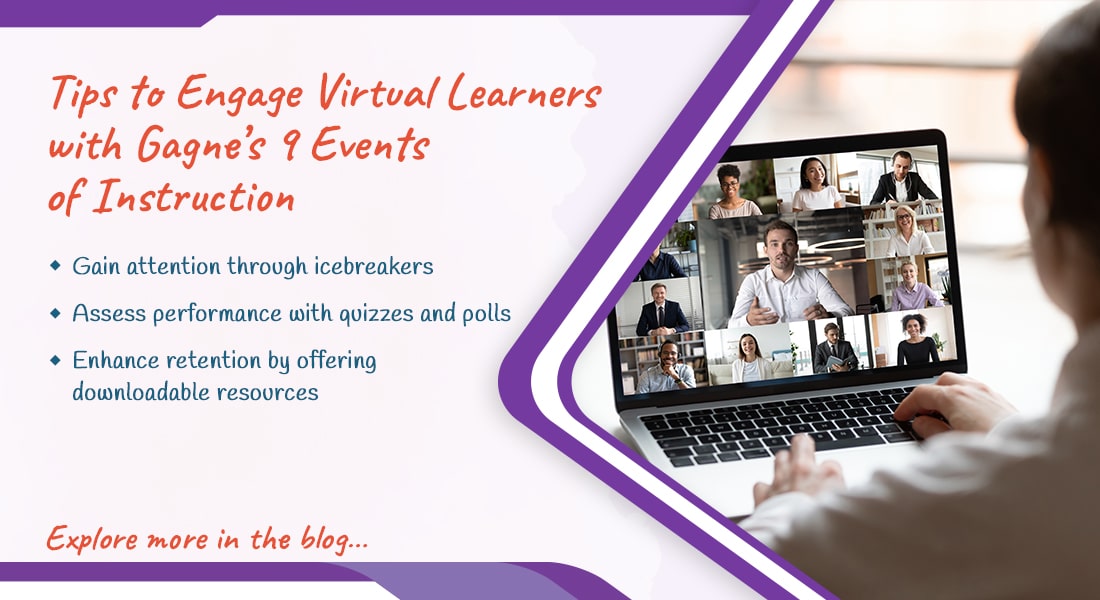 Shifting from traditional classroom training to virtual instructor-led training (VILT) ensures organizations don't need to put training on hold and if designed right, VILT can be engaging for employees. Want to know how? Have a look at how Gagne's 9 Events of Instruction will keep learners engaged in VILT, but first let's explore what VILT is, and isn't.
Introducing Virtual Instructor-led Training
VILT is a form of synchronous online training that is delivered in a virtual environment with the instructors and learners participating in the session at the same time, but from various locations.
VILT is NOT a webinar, an online presentation with polls, or just conducting a classroom session using a conferencing facility.
VILT and Learner Engagement
Without the instructor and learners being present together physically, it becomes difficult to ensure if learners are engaged and participating in the session. Some must have features in VILT for designing interactions and collaboration include chats, polls, raise hand, annotation, whiteboards, breakout rooms, application, and desktop sharing.
Leveraging Gagne's 9 Events of Instruction for Effective VILT
Motivating and engaging adult learners in a virtual environment can be quite challenging, especially when you consider the modern learner's tendency to be easily distracted and lose concentration. So, keeping them engaged even when the instructor doesn't have the aid of visual cues is key. Let's consider how Gagne's 9 Events of Instruction can be used in VILT with the aid of technology for training enhancement.
Gagne's 9 Events of Instruction can be put into 3 categories.
Preparation
1. Gain Attention to Build Rapport (Reception)
Ice breakers and creative introductions
Sharing of experiences
Thought-provoking questions
Compelling stories, videos, or statistics related to the topic
2. Inform Learners of the Objectives (Expectancy)
Videos of work challenges (which training will address)
'What's in it for me' videos
Audio/visual clips from management on what they hope from the training
3. Stimulate Recall of Prior Learning (Retrieval)
Polls and micro quizzes
Open-ended questions on what they already know and how it connects with what's to come
Articles, pictures, or facts related to the topic
Instruction and Practice
4. Present the Content (Selective Perception)
Videos and whiteboards
Chats to answer questions
Polls to check learners' understanding
5. Provide Learning Guidance (Semantic Encoding)
Breakout rooms for brainstorming
Instructor guiding with screen shares
Role-plays based on scenarios, case studies, and simulations
6. Elicit Performance (Responding)
Quizzes, with hints if necessary
Breakout rooms to analyze case studies, resolve 'what-if' scenarios
Worksheets for individual/group exercises
7. Provide Feedback (Reinforcement)
Chat to answer questions
Breakout rooms to encourage and correct
Discussions on common questions
Assessment and Transfer
8. Assess Performance (Retrieval)
Polls to test learners
Peer-reviews for small groups
Tools (Breeze Presenter, Poll Everywhere) to help deliver full-fledged assessments
9. Enhance Retention and Transfer (Generalization)
Downloadable job-aids and links to resources
Contact details for additional help
Details of upcoming sessions (on the topic)
Session recordings on LMS
This infographic shares a few more tips to keep virtual learners engaged:



To Conclude
Several technological platforms are available to help conduct your virtual classroom sessions. Popular ones include Microsoft Teams, Google Classroom, Zoom, Cisco WebEx, Skype, Adobe Connect, Microsoft Lync; and though replicating the interactions of the classroom in the virtual space and managing the associated technology is challenging, it isn't impossible.
While virtual instructor-led training sessions seem like a lot of work, they actually get easy and offer scope for a lot of creativity and collaboration once everyone gets familiar with the technology. For a ready reckoner on the concepts, principles, and best practices for designing and delivering instruction in a virtual classroom, enroll in the course Maximizing Impact in the Virtual Classroom.
For the best outcomes from your VILT sessions, train the trainers as well as engage and motivate learners. If you want to know more about VILT, download this eBook.