5 Ways in Which Corporate eLearning Saves Your Organization's Money
Contemplating whether to opt for eLearning to deliver your corporate training? What if we tell you that it saves you a lot of money (and resources)? Continue reading to know how…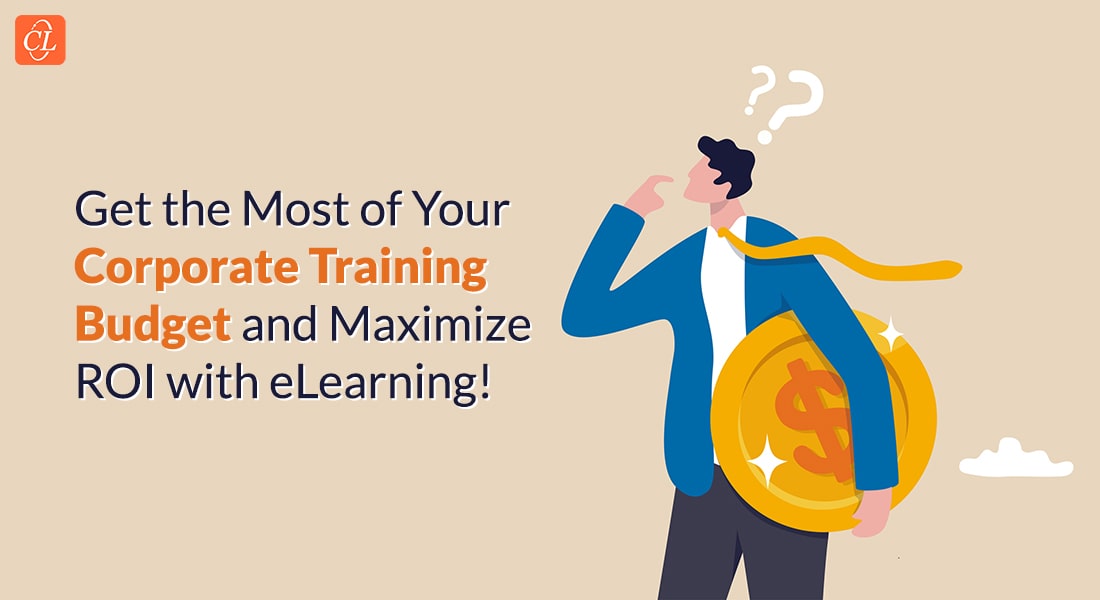 While front-runner companies have already invested in rapid eLearning for their employees the procrastinators are still making plans.
Do you know why successful companies have already invested in creating rapid eLearning courses for their employees? Because they know how valuable will the results of the investment be!
There are still a few companies that are still not sure if they want to invest in online learning for their employees. One of the main reasons behind this skepticism is the initial cost of development for online courses. A lot of companies have still not transitioned from traditional training to online training due to the misconception that this will cost them more. But the reality is that e-training programs save you a lot of money.
The Switch to Corporate eLearning Can Save Your Organization's Money!
Here's how corporate eLearning cuts –
Cost of Venue or Meeting Room
Accommodation and Traveling Costs
Cost of Course Updation
Cost for Hiring Instructor
Let us see how you save money by providing online training to your employees.
Corporate eLearning Saves You Money: Here's How!
Cuts Cost on Venue or Meeting Room
Most of the small businesses do not have a meeting room or conference hall big enough to give training to their employees. Hence, they require to rent such a venue where training sessions can take place. This is a huge and recurring cost that company has to bear.
When everything is done online there's no need of renting any such costly place. The employees are simply given their login credentials for the training platform which they can access from anywhere. This system significantly reduces the overall cost of conducting employee training and development programs.
Cuts Accommodation and Traveling Costs
Offline training requires much more than just the training module. You need a proper training hall, smart rooms, and other physical amenities. Additionally, you also require to arrange for accommodations and pay for the traveling cost of the employees. You also have to manage the expenses of food when the employees are on the official tour for on-the-job training. All these extra costs often exceed the original cost of training. And, these overhead expenses are unavoidable in the case of offline training of employees.
Moving to corporate eLearning can save your organizations from these expenditures. When the training is provided via online mediums, there is no need to provide accommodation or travel costs to the employee. The employees access eLearning modules from the comfort of their homes or offices. So, there's no overhead expense involved here.
Cuts Cost of Course Updation
Traditional employee training requires organizations to reprint books and training materials every time there is a change or update. This reprinting is a costly affair. However, this expenditure can be cut by going online. It is much easier to update digital books and materials and it is not as expensive.
Thanks to rapid authoring tools! Any digital material can be uploaded and shared innumerable times without any additional costs, and that too with ease. The employees can access these updated courses through the Learning Management System (LMS). In the case of offline training, providing training modules to each employee comes with an additional cost as the material is printed.
Cuts Cost for Instructor
One of the biggest expenses of any training program is the payment made to the facilitator of the program. An important point to make a note of is that the cost spent on traditional training includes not only the 'trainer's fee, but also the payment for accommodation, traveling, and food.
One advantage of corporate eLearning is that it involves delivering the training using online training modules in the form of eLearning courses or microlearning formats such as videos, interactive PDFs, infographics, etc. This saves all the expenses involved in hiring a trainer unlike traditional instructor-led training.
Cuts costs on Miscellaneous
There are a number of miscellaneous costs that could be saved by switching to eLearning. For instance, the time spent on travelling to reach the training sessions might as well be used up to work on an operational task. Remember that time is money, and who would know this better than an employer who pays a hefty amount to professionals for their service hours? When you provide your employees with offline training and send them on learning trips you know how many productive hours are lost in the process. When you take all the learning and training sessions online, you get all the benefits of traditional training while saving all those extra productive hours that get wasted in travel, and breaks.
In eLearning, the training materials are available online at all times. Employees can access these materials at their ease and do not need to go on a trip or a training hall for learning. At the same time, the training happens in the natural flow of work and it thus saves a great amount of time.
So, online training programs not only save the productive time of employees but also help them become more productive. Offline training sessions go as per their pre-decided pace but the online programs give each candidate the liberty of self-paced learning and thus become more productive by learning things more deeply.
Summing Up
Initiation of an online training program or switching from offline to online mode may seem a task that requires lots of investment. Well, there is no denying in the fact that the initial amount may be on the higher side as you are setting up a whole new system. But, when you see long-term, the cost of online employee training is a profitable investment.
Now, if you are a beginner to corporate eLearning, then you must be wondering how to change your classroom training to eLearning. But don't you worry! The process is easy and the use of rapid authoring tools makes the conversion cost and time efficient. Have more questions about it? This eBook can help you with the answers to all your questions. Download it now!