Find Your Path to Success Using the Various Formats of E-learning
This blog deals with the different formats used in e-learning, and includes a few case studies of organizations who used e-learning and attained success.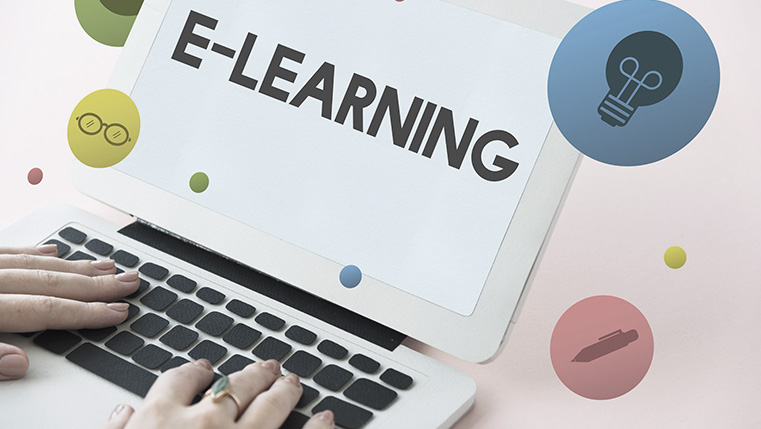 As days pass by, the use of e-learning is fast becoming the choice of training for many corporate organizations. The reason is not too hard to guess, is it? Undoubtedly, the benefits your employees as well as your business receive. They include cost effectiveness, saved time, increased productivity, better knowledge retention, increased ROI, and more.
One of the major reasons e-learning courses prove to be so effective is – you can choose from different kinds of formats. If you think your employees could grasp the information easier if you include a game in the e-learning course, then you can choose game-based e-learning. If you think videos would be the right way to educate your employees, then opt for a video-based course. This availability of a wide range of formats has in fact proved to be a boon to organizations.
In this blog, I will take you through the stories of a few organizations that have successfully trained their employees with the help of the e-learning solutions provided by us.
Game-based E-Learning:
Let's face it! Every single individual loves games. A staggering number of 215 million hours a day is spent playing games by the people of the United States of America! So why not incorporate gamification in corporate training? Game based trainings include game mechanics to engage and motivate the learners to solve or understand an issue in a much faster and better way.
Case Study:
A leading electronic manufacturing company, that has been partnering with CommLab India since 2007, wanted to make its employees aware of its newly updated data privacy policies. The company communicates with a huge number of customers and vendors digitally, which led to a large amount of information exchange, and hence the need for employees to be aware of the data privacy policies was very crucial.
The company approached CommLab India with a desire to create an engaging compliance course on the updated Data privacy policies which highlighted their latest IT security concerns. A game-based course was created about real-time security concerns in the company. We also replicated their office in a 2D virtual environment with the motive to help their employees engage in a better way.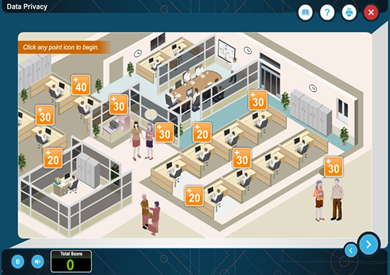 The course was designed in such a way that the employees will initially be taken through a few slides highlighting the updated changes in the data privacy policies. Once they are made aware of the new policies, they are taken to a game with a series of scenarios and are asked to answer questions on the right usage of Data and its safeguard standards.
This course helped the employees of the organization understand the importance of safeguarding their data, while keeping in mind the policy standards.
Simulation-based E-Learning:
Simulation based e-learning trainings help learners to actually get involved in the training rather than just listening or watching a particular content. David Kolb, a leading learning theorist, describes learning as a four step process of watching, thinking, feeling, and doing. When you offer a simulation training, your employee is actually doing it just like she/he would in the real world. Would this not make the employee more productive? Definitely, yes! Here is how we helped one of our clients develop a simulation-based course.
Case Study:
One of the leading pharmaceutical companies, which has around 2600 employees approximately, sought our help to develop a compliance course to educate their employees on certain regulatory policies.
We were asked to develop an appropriate course to train sales representatives on the 'Dos' and 'Don'ts' of 15 different business activities and anti-corruption laws. We explained the guidelines using various infographics and then we included various activities by which the employee could grasp the entire information.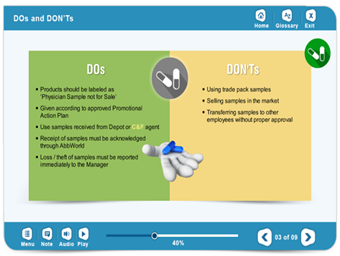 We developed this course using the interactive course development tool Articulate Storyline so that employees could access it in their iPads too. Thus, they could access the course anywhere, anytime!
Once the course was deployed to the client's Learning Management System (LMS), a user acceptance test was conducted with the intention to study the learning outcomes of the employees. The results? A 100% user acceptance rating was seen! That's just not it. Out of all the employees who went through the entire course and took the final quiz, 98% of them passed the quiz.
Though the course was lengthy, employees remained engaged and involved throughout the course as the course was visually very appealing. This course helped the sales representatives improve their knowledge and simultaneously the company saved a huge classroom training costs and time too. A win-win!
"Online learning is not the next big thing; it is the now big thing," said Donna J. Abernathy, former editor of Training + Development Magazine. So what are you waiting for? It's time you begin shifting to the new trend of training too.