Top 4 eLearning Strategies to Facilitate Software Training
The corporate world uses a lot of software tools to minimize the human effort and automate various tasks. This blog will help you gain insights into the 4 eLearning strategies that can ease out the software training for your employees.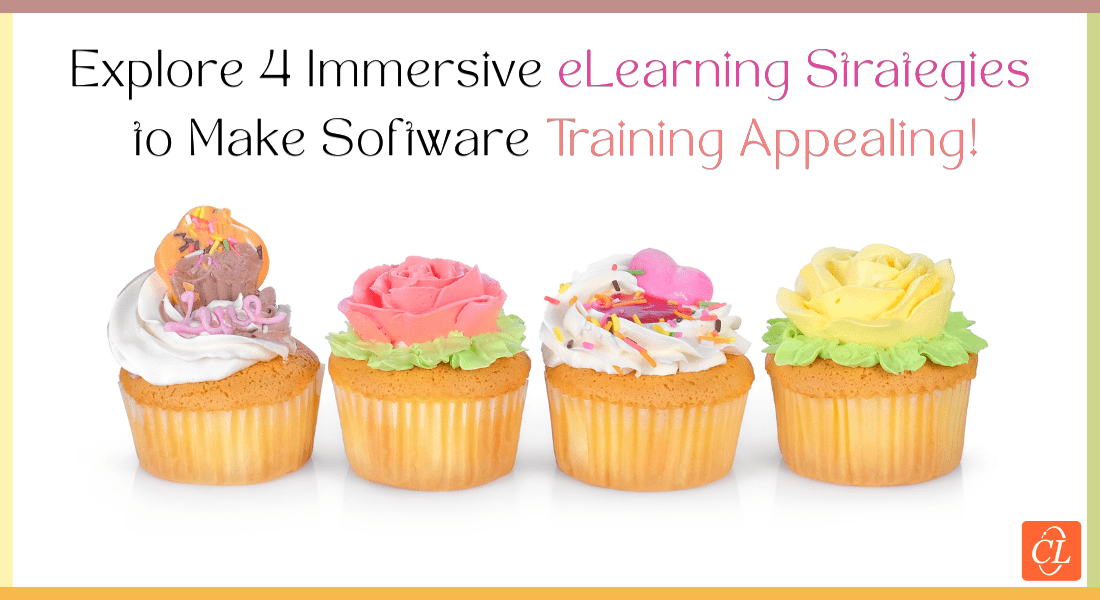 Modern technology is growing at a pace never witnessed before, so eventually, it gets challenging to keep up with the changes. Employees working in the corporate environment might not be tech-savvy enough to stay updated with all the advancements in the technical field. Thus, there is a need for entry-level or sometimes advanced-level software training for the corporate workforce, so that at least every employee understands how various softwares used by the company actually work. This blog will help you ease out the software training for your employees with the help of 4 effective eLearning strategies.
Facing Problems With Your Software Training Sessions?
Use these 4 eLearning strategies to make things easier:
Microlearning
Simulations
Video-based Learning
Gamification
2 Common Challenges Organizations Face While Implementing Software Training
1. Software tools are not beginner-friendly
The most basic use case of any software in the corporate world is to ease out various human tasks with the help of technology. But, they are created with a certain purpose, thus their features need a bit of extra expertise to be accessed seamlessly. Individuals who are not so familiar with the basic functioning principles of computer software might find it very problematic to effectively use them without prior software training. In simple words, they can be too technical for people who don't belong to an IT background.
2. Software tools are inclusive of multiple aspects and procedures
To be able to unlock the full potential of a software, you need to be aware of a lot of aspects whether it is the limitation of your working device, or the operating system, the system permissions, and the version variations. If you are not familiar with working on various types of software, good luck with your overcomplicated journey full of functional errors and possible malfunctions.
An example would explain this better, consider a simple software called MS Excel that almost every organization uses for data storage and management has a lot of features people don't have any idea about. Most people use it to just store and access data, but MS Excel can be used to perform a lot of data sorting and advanced mathematical functions you might be using a calculator for.
4 Most Effective eLearning Strategies to Facilitate Software Training
1. Microlearning
The prominent microlearning resources are videos, infographics, content slides, audio clips, flashcards, and even mobile apps. You can provide all the important information chunks through any of these formats, depending on the type of software and the training needs. You can use these microlearning modules separately or as a combination to create standalone courses and facilitate performance support job aids for just-in-time training. These modules can be accessed on your mobile phones, either offline or online, promoting personalized learning on the go.
2. Simulations
As multiple complications are swinging around the functioning of software tools, it's best to try them in a sandbox environment where you are allowed to make as many mistakes as you want. Mistakes make an individual aware of the consequences if anything goes wrong, and help them to get better after every attempt until everything is perfected for official use. Simulations assist you with exactly that, from letting you work in a virtual sandbox environment to let you explore the multifaceted features of a software and understand their functioning by practically executing each of them.
For example, Navisworks is a simulation software that helps the user to merge construction design and related data in a single model to identify and resolve possible errors before actual construction takes place.
3. Video-based Learning
You can access countless videos either from the internet or your organization can create custom videos to meet specific learning needs. Now, these videos can be delivered in different ways, either as a standalone eLearning course that would be 30-50 min long explaining each and every feature of the respective software, or every topic segregated as microlearning videos of 3-5 mins each. The way these videos provide you with the required information might also differ as per your learning goals and your employee preferences. For example, some might prefer how-to-videos while others might go for storytelling and role-playing videos.
4. Gamification
This might sound a little off the basic grounds, but it does wonders if you have serious engagement issues. Gamification helps to boost a learner's engagement with the help of game elements and assets such as badges, scoreboards, leaderboards, and rewards. If the addition of game elements alone isn't doing the needful, you can even develop full fletched games and use the theory of game-based learning to facilitate personalized and interactive software training for your employees. These games can either help you understand the basic features of the software you wish to work on or might work as an entire virtual immersive environment similar to the simulations we discussed earlier.
Wrapping Up!
There are numerous types of software that are used for different tasks in the corporate industry so you can choose any of the specified strategies to train your employees. You can even go for an immersive AR & VR approach if your budget allows it. To train a global workforce where learners might have different learning preferences, you can even choose a mixed approach where you can blend all these strategies as per your training needs and facilitate intensively personalized software training. To understand more about how you can use blended learning at its best potential, you can access this eBook and help your employees enhance their overall performance.