How to Optimize Software Training with Top 4 Blended Learning Formats
Software training is crucial for employees to become proficient. Ideal solution? Choose blended learning for both online and offline learning.
A huge amount is invested by organizations to purchase software products but are the features of the software fully utilized? Are the organizations getting the best returns on their investments? Not really. To make the best use of the software and implement it effectively, it is important to ensure that employees get the right training at the right time.
Software training ensures that the employees gain the right information to fully utilize the software but incorporating this training at the workplace is challenging since employees think that using the software is a herculean task and may be confusing to follow which truly is a myth, so bust it by conducting training for them in a blended learning model.
Are You Looking for Ways to Improve the Effectiveness of Your Software Training?
Here are 4 blended learning formats to help you make an impact
VILT
Simulations
Online Discussion Forums
Performance Support Systems
In today's dynamic corporate environment, the ever-evolving training needs of employees demand a comprehensive solution. And for software training too, organizations look for a training solution that maximizes engagement and saves cost and time while enhancing productivity for both employees and organizations. And blended learning offers you just that.
Therefore, to effectively train a global workforce where learners may have varying learning preferences, it is ideal to use a mixed approach where you can combine different training formats as needed and enable highly customized software training.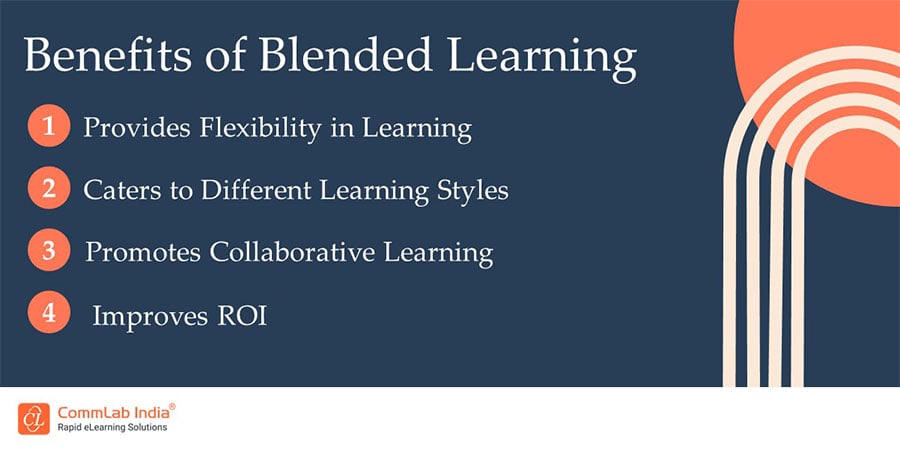 4 Blended Learning Formats that Work Wonders for Software Training
Let's discover how some popular blended learning formats can be used to train employees on new software to benefit organizations.
1. Synchronous Virtual Collaboration with VILT
Virtual Instructor-led Training allows the instructor to share in detail information about the software and its functioning through videos, interactivities, and more and keeps the learners virtually engaged. Another upside is that learners have the opportunity to get their questions answered and doubts cleared immediately even if they are remote. For instance, questions can be raised about any functional specification of the software and get a prompt response despite geographical barriers.
More features of VILT like whiteboards or raising hands can be used to engage the learners with the topic at hand and offer help for learners to achieve their learning goals.
2. Self-paced Learning with Simulations
Software has many intricate workings, so it's best to be trained on them in a way that allows learners to make errors and learn from them. Mistakes let learners learn from the results of their actions and get better after every effort until their training on the software is error-free and ready to be used on the job.
Simulations are a great option for self-paced learning because they enable hands-on learning in a risk-free practice environment. In this manner, learning occurs through trial and error, allowing learners to investigate the software's numerous features and complexities and become familiar with how they operate by actually trying each function without worrying about making mistakes.
3. Social Learning with Online Discussion Forums
Online discussion forums are great to initiate meaningful interactions and discussions among learners and also offer chances for learners to connect with Subject Matter Experts (SMEs) and learn about various specifications of any software. Discussion forums are extremely user-friendly and create user-generated content as well which can be repurposed for new courses.
Discussion forum features allow sharing of case studies, or frame open-ended questions to encourage learners into critical thinking and enhance learner participation.
Online discussion forums offer opportunities for learners to connect with Subject Matter Experts (SMEs) and gain knowledge of the various features and working of any software. They are also great for fostering meaningful interactions and discussions among learners. It produces user-generated content which can be used to create new courses.
Features of discussion forums enable the exchange of case studies or the framing of open-ended questions to promote critical thinking and improve learner participation.
4. Effective Performance Support with Performance Support Systems (EPSS)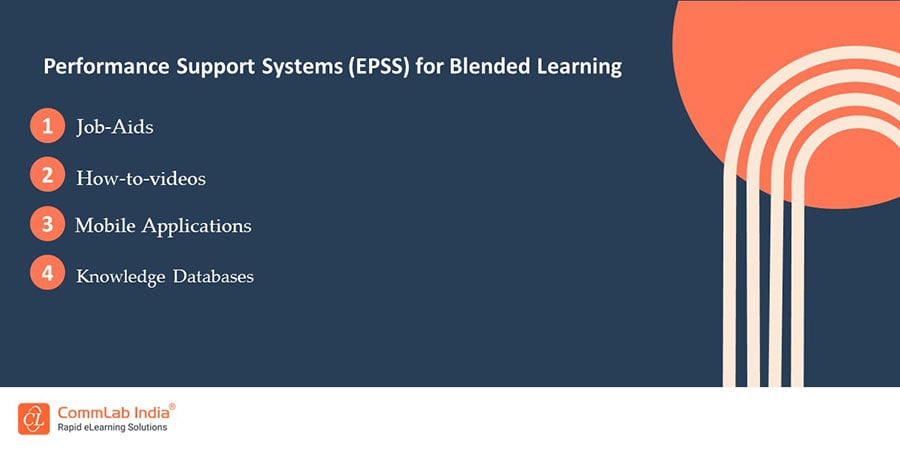 Software today is getting very intuitive and user-friendly and tech-savvy learners prefer learning digitally at their convenience and just in time which are the perfect traits of mobile learning and microlearning. Without having to spend time on drawn-out eLearning courses, the time-consuming process of software structuring or system testing can be presented in a microlearning format that is convenient, easy to remember, and bite-sized.
Job aids can be made mobile-friendly so that your employees enroll in learning courses whenever and wherever it suits them. It provides them with a certain level of comfort and freedom, which increases their interest and enhances knowledge retention for higher levels of performance and efficiency.
Different microlearning formats, such as quizzes, videos, flip cards, etc., ensure that mobile learning is effective and that software training is engaging while also providing easy access to performance support.
Wrapping it up!
Blended learning enables learners to have the freedom of choice of training format and for software training, the learners can be given an opportunity to practice in a live training environment for the software. This is most effective when followed by an online assessment where learners are certified on successful completion of the course.
And now that you know how to leverage various formats to enhance your software training with blended learning, make the most of it to offer a rich and memorable learning experience for your learners because carefully designed and organized training is the key to successfully deploying and using a software application.
Want to gain more insights on how to maximize training effectiveness with blended learning and explore key elements to design a winning blended learning solution? Then be sure to check out our eBook 'Blended Learning: A Guide to Boost Employee Performance'.