4 Noteworthy Benefits of eLearning! [Infographic]
Benefits of eLearning are plenty! In fact, it's the answer to most of the modern training needs. Read on to know the benefits of eLearning in detail.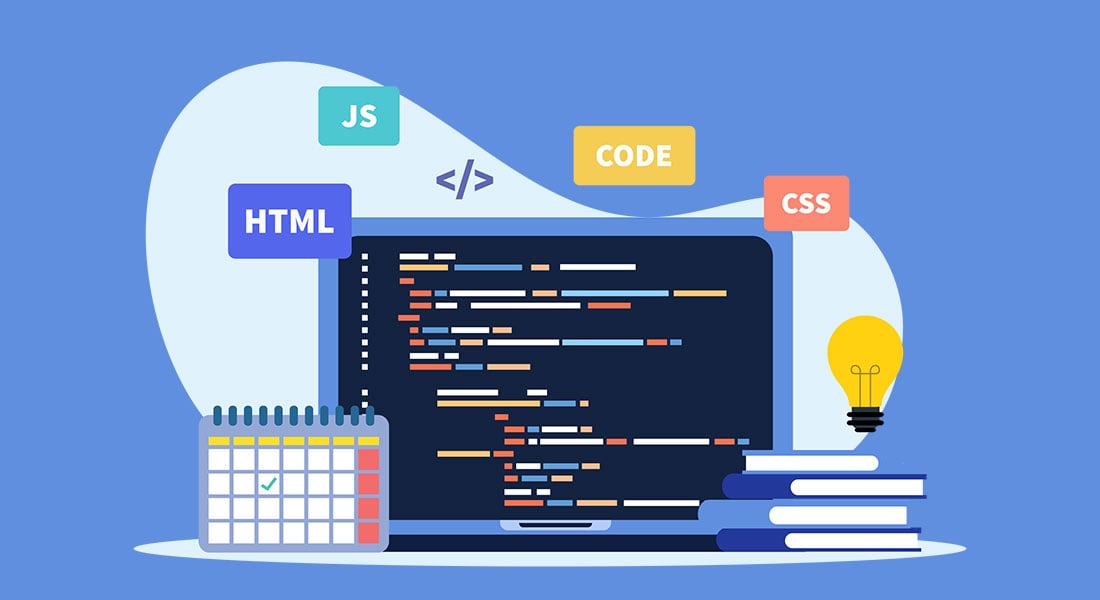 eLearning, with its plethora of benefits in the world of corporate training, is a game-changer. It's an innovative approach that uses digital technology to help learners acquire new skills and knowledge. That's right! eLearning holds immense potential to improve your corporate training and maximize the training ROI.
From leveraging diverse formats and delivery methods to paying attention to instructional design strategies and adult learning principles, eLearning takes care of it all. It is a fool-proof solution to make your corporate training a success! But how? Well, eLearning has various benefits.
Now let's start reading to understand the benefits of eLearning. And then explore the 3 best practices to design effective eLearning courses.
4 Benefits of eLearning
eLearning offers a variety of benefits to ensure effective corporate training! From self-paced learning to cost efficiency to easy updation and a lot more!! Check out the informative, easy-to-understand infographic to know the 4 amazing benefits of eLearning in detail.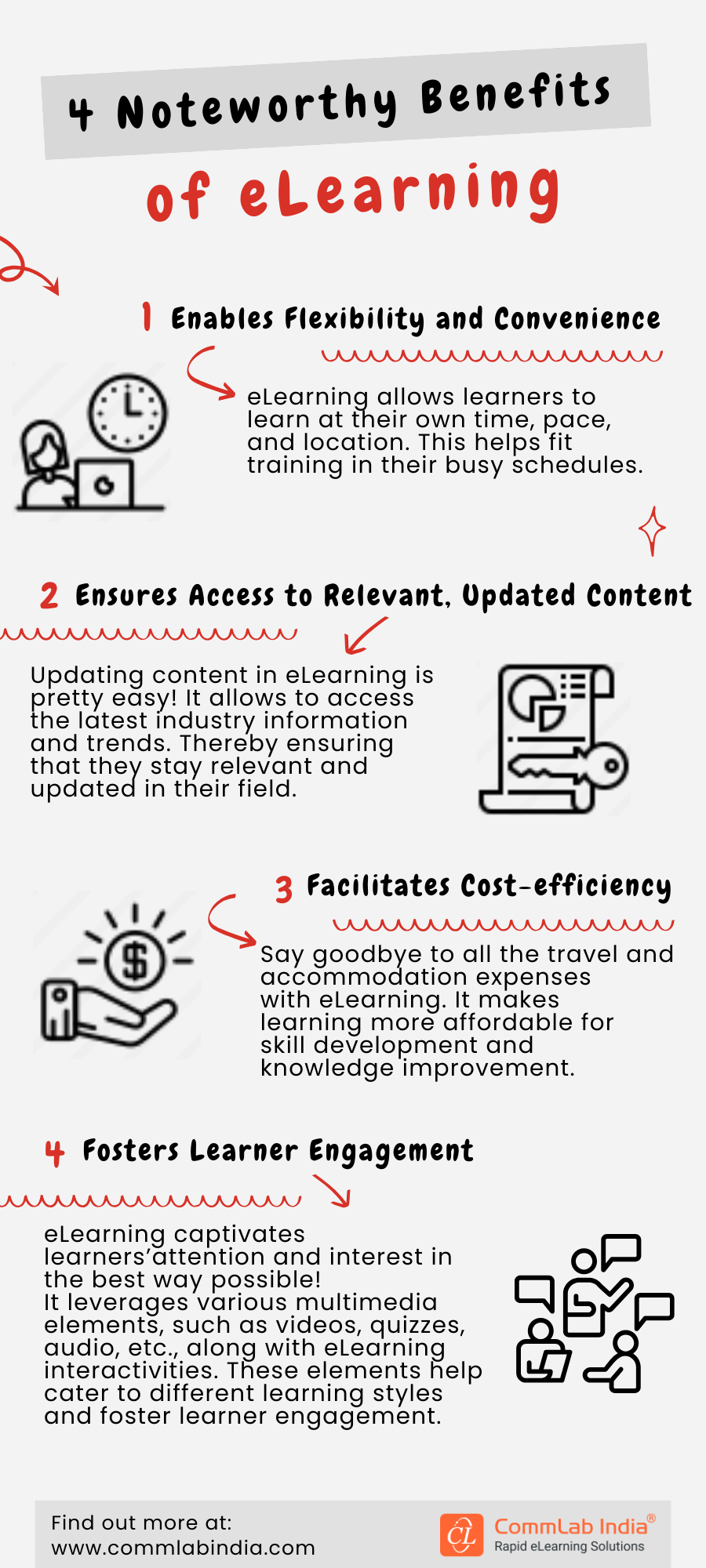 3 Best Practices to Design Effective eLearning Courses
Set Clear Learning Objectives
If you wish to ensure learner-centric, high-impact eLearning courses for your learners, then this element sets the right stage for you. Having a clear idea about what you expect your learners to know and implement after completing the training program is essential. In fact, it defines how you present the learning content to them. For example, the instructional design strategy you select, the multimedia and eLearning interactivities you integrate, the assessments you include, etc.
Apart from your expectations and goals from the training, you must also consider the learners' needs, experience, learning styles, etc., while setting the learning objectives. It will help you align the eLearning content with both organizational and individual learning goals. With that said, make sure the learning objectives are specific and measurable because it allows you to track the progress of your learners and analyze the overall efficiency of your training program.
Include Interactive and Engaging Content
I'm sure it's no surprise when I say that learners remember better when they are actively involved in the learning process instead of simply consuming the information that is being conveyed to them. With that said, eLearning offers a major advantage here. It provides an enriching learning experience by including different type of multimedia elements, such as videos, audio, digital flashcards, animations, images, etc.
They captivate the attention of the learners and prevent boredom and distraction. But that's not it. eLearning also takes care of the interaction part. It leverages various interactivities that provide opportunities for the learners to participate and interact with the learning material. An eLearning interactivity can be something as simple as a quiz, one-word answer or click-throughs. Basically, interactive content encourages the learner to be attentive and respond, thus keeping them engaged and interested in the learning process.
Ensure Flexibility and Accessibility
Ok! So a simple question here. If you could pick only one, which one would it be? Landline or a mobile phone?
Well, most of us would go with the second one. Isn't it? But why? Well, the answer is pretty simple and straightforward. It's flexible, convenient, and accessible. When it comes to the fast-paced corporate world and its professionals, most of them are often juggling between many responsibilities and commitments. So, it's important to design eLearning courses that are flexible and easily accessible.
Moreover, providing on-demand access to the learning material helps learners learn at their own convenience. This enables them to plan and devote time to learning in busy schedules without disrupting their work and personal life. For better flexibility, convenience, and accessibility, responsive design is the key element. It means that the course design automatically adjusts to the screen size of the device it is being accessed on, thereby promoting continuous, convenient learning.
Parting Thoughts!
Now that you know the amazing benefits of eLearning and how to design effective eLearning courses, there's no point in delaying. It's time for action! So get ready to design high-impact, learner-centric, and engaging eLearning courses for your learners and give them a chance to explore their potential in the best way possible. If you still have questions about how to design effective, learner-centric eLearning courses, here's a handy guide on instructional design to help you get started. Check it out right away!