The 5 Must-have Elements in a Structured eLearning Journey – Continued
What makes for a structured eLearning journey? Here's the second set of elements to make your eLearning journey effective and achieve business goals.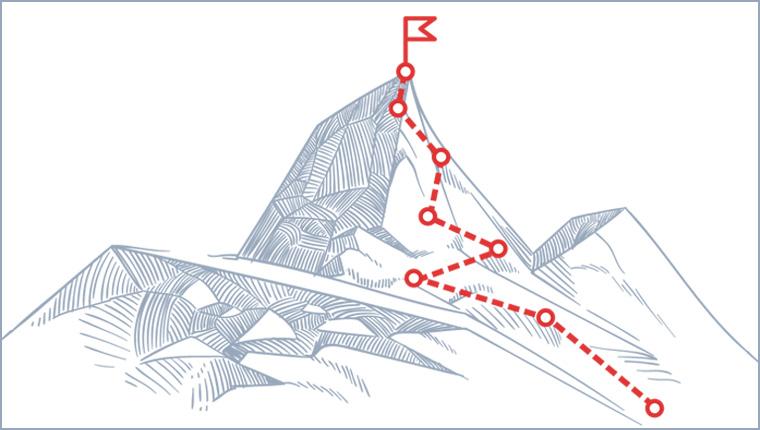 In my last blog, I talked about the first 5 must-have elements in a structured eLearning journey.
Creating awareness and fostering readiness
Gaining the attention of learners
Simulating prior recall of information
Presenting information
Demonstrating learning
And as promised, here I am with the next 5 elements that complete the journey. The first blog was all about how to prepare your learners for the learning journey; this blog will focus on offering scope for practice, providing feedback, reflection, assessments, and facilitating the transfer of knowledge to work. So, shall we get started?
The 5 Must-have Elements in a Structured eLearning Journey
Letting learners practice
Providing immediate feedback
Offering time for reflection
Assessing learners

Preparing them for knowledge transfer
5 Must-have Elements in a Structured eLearning Journey
6. Letting Learners Practice
At this stage, offer your learners opportunities to practice and apply the knowledge they have acquired so far. This allows learners to internalize knowledge, while repetition enhances the likelihood of retention. But, how do you let learners practice in an online learning journey?
Watch-Try-Do Simulations: The best part about this digital learning experience is that learners can practice and learn from their mistakes – in an environment that closely mirrors their actual work environment – without having to worry about real-life consequences. eLearning simulations are an absolute favorite for software training. You can go for the 'Try' mode that offers hints if learners cannot figure out what to do next. The 'Do' mode allows them to practice on their own.
Branching Scenarios: If you want your learners to evaluate their comprehension and take decisions or follow the best course of action from multiple possible/available options, branching scenarios is the option to go for. Learners have to apply their acquired knowledge to select the most ideal option from multiple options in dynamic situations. This enables learners to walk through their own decision-making processes and prepares them for responses in real-time.
User-Generated Content: Another way to elicit performance is to encourage sharing of user-generated content such as audio podcasts, blogs, and videos in your online training framework. It lets your learners collaborate with their peers and share acquired knowledge. For instance, sharing user-generated content such as videos on social media platforms or communities of practice can be one way to put knowledge into practice and share with those who are seeking solutions or tips.
7. Providing Immediate Feedback
While you let your learners practice newly acquired knowledge, it's still incomplete if you don't give them immediate feedback on their performance. Moreover, it's a golden opportunity to reinforce the right learning before a course is complete.
Here are some best practices to provide feedback in the eLearning journey:
Feedback should be specific, corrective, as well as explanatory. This helps learners understand why their choices were correct or incorrect.
You can also give them a second chance when they answer incorrectly. Give them a hint and allow them to give it another shot.
Feedback should be timely and not something that comes at the end of the eLearning course. It's important to provide feedback at right instances during the learning journey and inform the learner of their accuracy and performance.
Feedback in eLearning can also provide learners tips, suggestions, and additional information to improve their performance.
8. Offering Time for Reflection
Reflection is a crucial element in the success of an online learning journey. It is the process of analyzing and interpreting new knowledge and taking time to consider it in the light of one's experiences. Reflection helps learners derive meaning out of information they are acquiring in the learning journey.
Here are some ways to facilitate reflection in an online learning journey:
Think-Break: One of the most common ways to facilitate reflection is by offering learners an opportunity to think. For instance, you can include open-ended questions in the eLearning course for them to reflect on and get them thinking about the information acquired so far. You can also include icebreaker questions on the challenges they are facing, what could be the likely outcomes of a certain action, and more.
Online Group Activities: This allows learners to step out of their comfort zones and consider different viewpoints of their peers. They will have the opportunity to experience the subject matter from various perspectives and reflect upon their prior opinions.
Online Discussion Forums: This can be another way to tap into the power of collaborative learning. Sometimes reflection can be as simple as sharing experiences with others. Discussions can be on their opinions on certain aspects, how something can be done better, and much more.
Summaries: Summarizing helps in highlighting the important takeaways of an eLearning course. Moreover, it enables learners to quickly reflect upon what they have learned.
9. Assessing Learners
Now that learners have reflected upon the acquired learning, it's time to assess their performance. Assessments allow you to determine whether the desired learning objectives have been achieved. However, there's a lot that goes into creating effective eLearning assessments.
Here are some best practices:
Align the assessments with the learning objectives of the course. Determine the required objectives for your course and define specific assessment activities that will help demonstrate learners' mastery of them.
Ensure assessments are appropriate for the level and scope of the eLearning course.
Ensure assessments have clearly outlined instructions.
Ensure that the final assessment covers all the learning objectives included in the course.
10. Preparing for Knowledge Transfer
By now your learners have mastered the new skill or knowledge. It's time to make sure they retain and apply it on their job. How do you do that? While it can't be guaranteed that your learners will apply the knowledge shared, there are ways to ensure the likelihood of them doing so.
Some of the ways are:
Providing job-aids such as interactive PDFs, eBooks, micro videos, checklists that outline the important concepts so learners can refer them when they need to.
Offering or scheduling refresher courses or quizzes that learners can complete during the weeks following the initial course. This helps refresh and reinforce the acquired knowledge or skill.
Summing it All Up
Irrespective of what your eLearning goals are and who your target audience is, you can leverage these elements to create an effective eLearning journey for your learners. After all, the primary objective of your online training is offering the required knowledge/skills and ensuring it turns into successful application that enhances your learners' performance.
Want to know more? Here's an eBook on "Instructional Design Strategies to Design Engaging eLearning Courses" you can download for free. It will give you insights on popular ID strategies, how to select the right one, and much more.