Look Out for These Six eLearning Implementation Challenges
E-learning implementation comes with its challenges. Read this blog to know how to counter them while you implement eLearning.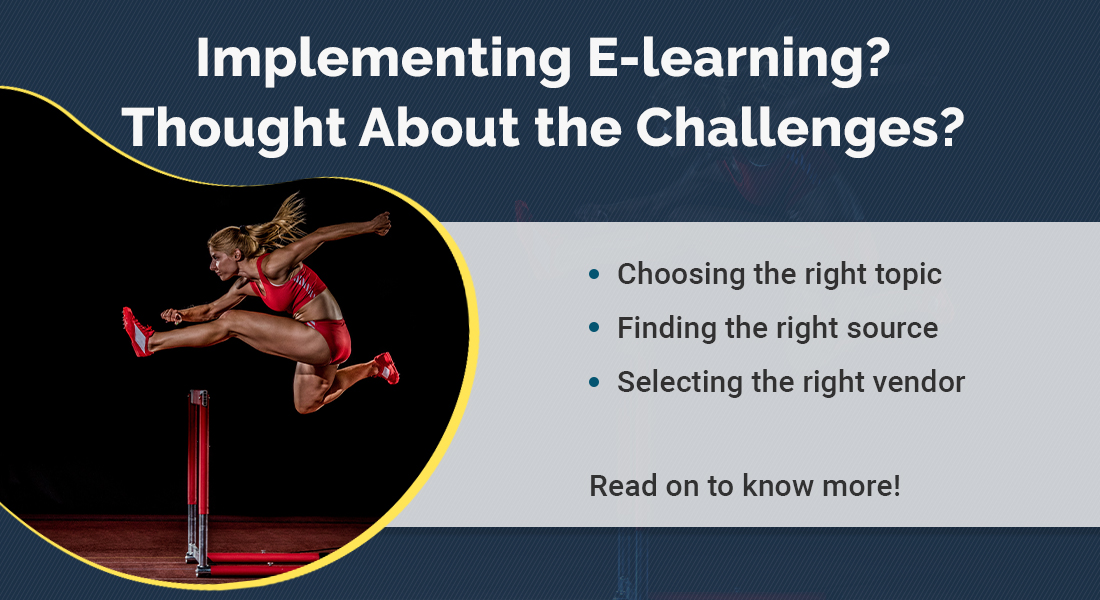 Implementing eLearning in global organizations is never a cakewalk. Most major corporate organizations have, in one way or the other, digitized their corporate training programs to cater to the increasing numbers and preferences of digital natives in the workplace – be it in the form of online Virtual Instructor-Led Training (VILT) or through condensed, highly interactive eLearning modules. And even for digital immigrants, there is no other option but to go with the tide because of the impact of COVID-19 on corporate training.
Six eLearning Implementation Challenges and Their Solutions
Finding the right topic – Align training topics with major organizational goals and set objectives accordingly.
Choosing the right content source – Select the most recent iteration which requires minimum updates.
Choosing an appropriate eLearning blend – Analyze learner demographics and choices; blend a long form with a short form.
Deciding between in-house development and outsourcing – Unless your internal team is experienced, it's better to go with external vendors.
Finding a suitable outsourcing vendor – Look for experience with similar projects, and consider cost, timeline, and reviews.
Matching management expectations – Balance management expectations from eLearning with actual results.
Now that we have established that eLearning is the first and most popular choice for corporate training managers to combat their training woes, in this blog I'll discuss six challenges or hurdles they might face in the ring. So, buckle up and let the bell ring.
Six Challenges in eLearning Implementation – And What You Can Do!
If you have decided to go for eLearning in your organization to train your employees, I'd suggest you familiarize yourself with six common challenges that are bound to pop up during its implementation. And happily, I am not going to leave you with the problems but will also provide solutions for each. So here goes.
Challenge 1: Finding the Right Topic(s)
You cannot have everything you need to train your employees on, as a feature-packed eLearning course. Those things do take time and effort to build, and budgets do not flow like the Mississippi. Finding the right topic for eLearning courses for corporate training, therefore, becomes a strategy for sustenance (and nobody will call you cheap if that is your concern).
That being said, finding the right topic is a major hurdle when it comes to implementing eLearning. You don't need to convert everything to eLearning. Legal or regulations training, which involves going through a lot of text documents, best practices, and codes of conduct – can be provided via text documents (condensed, if need be). But the consequences of not following the rules can be made clear using eLearning modules with branching scenarios and simulations.
Similarly, when providing urgent training for a specific need, doing it in a live setting makes way less sense than sharing all the necessary information, condensed and to the point, over a mobile device. So you see, not all topics are suitable for eLearning and you need to focus on what will drive productivity.
The first thing you need to remember is that eLearning courses NEED TO BE strategically aligned with organizational goals, like reducing obstacles due to diversity, workplace safety, improving employee performance and productivity, etc. The following topics are better suited to be delivered via eLearning.
Product training
Safety training
Software training
Diversity training
Soft skills training
One fail-safe way of ensuring successful eLearning implementation is to be clear about the topic that employees need to be trained on (goal), who will undertake the training (learner), and the reason (objective) behind the training.
Challenge 2: Choosing the Right Content Source
The next obstacle to eLearning implementation is deciding where to get the content from. You may have a repertoire of training materials – old PPT decks, older ILT materials including training manuals and handouts, etc. This begs the question – where should you source your content from?
There are two types of content – generic and specific. Generic content refers to topics like compliance or soft skills on which off-the-shelf courses are easily available, whereas specific content refers to that which is specific to your business.
Once you have sorted out your requirements into the two groups, you can purchase the off-the-shelf courses from eLearning vendors, thus saving a lot of time and effort which can be utilized for creating custom courses for your organization. When it comes to building custom courses or converting classrooms to eLearning, you can decide to outsource the development to an eLearning vendor or do it in-house if you have the required expertise.
Once done with sorting, choose the content for the custom courses which:
Needs minimal updates (most recent)
Includes all relevant information
Contains playable media elements
Choosing the right content source can dramatically reduce the time, effort, and resources needed to implement eLearning.
Challenge 3: Choosing an Appropriate eLearning Blend
Ah! Here we go again.
If you are at all aware of the eLearning industry, the word 'blend' must already have you thinking of 'blended learning', the famously effective training strategy that is selling like hot croissants at the next block deli.
Redundant metaphors aside, blended learning refers to the hybrid of classroom and online training. But we are talking about blended eLearning here where we blend different sub-formats eLearning to provide an engaging and interesting learning experience to learners to boost performance.
Choosing the correct blend for eLearning is quite important. So, for specific training, you can provide a full-fledged eLearning course to learners, and follow it up with 3-4 mobile learning modules as performance support. When you need to provide quick just-in-time training to employees, you can share bite-sized, single-objective-driven microlearning nuggets. Whilst the choice is yours, be warned that you can't just blend everything. So be smart about it.
Pro tip: Often, researching the learners' demographics alongside a statistical tally of their choice of study medium can give excellent results.
Challenge 4: Deciding between In-house or Outsourcing
Perhaps the biggest challenge that comes up while implementing eLearning is the question of whether to develop the courses in-house or outsource them to an external eLearning vendor. And to be fair, that is a very legitimate question.
Picture this. You work for a company with 10 different divisions, each division with around 1000 employees, managers, directors, heads, and other designations combined. Each division has its subject matter experts and dedicated in-house instructional designers and developers. Revenues are skyrocketing. Business is booming.
Now imagine yourself working at a product development company with good revenues, but with hardly 300 employees. Your employees need training and although you have in-house SMEs, the best training material you can get are on MS PowerPoint (or prezi.com for fancier animations).
In both cases, training is a core requirement, but while for one 'in-house' seems more feasible than for the other, let me tell you why you must go with eLearning outsourcing.
For starters, outsourcing eLearning development removes the additional burden from your in-house team. Your SME can still work with the vendors' team to help in the development process and balance protocols.
Developing corporate training being the vendor's core business, they are in a better position to offer more cost-effective solutions to whatever requirements you may have.
Outsourcing the eLearning development process to professionals also ensures timely delivery of courses with the best possible results, both in terms of quality and price.
Pro Tip: You must be wondering how a vendor can know better about what to put in the training than your in-house SMEs and developers. Let me explain with this example. Your SME may be quite passionate about flours, so much so that he wants learners to know everything about all flours and the difference between regular and Durum wheat flours (the latter has the highest protein content) all in one course. A vendor can tell you that explaining about individual flours in separate microlearning modules and testing the learners' understanding of their difference through a test, makes for more effective learning.
Challenge 5: Finding the Suitable eLearning Outsourcing Vendor
If you would prefer a vendor over in-house development, let me tell you that finding a suitable eLearning outsourcing vendor is not a very easy task. But bear with me as I tell you how to choose the best eLearning vendor from the market.
Three major considerations when going for an eLearning vendor are cost, timelines, and experience. Many eLearning vendors might charge less but also might not have the required experience and expertise. So, keep the following in mind before choosing your eLearning vendor.
How qualified the vendor's team is
How experienced they are in managing large scale projects for global corporations
Examples and number of past work along with relevant feedback (positives are always better!)
Record of timely project completion
The total cost of projects
Whilst going for a vendor, keep these points in a checkbox to ease the finalization process.
Challenge 6: Matching the Expectations of Management
Finally, this is what you have been waiting for. Your management would want a report on how your 'investments' in eLearning implementation are faring. The keyword here is ROI (Return on Investment). While it is true that there is nothing you can do in case the training does not produce desired results, it is always wise to keep the expectations at an achievable range.
What's most important in this case is maintaining communication with your upper management. This way you can avoid any misunderstandings regarding the results. Keep a balance between what management expects of eLearning and what eLearning can deliver, and you are good to go.
A small worry that might often pop up in the minds of training managers is whether the learners would adapt to this online form of training. Well, that should not be a problem thanks to COVID-19 now, would it?
Wrapping It Up!
These are the six challenges that you may face during eLearning implementation. But as you can see, overcoming these hurdles is not that tough either. So what do you say? Would you like to implement eLearning in your organization? Although I suggest you think before you leap, there is a certain level of assurance about its efficacy that I can give you.
Look out for more insightful content from me. Until then, see if this little eBook on the real eLearning trends interests you. Buh-bye!