7 eLearning Design Tips for Effective Corporate Training
Are you looking for ways to change your online course for better outcomes? In this blog, you'll find 7 eLearning design tips for effective corporate training.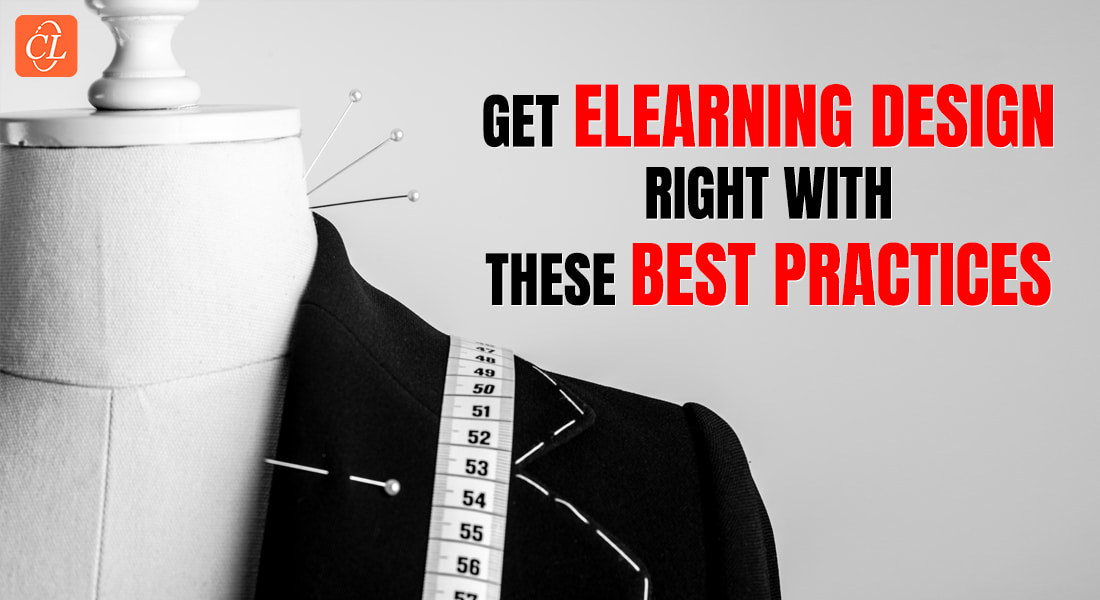 Since the COVID-19 pandemic began, thousands of organizations worldwide have revamped their corporate training strategies to train their globally dispersed workforce. eLearning courses have become popular overnight, as businesses have equipped their training teams with authoring tools, or they've outsourced its development to L&D partners. The only problem now is most organizations are hurrying to take up this trend ignoring the fact that modern learners need more than high-quality training content. The fact is learners today want a seamless learning experience, which is only possible through stunning eLearning design.
Do You Want to Improve Your Learning Outcomes and Training ROI?
Here are a few eLearning design tips that can help:
Break up your eLearning Content
Apply Visual Hierarchy
Include Meaningful Images and Short Videos
Use Colors Strategically for Better Harmony
Read on to learn more.
Of course, you can't blame your employees for this. We live in a digital age where users are accustomed to clean, modern, and visually attractive websites and mobile applications. Therefore, if your eLearning course is old or outdated, it might not be as effective as you would've hoped.
Therefore, if you don't want your digital course to look like you made it in 1994 with cheesy, robotic voiceovers, low-quality design, and outdated images, then keep reading on how to revamp your eLearning. In this post, we'll share seven eLearning design tips to help you improve your learning outcomes and training ROI.
Why High-Quality Instructional Design Matters in Corporate Training
Instructional Design (ID) is among the most crucial aspects of effective eLearning programs. Without proper design techniques, you're essentially left with text on a screen that doesn't provide the learning experience or outcomes you're expecting.
Here's why good ID is the key to delivering engaging and cost-effective training:
Improved Knowledge Retention
Undoubtedly, the key to achieving learning goals lies in the content. However, graphics helps employees gain and absorb knowledge by enabling them to connect with images, videos, charts, and infographics that are linked to what they're learning. Therefore, integrating visuals into your eLearning design helps improve your course's effectiveness.
Enhanced User Experience
User experience (UX) design has become one of the most important aspects of enabling positive learning experiences. A great UX design helps learners engage in the material throughout the course and improve their overall learning experience. A user-friendly interface simplifies course navigation and helps keep learners' behavior, attitudes, and emotions in the trainers' favor.
An improperly designed user interface and user experience (UI/UX) adversely affects your course completion rate, training completion time, and crucial metrics that might harm your training ROI.
Improved Readability
Solid eLearning design improves the readability of highly technical or complex concepts and ensures they're presented in a way that learners can easily understand. L&D teams must employ several solutions, including white spaces and clearer fonts, to design a clean appearance for better clarity.
Intriguing eLearning Design
A stunning design triggers the curiosity lingering inside learners, especially those eager to learn and improve their capabilities. The key to achieving this is designing a mystic and inviting course. There are several ways to do this. For instance, you need to include short introductory videos to grab your learners' attention.
7 eLearning Design Tips for More Effective Corporate Training
Here are seven sure-fire tips to get your eLearning design right:
1. Break Up Your eLearning Content
The first thing you should do as an L&D developer is to break up your training content into smaller chunks. Most people end up cramming more content into a single slide, which can frustrate learners and force them to skip ahead. Therefore, we recommend using multiple slides to improve readability and ensure a consistent, uplifted look.
You need to use a modern authoring tool for this purpose, such as Adobe Captivate or Articulate Storyline 360. They help you create templates and modules to break down your training content.
2. Apply Visual Hierarchy
Would you enjoy reading a magazine or going through a website? Even if both had the same image sizes and fonts? No is the obvious answer because this makes the information difficult to scan or read. The same goes for eLearning courses.
One smart way to improve eLearning design is by highlighting the appearance of text in different sections and using unique font styles and sizes. This helps ensure a seamless reading experience and makes certain the most crucial information is visible at first glance.
3. Use Meaningful Images and Short Videos
Text is the primary source of information, but images and videos remain crucial elements to help create an emotional impact on learners, boost their retention, and improve information recall. No matter your L&D skill level or design experience, you most likely understand the vital role those visual elements play in producing effective training materials.
The good news is you don't need to be a talented graphic designer to reap these benefits. You can find stock images and videos that appeal to your industry and target learners. Popular examples include Unsplash, Canva, Pexels, Pixabay, Shutterstock, Biteable, and Storyblocks, to name a few.
4. Use Colors Strategically for Better Harmony
Another significant visual feature of eLearning design is color. It might elicit the desired emotions from your learners and assist them in progressing through the course. Also, colors must adhere to your company's brand and style guidelines. You need to design eLearning in accordance with the brand's color scheme, by requesting for and complying with it in your eLearning design process.
In addition, you need to choose a balanced color palette and incorporate a mix of light and dark colors to foster design harmony. We recommend choosing dark colors for the text and white or light colors for the background. You mustn't add higher than two or three colors. Rather, you need to look for different combinations. For example, if you use PowerPoint, then you might explore different color combinations and pick one for your eLearning course.
5. Include Gamification Elements
Irrespective of your course's aesthetics and information, there are always those employees who don't prefer to engage with traditional digital training methods. This is where gamification can be of help. For such learners, you must incorporate gamified content, such as group exercises, video games, simulations, branching scenarios, and adaptive assessments, into your course.
This can prompt even the most casual of learners to engage in training programs and consistently interact with peers and instructors while also improving capabilities.
6. Include Formative and Summative Assessments
No modern corporate training program is complete without formative and summative assessments. Assessments are crucial to help generate feedback and determine the learning outcomes. Therefore, you need to incorporate them into your instructional design by including quizzes, polls, surveys, games, and role-play simulations.
7. Maintain Design Consistency
Finally, the last thing you want in your course is mismatched color themes, inconsistent font styles, and missing information. Whether you're new to the eLearning industry or a veteran, you need to maintain design consistency throughout your courses.
You can do this by using a single-color palette and choosing a minimalist approach by reducing the text and adding more visual content such as videos and infographics.
The Bottom Line
Instructional design is a vital aspect of eLearning. With the right design, you can ensure your learners remain engaged at every phase of your corporate training course and meet the desired learning objectives.
Unfortunately, many companies still overlook eLearning design and don't reap the full benefits of this innovative training strategy. Emphasize the design aspect of course development from the get-go with the aid of these instructional design strategies. You must proactively organize and streamline your content, as it helps save on time and expenditure, and it also improves your training ROI. Do you want to gain more insights on how instructional design strategies can help you design effective eLearning courses? Download this free eBook now to find out how.