Top 4 Factors to Consider Before Implementing eLearning in Your Organization [Infographic]
Before introducing eLearning in your organization, it's crucial to assess the key factors, such as environmental and psychological readiness. In this article, learn about such essential components for a successful eLearning implementation!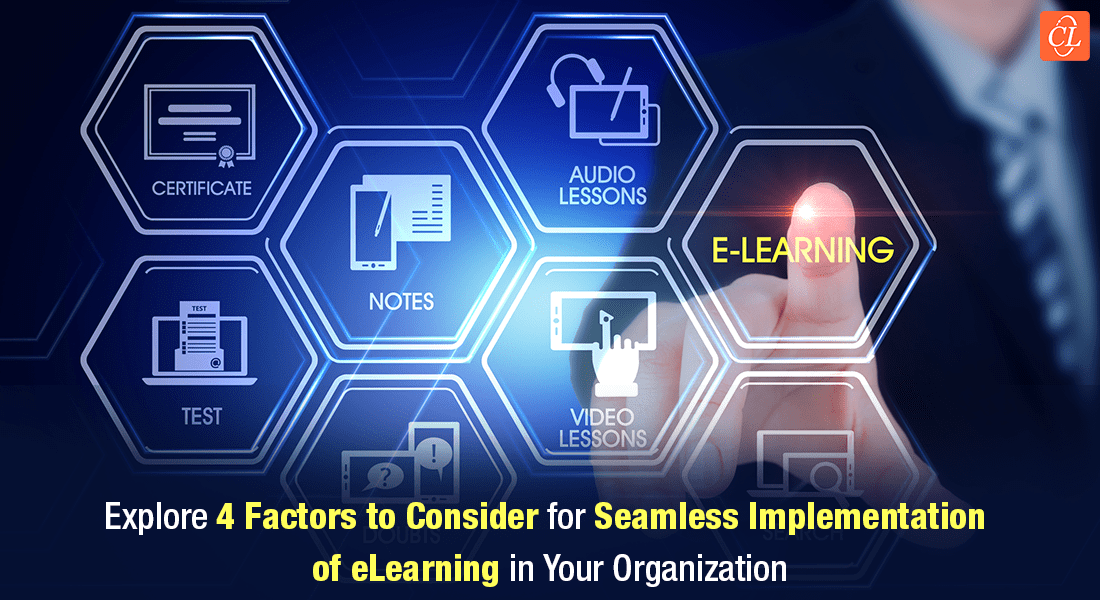 All of us have experienced several difficulties when introducing eLearning. Managing the mindset that "it may be great, but it will not work in our organization" is the toughest problem. That is, we have come up with a few key considerations that you must take into account before implementing eLearning in your organization. But first, let me give you a clear understanding of what eLearning is.
What Is eLearning?
eLearning is defined as learning that is facilitated by technology in terms of its design, administration, delivery, and evaluation. It is the most preferred mode of training because it can be accessed at any time, and from anywhere, hence, it is quickly becoming the most popular training method among all the organizations. The old method of training employees through classroom training is becoming too cumbersome, costing too much time and money to organize, as more and more organizations have their workforces distributed around the globe.
What Isn't eLearning?
The most pervasive myth about eLearning is that it can be quickly developed by simply adding audio to a PowerPoint presentation and posting it online. However, eLearning is NOT:
A PowerPoint presentation converted to HTML
A PowerPoint presentation posted online
A video, PDF, eBook, or website
Are you curious to learn about the most recent eLearning trends? Discover what's popular.
4 Key Factors to Consider When Implementing eLearning
1. Psychological Readiness
Check the learners' mindset to see if they are prepared for eLearning courses, because it has an impact on how the eLearning effort works. To analyze that you can consider some questions like:
Are individual learning styles of learners suited for eLearning?
Do learners' display a receptive attitude towards eLearning?
Is management enthusiastic about introducing eLearning?
2. Environmental Readiness
Refer to the factors that are out of your control & affect both internal and external stakeholders in your organization, check whether your organization is going to outsource some learning vendors or going to have in-house eLearning implementation. Below is the checklist of some questions:
Will you be outsourcing eLearning course development?
How many learners do you want to train?
Are there cultural constraints between groups, or learners from different countries?
3. Technological Readiness
Check the technical competencies expected from learners. An organization may experience difficulties hosting and efficiently delivering eLearning courses due to the lack of a technological platform, check it with your organization if
The technology infrastructure is ready.
The learners are comfortable with using computers.
The learners are familiar with the computer technology and jargon.
4. Content Readiness
Check with the subject matter and instruction goals such as:
The state of your existing content
Availability of the multimedia component
The changes in content should be anticipated or not if yes, how often?
Read the infographic for a quick overview of the benefits and drawbacks of eLearning before introducing it to your company!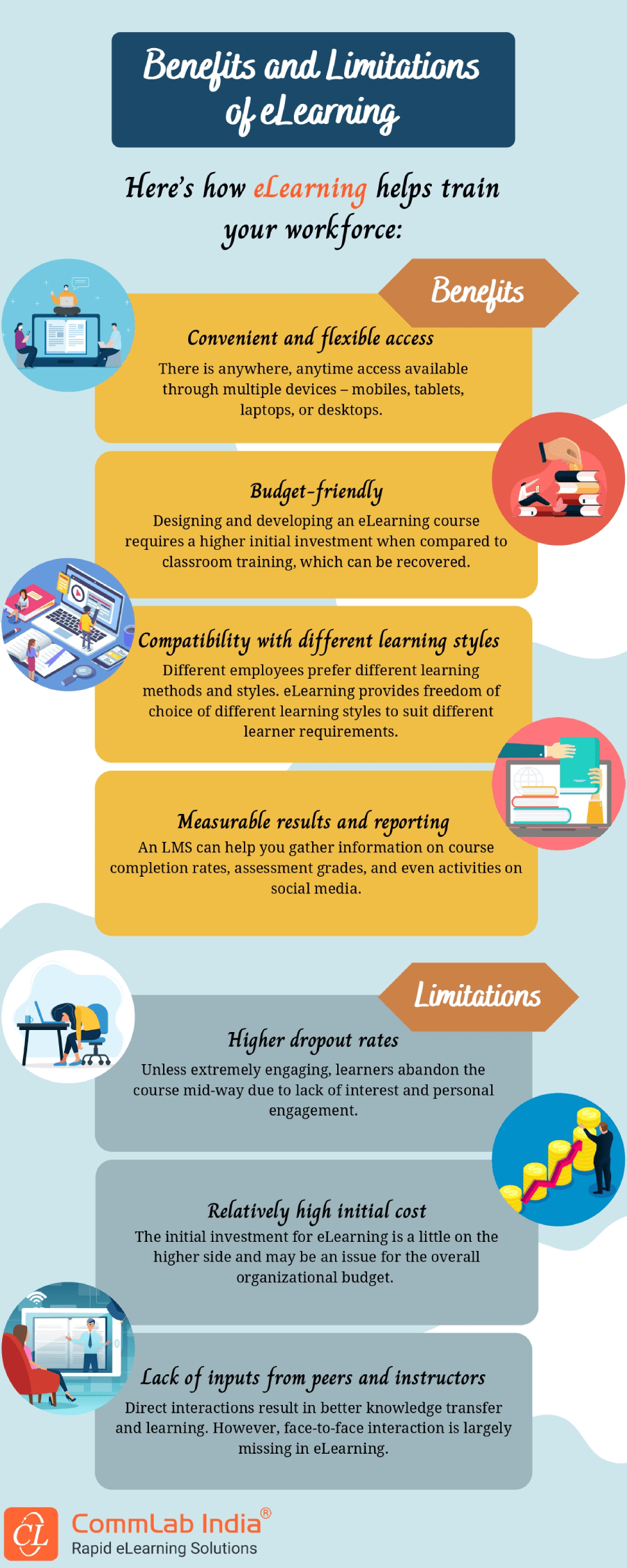 Summing Up
It's important to keep in mind that eLearning is a continuous process in the corporate world! You can achieve scalability and quality while maintaining focus with eLearning. In short, adding eLearning to your corporate training framework will improve your employees' performance and productivity.
Want to become an eLearning champion? Want to know all the insider knowledge? Clarify all your uncertainties and receive immediate assistance! Register for the exciting webinar by clicking the icon.