Top 5 Frequently Asked Questions About eLearning Authoring Tools Answered!
Authoring tools have made rapid eLearning development a breeze. You've come to the perfect spot if you have a lot of queries concerning eLearning authoring tools. We've answered 5 FAQs about authoring tools to help you choose the ideal fit!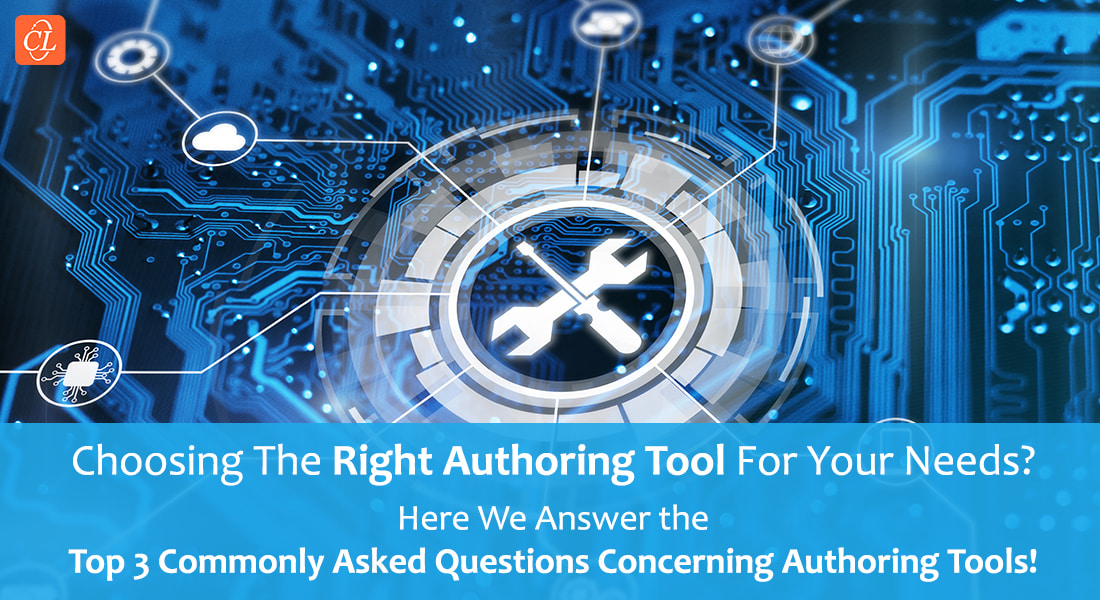 Authoring tools are specialized software used to develop interactive eLearning and microlearning courses. They are simple to use since they don't need technical programming knowledge and provide pre-made templates that can reduce eLearning development time. Finding the best eLearning authoring software from the hundreds of options available isn't going to be easy.
Having said that, selecting the best eLearning authoring tool for your organizational requirements is critical, particularly if you ever need to convert your classroom training materials to eLearning rapidly. Although there are several authoring tools available in the market today, no two are comparable. Some are aimed at novices who want to utilize pre-made templates, while others are for experts who want to create fully personalized courses.
But here's the thing: making the incorrect decision would not only waste time and money, but it may also result in substandard eLearning courses. I'm sure you've had a lot of questions on your mind right now. Don't worry; we've curated a list of the 5 most common queries concerning eLearning authoring tools to aid you to choose the ideal fit!
Wondering How to Select the Right Authoring Tool?
Here are the top 2 FAQs About Authoring Tools to Help you Choose the Ideal Fit:
1. What are the Various Types of Authoring Tools?
Desktop Based Authoring Tools
Cloud-Based Authoring Tools
2. Which Rapid Authoring Tool is the Most User-Friendly?
Articulate 360 (Includes Storyline 360 and Rise 360)
Trivantis Lectora
Adobe Captivate
Continue reading to learn more…
Top 5 Commonly Asked Questions About eLearning Authoring Tools – Answered!
1. What are the Various Types of Authoring Tools?
Every authoring tool is different, and each has its unique set of capabilities. Depending on how eLearning professionals maintain and display their courses, authoring tools can be classified as desktop-based or cloud-based.
Desktop-Based
In order to use these e-learning programs, you must first install them on your computer. They are stand-alone solutions with several features that aid developers in creating compelling and interactive courses.
Example: Lectora Inspire, Articulate Storyline
Cloud-Based software
Logging into a web browser allows you to use cloud-based applications from anywhere, at any time, and on a variety of devices. It provides developers with immediate access and allows distant teams to work together on projects. These programs are more user-friendly and have excellent user interfaces.
Example: Easy Generator, Lectora online
2. Which Rapid Authoring Tool is the Most User-Friendly?
The learning curve, its availability of pre-built assets and other features related to course needs, and other variables all influence how user-friendly an authoring tool is. Overall, the most significant aspect in determining whether or not an authoring tool is user-friendly is, of course, its simplicity of use.
Articulate 360 (Storyline 360 & Rise 360), Trivantis Lectora, and Adobe Captivate are the most user-friendly authoring tools based on the ease of use:
Articulate 360 has a flat learning curve, whereas Lectora and Captivate have somewhat steeper learning curves.
Lectora is the most user-friendly tool for creating completely responsive or adaptable courses that are mobile-compatible.
Rise 360 is a cloud-based application that allows for rapid creation. and is completely responsive.
Captivate is ideal for courses using complicated software simulations.
3. Which Authoring Tool is the Easiest to Learn?
Articulate Storyline 360 offers a simple to a moderate learning curve, making it the most user-friendly authoring tool. This is because it:
Is Similar to the PowerPoint interface but has more customization options
Provides solutions for the majority of eLearning needs
Is Simple to use for developers of all skill levels
4. Which Authoring Tool is Best for Creating an eLearning Course Based on Simulations?
The combination of Adobe Captivate with simulation-based eLearning is a marriage made in heaven. It's never been easier to create complicated watch-try-do software simulations! Adobe Captivate 19:
Offers 4K HD resolution output
Allows for the capture of high-resolution screencasts of any screen activity
Allows for the conversion of screencasts into videos and the addition/deletion of callouts
Even though Storyline may be used for simulation-based eLearning, it does not support 4K HD resolution output.
5. What Is the Best Tool for Creating Interactive eBooks From My Online Training Materials?
Adobe InDesign is the tool to use if you want to swiftly generate eBooks or convert your existing eLearning into eBooks:
Adobe InDesign allows you to create ebooks in a variety of formats, including interactive PDFs and EPUBS
Interactive PDFs may be viewed on smartphones, tablets, eReaders, laptops, and PCs and include interactive elements
EPUBs are used to sell eBooks on popular online retailers such as Google Play and Amazon Kindle Store
Parting Thoughts!
It is critical to understand authoring tools before embarking on the road of eLearning development and design. I hope that this article has addressed a few of your questions about authoring tools and provided some insight into how they might assist you in creating excellent courses.
Are you still confused about how to go with analyzing your alternatives and choosing the best authoring tool for your training courses? So, don't be concerned. Download our free eBook on 'How to pick the right authoring tool' and discover practical insights and more.