3 Options Beyond the Classroom for Corporate Training Amidst COVID-19 [Infographic]
COVID-19 has changed corporate training dynamics toward the virtual medium. Find out 3 virtual training options for corporate training beyond classrooms.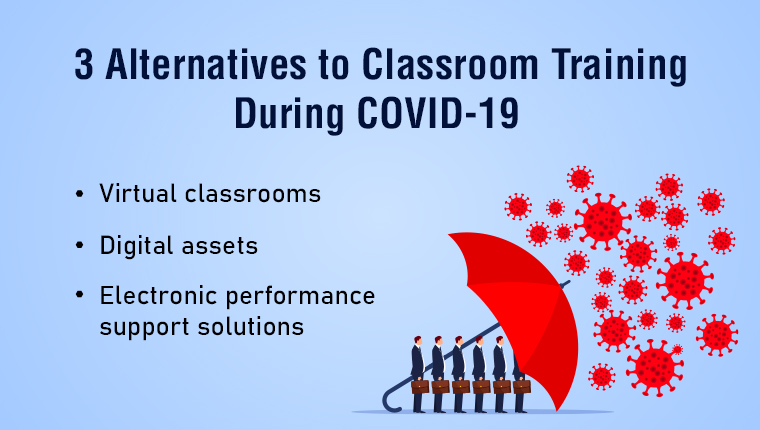 Businesses around the world have been deeply affected by the COVID-19 outbreak and corporate training is one of the hardest-hit areas. According to McKinsey & Company, more than half in-person programs were cancelled in the last three months in North America and the figure is closer to 100% in Europe and Asia.
However, though corporate training faced the worst case scenario in the first couple of weeks, it has since emerged more resilient and adaptive to change than any other business operation. More and more organizations are trying to find solutions to overcome the disruptions to classroom training.
If you look for the silver lining in this overcast COVID-19 scenario, you'll see that this lockdown forced corporate L&D to break the status quo and fully adapt to a digital world. Don't get me wrong, I know the online training industry has been on the rise for years now and it was a billion-dollar industry even before this lockdown. But present circumstances made us evaluate the current needs of the workforce and find alternates to the good old traditional classroom.
Shifting corporate training from classroom to online or virtual formats is not just a momentary solution for immediate problems but also a reliable way to future-proof workplace L&D. Virtual training is more adaptive to new-age learning practices and flexible to meet learners' training needs. Most importantly, the scope of virtual training is not limited to just one way of delivering training. It can be synchronous (through webinars, VILT) or asynchronous (like eLearning, microlearning).
Here's an infographic highlighting the scope of corporate training beyond brick and mortar classrooms.