Blended Learning – A Guide to Boost Employee Performance [eBook]
Blended learning involves taking the strengths of each traditional and online training method to create an impactful and engaging learning environment. Read on to learn more…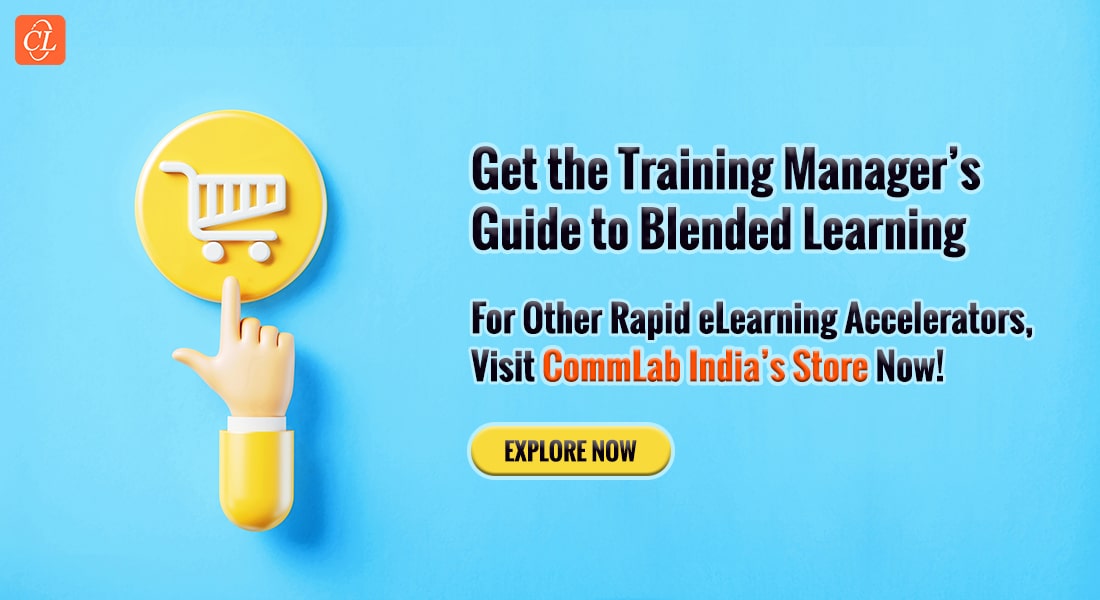 Blended learning is a training approach that combines traditional classroom training and online training to facilitate a flexible, learning environment. It involves taking the strengths of each method and using them to create an impactful and engaging learning environment.
The online element of blended learning, unlike full-fledged eLearning, does not replace in-person learning in the presence of an instructor. Rather, the instructor uses technology to improve the learning experience and deepen understanding of specific topics. For instance, they might send out a link to a short, interactive video and encourage the learners to watch it at home before discussing it in a face-to-face classroom session.
What Makes Blended Learning Unbeatable for Corporate Training?
Join us as we discuss how it:
Encourages Online and Offline Learning
Promotes Independent Learning
Facilitates Collaborative Learning
Promotes Self-Paced Learning
Encourages Cost Saving
Boosts Employee Performance
Benefits of Blended Learning
Encourages Online and Offline Learning
Blended learning has become one of the most preferred modes to deliver corporate training. This has further led to an increase in the types of programs offered under blended learning. Rotation programs and flex programs are two examples. The rotation model of blended learning involves both traditional and online learning and the learners have to rotate on a fixed/ timetabled schedule, On the other hand, flex learning involves the use of technology to make learning more flexible and engaging. One thing all of these programs have in common is that they all mix some sort of online learning with some form of offline learning. This is one of the best ways to train adults with jobs.
When trained in a blended environment, employees are made to feel that they are in control of the learning environment. The combination of face-to-face training and online training helps employees consume the learning in the way that suits them the best. Leveraging the online component of blended learning, employees can choose to learn during their downtime. At the same time, traditional, instructor-led training sessions can be used for one-on-one interactions.
Promotes Independent Learning
Now, this is one of the most significant characteristics of blended learning. Because no two people learn in the same way, it is important for instructors and training managers to identify the best ways to accommodate individual learning styles. The online component of blended learning allows the learners to get trained at their own pace and have their own, individual learning materials to get trained from. On the other hand, employees who learn better in traditional, face-to-face methods can continue to learn under the guidance of an instructor.
Facilitates Collaborative Learning
In addition to including both face-to-face and online training events, blended learning also encourages collaborative learning through online discussion forums. These forums can be accessed by both the instructors as well as the learners to share knowledge and experiences. The learners may also access discussion boards whenever they wish to and start discussing a topic and have their peers contribute to it.
Promotes Self-Paced Learning
With blended learning, the employees can consume eLearning modules at their own pace. The use of eLearning assets such as microlearning can also make the learning content available on a need-basis i.e., they can access it whenever needed. Similar eLearning assets such as videos, infographics, scenario-based learning, etc can promote learning in a very focused environment. They also promote self-paced learning. And in case they have doubts or get stuck, they can always approach the instructors during a face-to-face session.
Encourages Cost Saving
Blended learning is an investment that saves a lot of money. By conducting online training, organizations need not have to invest in travel and infrastructural expenses. Multinational corporations, for instance, frequently hold training sessions in a single location, requiring their employees from across the globe to travel there. These charges, which include travel, and accommodation, could be quite high. Additionally, it might be highly expensive to rent a sizable training space to hold a session.
Blended learning consequently greatly reduces operating costs by saving on everything from travel expenses to the renting of meeting rooms. Additionally, it reduces the amount of time that businesses must spend planning large-scale training sessions.
Let us now talk about the biggest benefit of blended learning – a boost in employee performance!
Boosts Employee Performance
Yes! That's right… blended learning serves as one of the most dependable ways to deliver online training. Modern-day employees prefer learning in an environment that is flexible and engaging at the same time. And blended learning meets both preferences. The online part of it gives them the flexibility to browse materials and gain knowledge whenever they wish. At the same time, the use of audio visuals to impart the learning makes it engaging for the employees and encourages higher participation in the learning activity.
But there are several other ways in which blended learning supports and boosts employee performance. But for that, you need to get the strategies right!
From explaining in detail about blended learning to highlighting the points that make it an indispensable part of current-day corporate training scenarios, the eBook is the perfect guide to blended learning.
The book comes in handy to learning and training managers who are constantly on their toes to make learning more accessible and relevant for the employees. The book helps answer some of the most important questions such as:
When does blended learning work best?
What medium can be included in blended learning programs?
What are the pros and cons of each medium?
How does the job task inventory template help?
What does it take to create a perfect blended learning solution?
What are the different ways to help employees master a task?
The book also includes some real examples and case studies of blended learning in action.
This sure makes it a great read! Grab the eBook now.