Top 4 Practical Ways to Increase ROI through eLearning
eLearning has enhanced learning and skill-building opportunities. Online learning offers several advantages and saves learners' time and resources. Such benefits raise business' return on investment. Continue reading to learn more.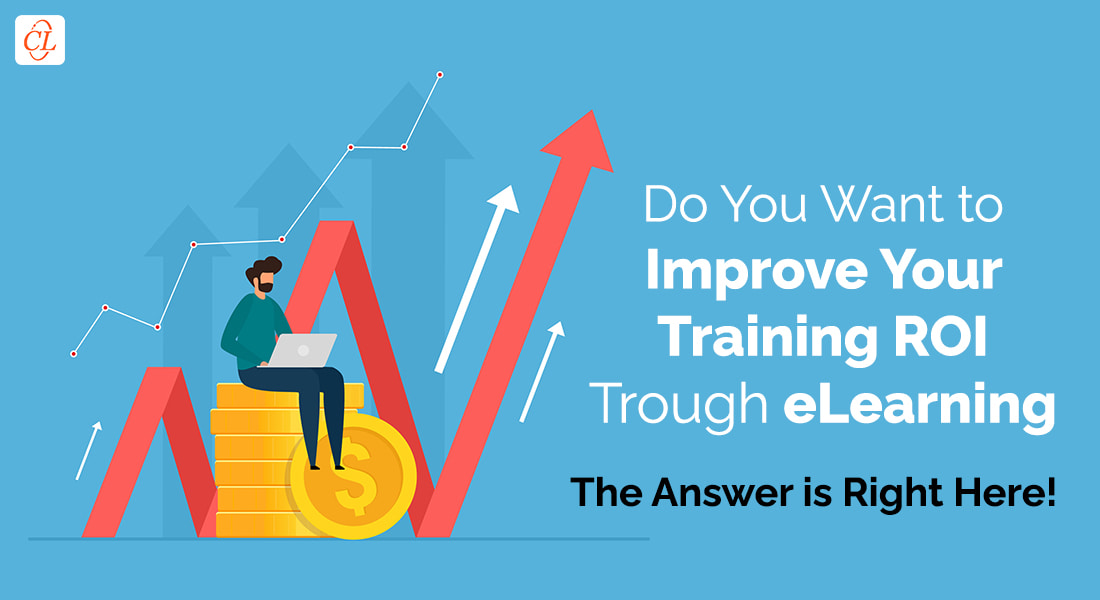 Knowledge is power, and so is money. This is especially true where the horizons of the business and skill-building worlds meet, especially now, in the age of eLearning. The advantages of training employees can permeate every part of your company. It enhances the performance of your organization by encouraging worker morale and increasing revenue.
In addition, the presence of skilled staff is critical for every business to remain competitive. As changes in the market require companies and their workforces to adapt even more quickly than before, continual professional development has become a must for all organizations.
Training is always an investment, and not an expense. So, let's find out about eLearning in businesses.
eLearning is Not Only a Technological Innovation, But It's Also a Revolution in The Corporate World.
eLearning enhances ROI by:
Saving company and employee time
Cutting costs across departments
Encouraging focus and performance on the job
Upskilling employees and increasing rate of retention
Improving customer satisfaction
What is eLearning in Businesses?
The intersection of technological and human-related disruptions will shape the future of business. Today's businesses are growing internationally and are increasingly incorporating eLearning courses to attain their goals.
eLearning has become the preferred training method of the worldwide workforce in the contemporary setting of massive technological advances. The primary reasons for this are its cost-effectiveness, easy installation, and streamlined scalability. In fact, it's forecasted that the worldwide eLearning industry will surpass $275 billion by the end of the year.
You can guarantee that the skills your employees achieve match your company's goals through eLearning. eLearning comes in manifold forms, such as microlearning, blended learning, and simulations, to name a few.
According to a survey of 2,500 businesses, those with extensive hybrid training programs earn two times more per employee and have 24% higher profit margins. In addition, it might be worth noting that IBM saved approximately $200 million by switching to eLearning.
eLearning has considerable influence on many parts of an organization.
New Employee Training
The process of training recruits during the onboarding process has developed significantly over the last few years. Well-designed eLearning programs like mobile learning and microlearning boost employee loyalty, engagement, and retention. eLearning helps train new employees quicker and effectively no matter where they are.
Development Programs
A few examples of these programs include sales training, compliance training, and software training. Let's say your organization want to properly implement a sales training, it should implement an EPSS (Electronic Performance Support Systems) that includes instructional videos, job aids, and functional performance enhancement tools to generate a competitive edge and promote corporate success. Also, when companies provide opportunities for growth and advancement to their workers they help hold on to top talent, increase customer satisfaction, and save on recruiting expenses.
Employee Health and Safety Training
It is an important step in supporting employee wellbeing. When employers address employees' concerns and provide vital information on health along with innovative approaches to workplace management, they are adding an integral component to their training program. These programs should ideally be participatory, and you need to encourage your learners to express their thoughts. Discussion forums and other social learning formats are also workable methods for health and safety training.
eLearning brings a shower of profits for businesses with their versatility and their proven positive effects on corporate training. Perhaps one of its greatest strengths lies in its ability to increase learning ROI. Let's look at how your organization can reap the benefits.
How Does eLearning Help Increase Business ROI?
Researchers have conducted several studies to determine the ROI for employee training. A study by IBM found that using eLearning tools increases productivity by 50%. This company earns around $30 in productivity benefits for every dollar it invests.
Typically, the return on investment depends on improved employee skill sets and knowledge bases. Your organization stands to gain financial advantages, as training enables a person to be more productive, manage responsibilities that were previously beyond their skillsets, and use a technology that adds value. eLearning formats like simulations and scenarios help strengthen employees' soft skills and their specialized skills. With this, you enable your trainees apply their knowledge and abilities in real-life circumstances at no risk to the company's operations.
Let's evaluate four broad aspects to how eLearning impacts ROI:
Reaction to Learning
Knowledge
Behavior Change
Learning Outcomes and Impact
Do you want to discover how eLearning helps in boosting ROI? Read on to know more.
1. eLearning Saves Time
In the corporate environment, time is as invaluable as money. An immersive eLearning experience promotes learning beyond office hours and reduces loss of productivity. Technology-powered formats like mobile learning and knowledge databases enable employees access to resources at their convenience.
In fact, studies show that eLearning can cut short total training time by 40% to 60%. You no longer need to disrupt your work schedule to plan training sessions. The cost of employees' downtime is also reduced as they can engage in eLearning from different places, at any time, without missing out on any session.
eLearning enables you to offer role-based, need-based training modules to your employees. This saves time, and it also engages learners as they don't have to relearn what they already understand or what's beyond their operations. Enterprise Resource Planning or ERP and other software training emphasize role-based learning as it works well to develop distinct modules for each group of employees. Microlearning or bite-sized learning modules affords learners the opportunity to choose their own path of learning, and this promotes optimum information retention and application.
eLearning increases productivity. Your teams achieve more and finish their work in less time through this innovative approach. This enables your organization's bottom line to benefit from your investment in training.
2. It Saves Money
eLearning saves a lot of money for the wider audience. It could help in reducing costs of hiring instructors, saving employee time, booking training facilities, and spending on the facilitator's travel, meals, and supplies. You can save as much as up to 80% of your entire spending only on printing. Learners only need a computer or smartphone, as well as enough time to complete their training.
You can invest once in the development of eLearning courses and use the same modules or designs for future batches of learners. The financial investment for eLearning is lower, and its results surpass alternative approaches to learning.
3. It Cultivates Greater Focus on The Job
Employees who actively disengage at work cost their firm roughly $3,400 per each $10,000 of their salary. Employees get disengaged when their careers plateau.
eLearning enables on-demand access to professional advancement, getting workers to remain motivated and preparing them for more responsibility. Employees are more likely to connect with their jobs and perform better when they feel that their organization cares about them and their growth.
Leveraging a good Learning Management System or LMS (Learning Management System) can help you track the required metrics to evaluate employee performance and understand how your eLearning courses are helping maximize profits.
When you ask your workers to set aside time for eLearning, you must design leaderboards to create healthy competition. You could also add value through quick videos of your senior management praising the L&D teams. This would go a long way to promote eLearning in your organization that when put to use improves employee focus.
4. It's Cost-Effective
It's even more economical than traditional learning to develop and implement eLearning courses. When you remove large expenditure on instructor-led training, eLearning could save your business enormous amounts of money on training and development.
One of the primary benefits of eLearning is, although it requires little to no ongoing maintenance, it provides faster development time than traditional learning. Online training solutions enable you to update critical courses and material easily and swiftly.
The long-term expense of hiring in-person facilitators, specifically in big corporations, exceeds the upfront cost of eLearning development.
5. eLearning Upskills Employees
Employees input at the workplace have a direct impact on organizational profits and performance. Business requirements change quickly and it's simpler to train current employees than it is to recruit and onboard new ones.
Continual opportunities for workplace training help employees improve their hard and soft skills. This impacts and enhances the company's bottom line. Your workers not only gain information, but they also improve current, core abilities. Also, blended learning solutions contribute to the comprehensive development of your employees' soft and hard skills, as they benefit from various formats like discussion forums, web-based learning modules, digital bulletin boards, and simulations.
Your sales team closes more deals, your office communicates more effectively, and your management leads more successfully. Now that's a remarkable advantage. And as a result, your organization's earnings and performance improve in all areas leading to an increase in the ROI.
6. It Builds Higher Customer Satisfaction
Proper staff onboarding and training has a significant impact not just on your company's earnings but on customer satisfaction ratings, too. Employees have access to learning in more bite-sized and engaging formats than traditional learning. This helps them increase their recall of key concepts and skills allowing them to better meet the needs of customers.
eLearning provides the opportunity to host company-wide customer service training that employees can undertake at their leisure.
7. eLearning Increases Employee Retention
According to the Harvard Business Review, 70% of workers quit their present job to work for a company that invests in employee learning and development. You can increase employee retention by providing continual access to eLearning opportunities.
This also helps with the onboarding process. Inadequate onboarding strikes a negative chord in employees and contributes to first-year turnover.
You witness a positive shift in your ROI by enhancing employee onboarding and retention. As your present employees stay longer and recruitment becomes smoother, you spend less money on hiring which also results in a financial gain.
Endnotes
Recognizing how you need to monitor employee training and understanding the costs and advantages of eLearning sets the scene for your organization's success. ROI increases as the eLearning program expand throughout the company. As a result, any eLearning system must be able to assist employees in all departments and levels.
Also, eLearning makes an environmental impact on your business because of its decreased carbon impact and less paper waste. Are you ready to introduce eLearning into your business? This guide to making a business case for eLearning can help!