Tips to Efficient Virtual Onboarding in the Corporate World
The work from home culture is here to stay for a while and so is remote hiring and onboarding. If you are looking to make this process seamless, this blog lists down a few tips to ensure your virtual onboarding is successful.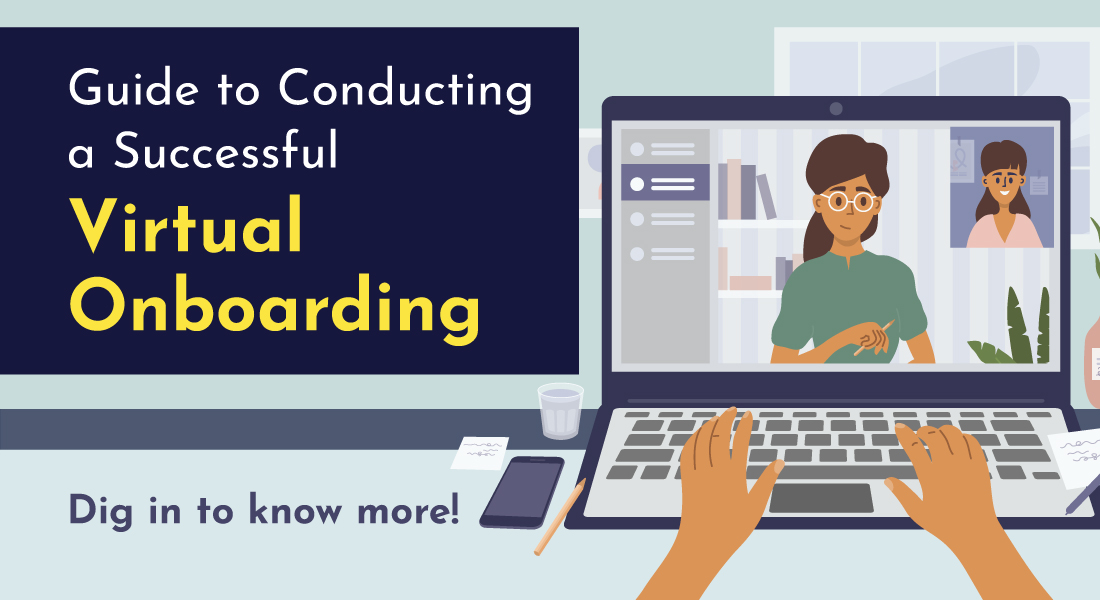 The onset of the pandemic has forced organizations to allow their employees to work remotely. Remote teams, virtual meetings, and online training sessions have become the new normal in these trying times. As employees and organizations began to get used to this new work culture, came the time to hire new employees, adding virtual onboarding to the 'remote' corporate world.
Onboarding is the process of introducing new hires to the organization – its vision and mission, values and culture, departments, processes, employees, and so on. This new hire orientation always took place on site, within the office premises. But Covid-19 has forced organizations to look at other methods of onboarding their new employees, and so we have virtual onboarding added to the mix. Using HR and Learning Platforms, organizations are now ensuring that new hires can complete the process sitting at home, irrespective of their location.
The Importance of Onboarding
The purpose of onboarding is to ensure that new employees blend into the organization's landscape in a seamless, efficient, and informed manner. The right onboarding experience can make a positive impact on the new employee, paving the way for a long and successful relationship with the organization. On the other hand, a poor onboarding experience can lead to a bad start and add to the organization's attrition rate.
Virtual Onboarding Benefits
Allows employees and trainers to collaborate from the comfort of their homes.
Equips new hires to take up their roles and responsibilities faster.
Enables organizations to arrange 360° tours of the workplace, giving employees a chance to virtually visit the entire organization.
Virtual Onboarding
Thanks to new-age HR tech, the entire onboarding lifecycle can be made much smarter, quicker, and faster than the physical onboarding experience – right from collecting relevant data and documentation to introducing the team, assigning mentors, and allocating relevant training.
The best way to tailor onboarding is to ensure it is designed for the specific role and level of the new employee.
Conducting Successful Virtual Onboarding
Although it is proving to be quite effective in the present time, the biggest challenge with virtual onboarding is the absence of human interaction. When new recruits meet their colleagues face to face, it gives them a chance to build rapport. Just mingling with other employees and seeing how they interact with their colleagues also helps them understand the organizational culture better than any amount of reading about the organization would.
But Covid has put paid to all such direct interactions (hopefully only for a short while, more). Till the time that things can go back to normal, organizations can leverage technology and arrange for the team members to collaborate virtually using platforms such as Google Meet, Zoom, or Microsoft Teams. Though this cannot take the place of face-to-face interaction, it does enable new employees to bond with team members and make the virtual onboarding experience an engaging one.
A Few Tips for Successful and Effective Virtual Onboarding
Create a checklist of tasks
Making a checklist of tasks that include the entire onboarding flow of activities, and tagging owners to each task, helps ensure efficient stakeholder management. You can define the rules of how this checklist should be treated on an HRMS system that interfaces between the new hires and the organization. Thus, preventing important steps from falling through the cracks.
Make transactions easy
In-person onboarding sometimes requires the new employees to attend classroom sessions. Since they are on campus, access to infrastructure is not an issue. In the case of virtual onboarding, however, the organization must ensure the employee has the necessary infrastructure to attend the session. Getting this right will make a lot of difference to the new employees, so they don't waste time on time-consuming transactional activities.
For instance, a fast internet connection, a working laptop, and any additional resources needed during the process will make the process smooth and less stressful to the employees.
Create a friendly yet professional environment
It's but natural for new hires to be nervous in the initial days; HR must ensure team members form a professional bond that will help the new employee blend in. It's a good practice to assign a senior buddy to each new employee who can be the go-to person in case of any doubts or problems.
Some ice-breaking sessions can be arranged where new hires can participate in fun virtual games such as online Pictionary and Family Feud. Or teams can participate in virtual interactive quizzes to make the new hire feel comfortable. The organization can even arrange food delivery for everyone to eat together during a virtual lunch session. Also, sending them goodies will make them feel more connected as they become part of the organization.
Virtual Onboarding Isn't All That Bad
Virtual onboarding may not be the ideal way to welcome new hires into the organization, but it is the best way in the present situation. Though the process has a few setbacks, it has nevertheless enabled organizations to keep the hiring process going. Here are a few advantages of remote onboarding:
Employees and trainers can attend the session from the comfort of their homes.
The easy documentation process saves both employees and managers from the daunting task of filling and collecting tons of paperwork.
As virtual onboarding is faster, new hires can take up their roles and responsibilities sooner.
As opposed to physical onboarding, onboarding virtually is less expensive to implement. In addition, virtual onboarding can be executed at scale, with the same or less effort.

Virtual onboarding enables organizations to arrange 360° tours of the entire workplace, giving employees a chance to virtually visit the entire organization without moving from their seats.
Parting Thoughts
So, to sum it up, the pandemic has forced organizations globally to make changes to their policies and move to remote workforce hiring. This has in turn made virtual onboarding a necessity. While adapting to the change took a while, organizations have nevertheless welcomed the move with open hands. The advantages and stress-free process involved, further made the transition easy.
Since we discussed about new hires onboarding, it would be worthwhile to check some interesting ways to enhance employee performance, as well. Don't forget to browse this captivating eBook on boosting employee performance with blended learning.