Top 5 Benefits of Rapid eLearning in Corporate Training You Need to Know Now!
In this era of cut-throat competition, quick, effective, and interactive content is what your corporate training needs. And rapid eLearning is here to support. Let's take a look at the top five benefits of rapid eLearning in corporate training.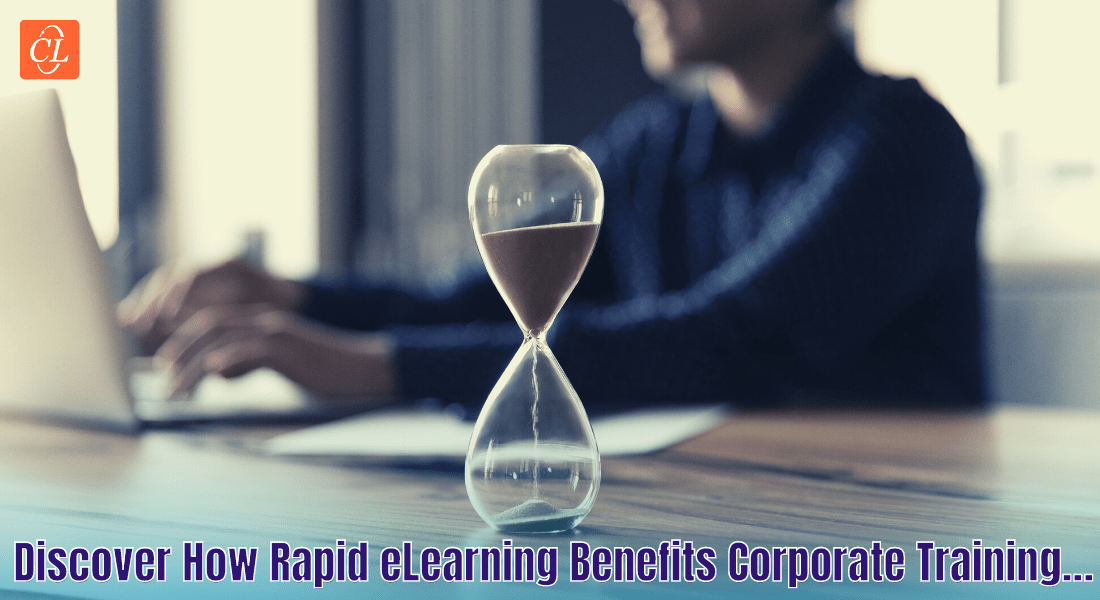 No amount of time is enough time! We often say if only there were more time to complete a task, or the time given to finish the project wasn't sufficient, etc. Well, it might be upsetting, but the truth is, these reasons are just procrastination taking a front step. Parkinson's law puts this kind of behavior into words clearly by stating that we expand our work to fill in the time allotted to complete the task. And rapid eLearning is here to defy this norm.
Rapid eLearning has gained prominence as it adds value to businesses like no other, saving them time and money and providing them with much-desired results and success. Is that all? Not even close. Let's understand this rapidly emerging concept in detail.
Time and Tide Wait for None! Incorporate Rapid eLearning into Your Corporate Training Today
Here are the 5 reasons why you should do that.
Reduces cost
Saves time
Contains technically sound course content
Facilitates instant response to learning needs
Enables easy updates
What is Rapid eLearning?
Rapid eLearning, in its simplest form, refers to the method of producing eLearning courses in a short amount of time. It focuses on the quick creation of design, development, and delivery of corporate training content. With training courses rolled out at a much faster pace, rapid eLearning enables businesses to provide the required training to their employees in a timely manner and incorporate their knowledge and skillset to facilitate better business results.
But, a word of caution, the rapid nature of eLearning courses will have a limited contribution to the effectiveness of the corporate training if the learning objectives are not clearly mentioned. Often, the goal of training is to provide the employees with information and skills that facilitate business goal achievement. Therefore, the learning objectives must be in line with organizational objectives. For this purpose, knowledge resources are dug and used by the SMEs (Subject Matter Experts), who formulate the training content for sharing knowledge with others. Learning pathways are based on the need of the learner as well as the purpose of the training.
It is the SME who acts as a point of contact for the instructional designers to ensure that the design and development of the rapid eLearning courses are in accordance with the company's requirements.
How Rapid eLearning is Different from Traditional eLearning
Rapid eLearning facilitates faster development and delivery of the training content compared to conventional eLearning courses. Courses designed through the rapid eLearning format can be created within weeks and even days. In contrast, eLearning courses usually take up to months for final content delivery.
Rapid eLearning follows agile project management in contrast to traditional eLearning's linear process.
The iterative process helps incorporate regular feedback from the SMEs whereas, in eLearning, feedback is possible only in the end when the course material is delivered.
Benefits of Rapid eLearning in Corporate Training
With the digital world taking over and competition being fiercer than ever, businesses cannot afford to lose time. Whether it's performance, productivity, revenue, or company reputation, businesses need to be on top of their game. And that's when rapid eLearning steps in. Providing training to your employees via this innovative, time-saving training format can work wonders. Let's take a look at some notable benefits and understand why implementing rapid eLearning is important in corporate training:
Reduces Cost
Rapid eLearning is a pocket-friendly solution without compromising the quality and effectiveness of corporate training. The content is created via authoring tools that don't require special programming skills. Moreover, in case of any update, the authoring tools facilitate it saving the cost of developing lengthy courses from scratch. Best of all, the content is readily available. It just needs to be modified into training-compatible formats.
Saves Time
This exclusive feature and standout benefit is crucial for any business. It enables the quick roll-out of training content as it uses authoring tools that contain built-in templates, customizable themes, interactivities, etc., that speed up the course development process. This feature comes in handy keeping in mind the urgency and time constraints without having to compromise on quality or efficiency Rapid eLearning helps in the timely implementation of important strategies.
Contains Technically Sound Course Content
The content used for designing and developing the rapid eLearning courses is provided by experts who have a thorough understanding of the respective modules or lessons being created. This knowledge paves the way for better comprehension of concepts among the learners and aligns well with business goals too.
Facilitates Instant Response to Learning Needs
Rapid eLearning promotes specific and just-in-time information that eliminates the problem of delayed tasks. Learning patterns and preferences change significantly with age. Rapid eLearning takes into account all the important attributes of adult learning, such as self-paced, more flexible, engaging, adding value, etc., to ensure fruitful results. It also includes interactivities in the instructional design that cater to various challenges like lack of focus, imposter syndrome, need for purpose, and more. It comes in extra handy when the tasks are interdependent and can impact the overall efficiency of the project. Also, it's easy to access and flexible, so information can be acquired at any point in time and 'n' number of times.
Enables easy updates
Training content is not a one-time use thing as the basics stay the same. All that is required is a timely update as per the changing business and organization scenarios. In rapid eLearning, updating the training material is convenient as the courses are designed using the authoring tools, such as Lectora, Storyline 360, etc., which are simple to use.
Final Thoughts
Just like modern problems demand modern solutions; rapid training requirements demand rapid eLearning solutions. Without being heavy on the pocket or taking too much time, rapid eLearning facilitates corporate training that enables organizations to deliver complex content to their employees with the goal of increasing employee retention and knowledge transfer. At the same time, interactive multimedia prevents stress and cognitive load. Clearly, rapid eLearning checks all the boxes for being a perfect solution to corporate training requirements.
There's always a little more to every story. Here it's the 4Rs of rapid eLearning. Learn more about them through this webinar recording now!