Best Tools for Custom eLearning and Their Features [Infographic]
The right tool can make or break the impact of training. Check out the infographic in this blog to know the best tools for custom eLearning.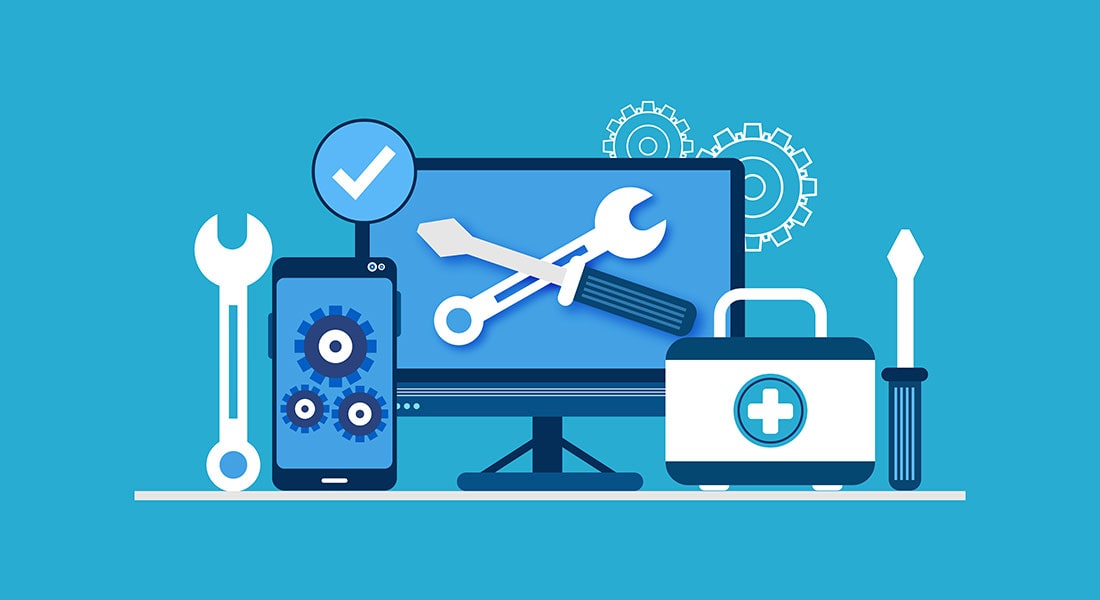 With eLearning taking center stage in today's corporate training scenario, organizations are trying their best to make the most of it. In an attempt to do so, they're readily opting for custom eLearning. Custom eLearning is an approach where learning courses are designed based on the learner and organizational requirements. It offers numerous benefits such as better retention, increased learner engagement, cost efficiency, and improved training ROI.
However, the journey of custom eLearning design and development can get really tricky if you fail to select the right tools. These tools significantly impact the effectiveness of your eLearning courses. So it's essential to make informed decisions.
In this blog, we'll first see the list of best tools for custom eLearning and then delve deep into their notable features. So without any delay, let's start.
Best Tools for Custom eLearning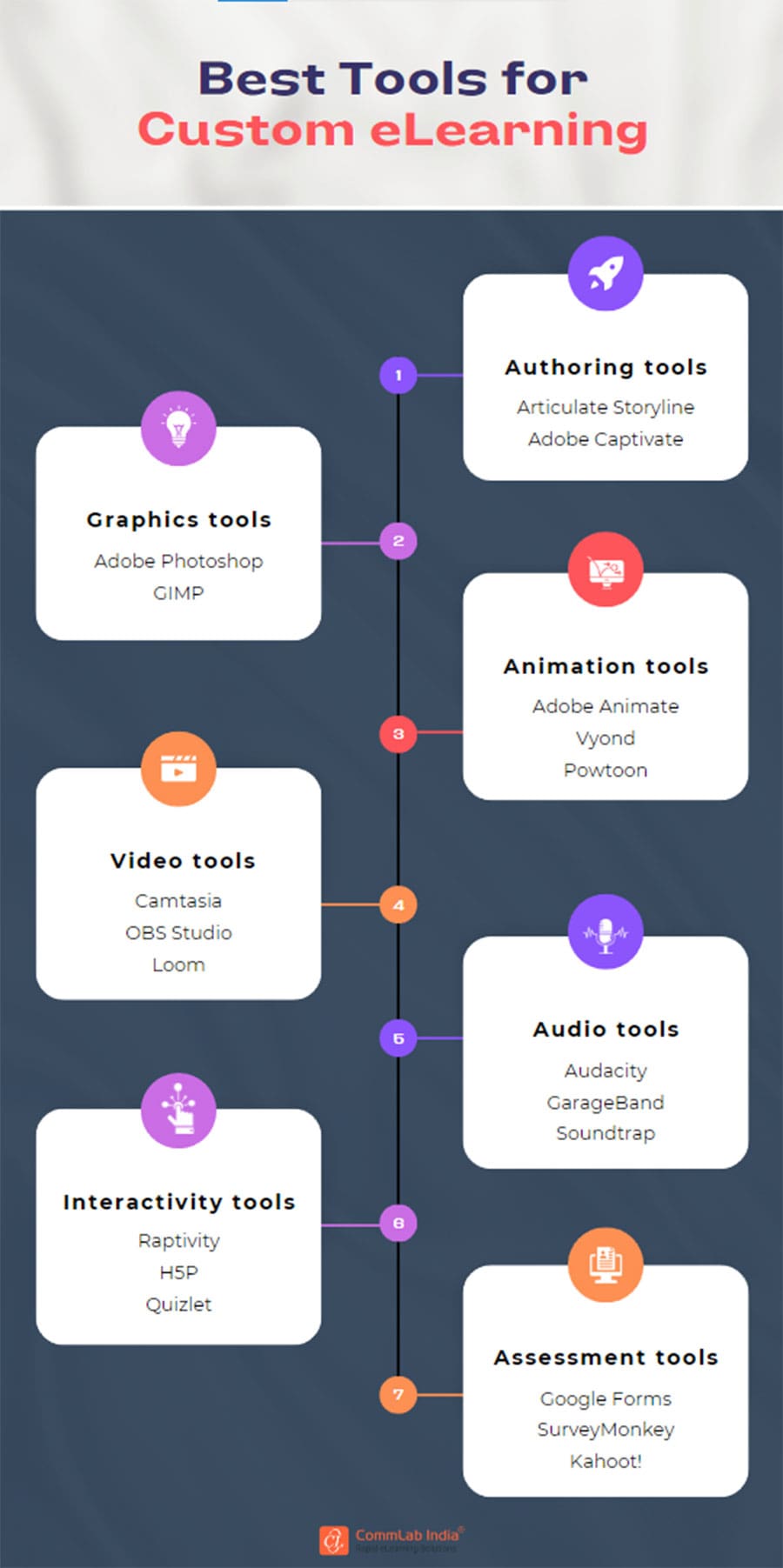 Top 3 Features of Best Custom eLearning Tools
Adobe Captivate
Versatile tool for interactive eLearning content.
Advanced quizzing options and responsive design.
Seamless integration with other Adobe products.
Articulate Storyline
User-friendly interface with rich interactive features.
Triggers, sliders, and motion paths for engaging content.
Timeline-based development for efficient workflow.
Adobe Photoshop
Ideal for creating custom visuals, icons, and backgrounds.
Enhances the visual appeal of eLearning content.
Popular choice for graphic designers.
GIMP
Free and open-source alternative to Adobe Photoshop.
Offers a powerful set of image editing tools.
Suitable for eLearning developers on a budget.
Adobe Animate
Excellent for animations, interactive multimedia, and vector graphics.
Timeline-based animation and HTML5 output for interactivity.
Ideal for engaging eLearning content.
Vyond
Cloud-based animation tool for animated eLearning videos.
Drag-and-drop interface and ready-made templates.
Quick creation of attention-grabbing content.
Powtoon
Web-based tool for creating animated presentations and videos.
Pre-designed templates and characters for easy content development.
Ideal for those seeking simplicity and speed.
OBS Studio
Open-source software for recording and streaming.
Valuable for live demonstrations and presentations.
Suitable for creating video-based eLearning content.
Loom
Screen and video recording tool with a user-friendly interface.
Perfect for quick tutorials, explanations, and video messages.
Handy for eLearning creators and integrations with other apps.
Camtasia
Powerful screen recording and video editing software.
High-quality video-based eLearning content creation.
Professional-grade editing and special effects.
Kahoot
Game-based learning platform for interactive quizzes and games.
Enhances learner engagement and knowledge retention.
Ideal for adding interactivity to eLearning modules.
SurveyMonkey
Excellent for creating surveys and quizzes for feedback and assessment.
Easy to use and can be embedded into eLearning content.
Valuable data for content improvement.
Raptivity
eLearning interaction builder for engaging interactions.
Library of pre-designed templates for easy integration.
Enhances interactivity in eLearning courses.
H5P
Open-source tool for creating interactive, responsive eLearning content.
Embeddable into various learning management systems.
Offers a variety of content types, including interactive videos and quizzes.
Quizlet
Online tool for creating flashcards and quizzes.
Facilitates self-assessment and reinforcement of key concepts.
A valuable resource for both learners and instructors.
Wrapping It Up!
Selecting the right tools for your custom eLearning project is integral in ensuring the success of corporate training. Each tool mentioned in this blog offers unique features and capabilities that cater to different aspects of eLearning content creation. To make the best choice, you need to consider your specific training needs, budget, and the type of content you want to create. Remember that the key to effective eLearning is not just in the tools you use, but how you utilize them to engage and train your audience. When it comes to rapid eLearning authoring tools, we've done the work for you. Check out our tool finder today!