"Software Simulations" A Powerful Weapon To Train Your Employees On New ERP Software
This blog shares how you can use software simulations to train your employees on new ERP software.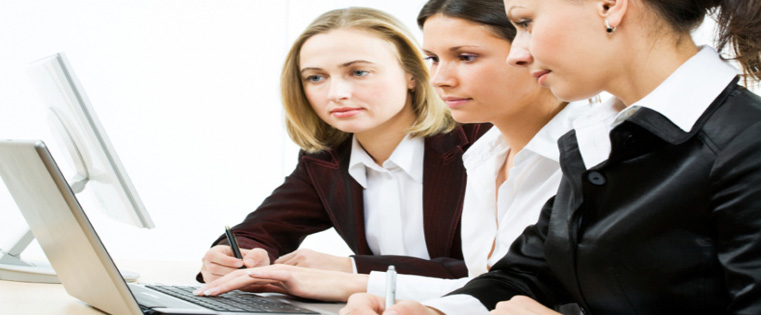 The time and effort it takes to implement ERP in your organization is humongous. All said and done, if your end-users find it difficult to use the system, your whole efforts may go in vain. That's the reason many organizations conduct a wide range of training programs from classroom training to online learning to help end-users work on the software effectively.
After training users in the classroom or online, supporting them on-the-job is a requisite. There may be helpdesks or super users to help them, but the response they receive if they have any difficulties is not instant. We do hear many organizations' help desks arranged to support end-users often take a long time to solve user queries as they cannot attend to many queries at once. In such cases, custom self-paced e-learning courses can be very useful to your employees.
You could opt for e-learning courses with software simulations which are the one of the most effective tools to train your employees on new software. Here, you can use a WTD simulation strategy. Wondering what's WTD? Let me explain in more detail.
1. What's WTD?
WTD is the 'Watch-Try-Do' approach. It is a 3-step process that enables holistic learning. Let us look at the steps in detail.
Step 1-Watch: In this step, learners view how a process works, or you can say the learner is first given an overview of the process, procedure or operation.
Step 2-Try: Here the learner is given a chance to attempt the process under some guidance; for example, here the learner is guided or directed towards the next step in the process with the help of text pop ups or callouts providing hints about the next step or action he has to perform.
Step 3-Do: This is the final step where the learners are asked to do it by themselves. Here, the learner is all by himself and needs to apply the knowledge he has acquired, remember the steps, and do them on his own. If he gets stuck at any point, he is given the option to call for help.
This 3-step simulated approach works best for processes that are complex and tough to understand. This in fact helps the learner by providing an opportunity to practice the steps of a process in a virtually simulated environment, even before they actually start working on the tool. Thus, it boosts learners' confidence and makes them feel confident enough that they can perform the process on the tool without any guidance in the real world.
This WTD approach helps in facilitating effective and engaging training to your employees on the new software setup in your organization. One of the major advantages of using this approach is that, it allows learners access the entire process in a virtual environment and learners are allowed to try using it without the risk of failing. You can also create or mimic real-life situations to teach similar processes.
2. Why is the WTD approach preferred for ERP end-user training?
As we all know, ERP software applications are quite complex,and in order to work on it, the employee must have a clear understanding of the software as whole. Even a single mistake can take a long time to be identified and resolved. In order to overcome this problem, you must provide enough hands-on training to the employees and this can be achieved through "Watch-Try-Do" simulations. This approach provides effective training and practice to the participants in a virtual and risk-free environment. Therefore, organizations can ensure their employees are well-trained on such processes with the help of these software training simulations.
3. How can you use this approach?
The best way to use this approach is to take screencasts of the each step of the task or process to be performed in the software. By using those screencasts in the Watch stage, you can demonstrate the process. Then, the same screencasts can be used in the Try and Do steps.
Earlier, 'Watch-Try-Do' simulations were developed using video editing applications which was a tough and frustrating job. But the advent of e-learning authoring tools has made the development of these software simulations much easier. Also, many authority tools now have an in-built screen capture application which makes the job of developing these simulations easy. One popular authoring tool with this feature is Articulate Storyline. You can have a look at the screenshot shown below.

In this way, you can use software simulations, popularly known as the WTD approach to train your employees on the new ERP software set up in your organization.
Thus, the ultimate aim of using these software simulations is to ensure end-users do not make any serious mistakes while working on live applications. In addition, this provides a great learning experience for the participants.
Hope you find this blog interesting!