Two Powerful Tools to Develop a Good ERP Training Video
Find out how Articulate Peek and iSpring Suite 8.7 help develop high-quality, video-based lessons on enterprise software.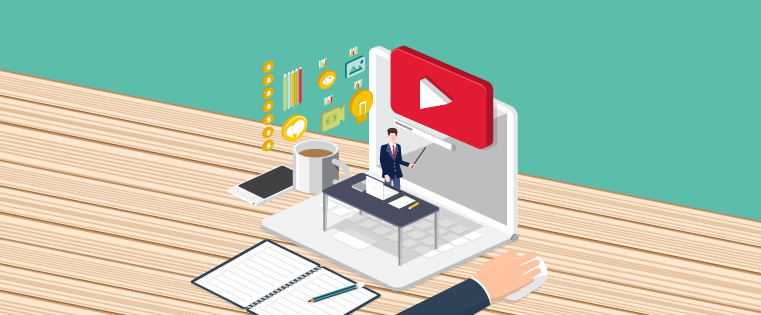 Jack is a senior online course developer in a large manufacturing company. A few months ago, his company initiated the implementation of SAP, and Jack's boss assigned him the task of developing online courses for training the company's workforce on the enterprise software.
Nathan works as an e-learning developer of a global insurance company. Recently, his company commenced the implementation of Workday, and Nathan was given the job of developing technology-enabled learning resources to impart the knowledge and skills required to use the ERP system effectively.
Hannah is a learning developer and works in a multinational pharmaceutical company. Her organization is rolling out Oracle E-Business Suite, and she is put in-charge of creating online learning resources for training the drug maker's staff on the computer-based applications.
Jack, Nathan, and Hannah are not alone. Many in the e-learning development fraternity are entrusted with the responsibility of developing effective online training materials on enterprise software such as ERP applications.
How can you develop good e-learning courses to impart high quality ERP training to your staff members? Using online training resources containing videos is a good option.
Videos are ideal tools to demonstrate the steps of procedures that need to be performed to execute various transactions using an ERP system. For instance, you can use a video to show the steps to create a Purchase Order (PO) using SAP. Short videos, spanning 3-5 minutes can be utilized to provide performance support to users of an enterprise software application.
What does it take to develop a good ERP training video?
Among various aspects you need to consider for creating an effective video-based lesson on your ERP system, the choice of the right authoring tool is inarguably the most important. Today, we will examine the features of two online learning development applications used widely to develop ERP training videos viz., Articulate Peek and iSpring Suite 8.7.
1. Articulate Peek
Peek is one of the nine applications of Articulate 360 that can be used to develop high-quality screencasts of ERP software. These screen recordings can be used to create effective video-based tutorials for training your staff members on the enterprise software application. Peek is compatible with and runs seamlessly on both Macs as well as PCs.
Capabilities of Articulate Peek to develop effective video-based ERP software tutorials
Creation of screencasts is easy
You can develop excellent screencasts of your ERP software with little effort using Peek. The Articulate 360 application is displayed on the menu bar of a Macintosh or in the system tray of a Windows-based computer. All that is needed to swing this powerful tool into action is a just a click.
Option to create a customized screencast for your learning video
In most cases, web-based course developers need to customize the screencasts of their ERP systems before they can be used in the development of video-based tutorials. You can customize your screencast very easily, using Peek. You just need to drag the frames of the screencast, created using this Articulate tool, to create a customized view. It is as simple as that.
Facility to test audio quality
You can make sure that the audio of your ERP training video is clear and consistent, using Peek. The application component allows you to test the quality of the audio to ensure it is flawless.
Video-based tutorials can be accessed on any device seamlessly
You can use Peek to develop video-based lessons of your ERP software, which can be delivered on any device effectively, in a hassle-free manner. This is possible as the output of this application can be incorporated in device-agnostic web-based courses, created using Rise, another Articulate 360 component.
2. iSpring Suite 8.7
iSpring Suite 8.7 is a simple, yet powerful tool used extensively to develop learning videos of ERP systems. This PowerPoint-based rapid authoring tool comes with an application called iSpring Cam which can be used to develop video-based lectures of your enterprise software.
Abilities of iSpring Suite 8.7 to develop good ERP training videos
Specific on-screen activities can be recorded
Many a time, developers of video-based ERP tutorials need to record specific activities on the screen. This can be done easily using iSpring Suite 8.7. The e-learning development software allows you to record the desired on-screen activity, skipping the rest.
Audio narration can be added easily
Good audio narration complements the visual component of a video and reduces cognitive load, thereby facilitating effective learning. You can add voiceover to the video-based lessons of your ERP software, with minimal effort, using iSpring Suite 8.7. The rapid authoring tool allows you to record the audio narration of your training video using your microphone.
System sounds can be incorporated in video-based lessons
E-learning developers often want to include the sounds produced by ERP applications in their training videos, to provide a "realistic feel" of the enterprise software. iSpring Suite 8.7 allows you to record system sounds and incorporate them in video-based tutorials. The online course development tool also allows you to add background music, for creating a memorable learning experience.
Video-based tutorials can be edited without any hassles
iSpring Suite 8.7 comes with a powerful in-built editor which allows you to remove unnecessary elements of your ERP training video. You can also use the editor to eliminate unwanted sounds from a video-based lesson. The editor also allows you to adjust volumes, mute audio in desired parts of the lesson, and add effects such as fade-in and fade out.
Learning videos can be uploaded to YouTube with little effort
We all know that YouTube is one of the most popular social media platforms. You can publish your learning videos on ERP systems to YouTube, at the click of a button, making training resources available to global audiences. One of our clients in the automobile sector has developed a playlist of videos to impart training on SAP to its learners, and the initiative was a resounding success.
Video-based lessons are very effective in imparting good training on ERP systems. Harness the full potential of Articulate Peek and iSpring Suite 8.7 to create highly effective training videos of the enterprise software.