Code of Conduct Training – Challenges in Converting Manual Resources to Online Training
This blog describes the challenges in instructional design when converting courses to the online mode.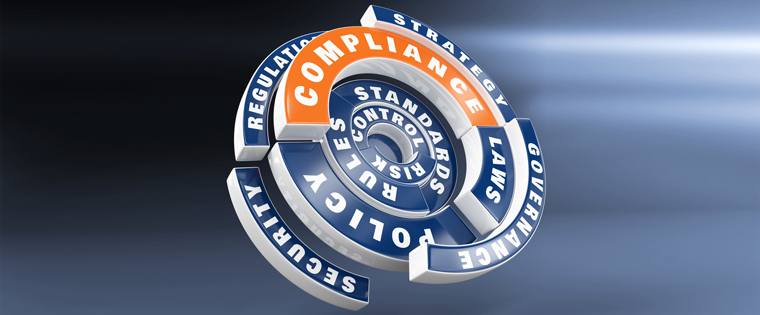 Converting manual resources into e-learning courses comes with its own set of challenges. This is especially true of a Code of Conduct course.The conversion can succeed only if you can plan on the instructional design process you will use for the new course, choose the most appropriate parts of the existing ILT content, involve the right SMEs, and think of ways to incorporate the ILT into the new format while ensuring there is no inappropriate conversion.
The instructional design process must be based on clearly defined learning objectives, and has to cater to adult learning styles. Code of Conduct training is applicable to employees at all levels who may be spread across different countries, so it has to appeal to different learning styles and take into account the cultural differences.
No doubt, manual resources provide the basis for an e-learning program. But before getting down to conversion, ensure that you do an initial analysis of the challenges you might encounter. This includes inadequate content, budget and time constraints and the availability of SMEs and trainers. This blog will tell you about some of these challenges and how best to overcome them.
Challenges
Challenge 1: Transforming content
Using e-learning techniques can make dry content such as Code of Conduct training engaging, help employees apply them, reinforce their knowledge and improve their decision-making skills.
However, you must remember that it is not just about transferring content from one format to another but transforming content and delivering in an online form that will help learners apply it in their daily tasks.
Transforming the content should start with the basics, examining the purpose of the course, the target audience, related materials and other components of the manual resource to decide how they are suited for online instruction. It is not about converting PowerPoint slides into an e-learning module or posting a recorded lecture online.
Transforming content begins with chunking content. You need to do the course level chunking based on the learning objectives. Screen level chunking is important for a Code of Content course which is usually text-heavy. You will have to break down the content into bite sized pieces of information that learners can easily absorb, retain, and recall. Chunking should be done keeping the visual and audio strategy in mind. The aim should be to reduce the cognitive load on the learner.
You also need to consider how much of the content is relevant and how much of it needs to be updated. Converting content that is already out of date will not serve any purpose.
The content needs to be segregated into 'nice to know' and 'need to know'. Only the 'need to know' content should be presented onscreen. The 'nice to know' information can be given in the Resources through links to PDFs as job-aids that employees can refer to later at their convenience.
So you need to use your judgment when segregating content. Since a Code of Conduct course is specific in content and exclusive to organizations, you might need to co-ordinate with the SME while chunking.
Challenge 2: Choosing the right instructional strategies
The objectives of the course must be carefully analyzed to identify the best instructional strategies. Transforming the content also means giving a robust and interactive approach to it. What works in a classroom environment may not work well in an online setting. So you need to think of ways to engage the learner.
The goal of any compliance program, especially Code of Conduct, is to ensure employees follow the rules. This requires more than just imparting knowledge. The challenge is to communicate their relevance and importance so that it has a positive impact on learners' decisions and behavior.
As an instructional designer, you might be wondering how to make the compliance training more interesting. Using an interactive approach with simulations and scenarios can be an option. But using these instructional strategies can mean additional costs. So you need to check this aspect with the client to ensure the use of these strategies does not exceed the budget.
Let's see how scenarios help Code of Conduct training.
Code of Conduct training is usually full of legalese and when designing a course, you cannot just throw the terms at the learners and expect them to understand. Instead, scenarios where the rules are boiled down to actionable items will help learners understand their importance. For instance,when teaching them about an anti-bribery policy, the learners can be given a situation where they see a violationof the rules and then asked their reaction. For choosing their reaction, they can be given 3 to 4 options. Their choice of action as well as the other options will have a clear explanation of whether it is right or wrong. This will make the rule clear to them.
The challenge is to create scenarios which are close to life for the learners so that they can learn from them.

A brief look at how videos help:
Compliance training also involves gray areas, situations that may not have a definite answer. In a classroom, alternative solutions can be discussed and the instructor can give a clear explanation. In online learning, videos can be created with a range of possible responses and let the learner select multiple, potential responses and provide him feedback to explain the complexities. The challenge is to create videos which are close to life and help employees picture themselves in that situation.

In spite of your best efforts, there may be some material which cannot be converted to any type of presentation. In such cases, the solution is to use audio narration to decrease the textual load. The text can be converted to summative bullet points with relevant imagery.
Challenge 3: Assessments
Assessments can be a challenge because in a classroom, learners can be tested through exercises, quizzes and discussions, but this is difficult in the online mode.
The response to a situation or the right course of action that abides by the rules is important for a Code of Conduct training.While it is easy to explain the choices that are right and why the other alternatives are wrong in a classroom session, the same may not be possible in an e-learning course. For this, the assessments need to be interactive.
To do this, think beyond multiple choice questions, when you are testing learners on the guidelines. You will have to create a limited path scenario with different responses and reactions from which they can choose the right option and reinforce what they have learnt.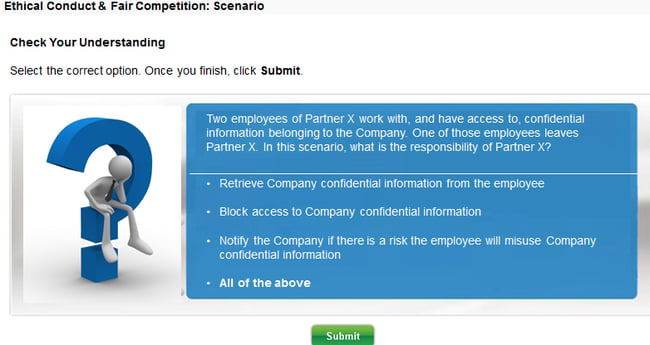 The challenge in converting a Code of Conduct course for online learning is to make it engaging and motivating for learners.The course has to designed well (includes content, activity, and feedback) so that it has the right impact on learners. What are the strategies you use when converting manual resources to online courses? Do let us know.