E-Learning Translation: The Right Way to Go About It
Read to know how to translate your e-learning courses the right way.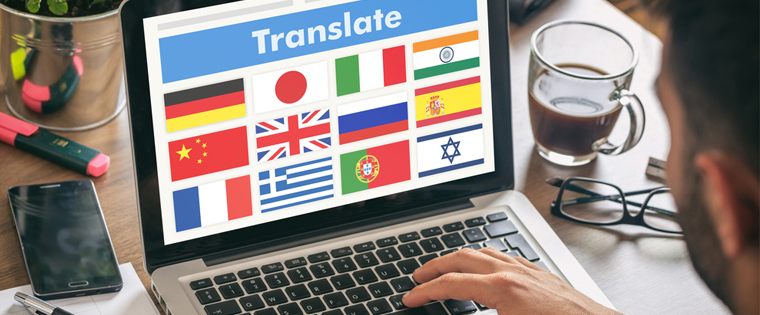 In this era of globalization, it is very important for an organization to sustain growth and retain competitive edge. The first step toward this is training geographically widespread employees in a consistent, uniform manner. However, here lies the challenge. Usually your digital learning program will be created in one particular language, mostly English. English might be a global language, and understood by most, but not everyone would be comfortable learning in it.
One way to tackle this issue is to translate your courses into various languages. When people learn in the language they are more comfortable in, their attention span and knowledge retention increases. More so, when global employees see that their company has gone through the effort of developing a course in their native language, it boosts morale and loyalty.
Translating an entire digital learning program is a tough job, as you don't just have to change the language. You must take care that the course is suitably modified according to the sensibilities of the target country and language. For e.g., idioms and colloquialisms used in the source language (say English) might mean something else entirely if literally translated to the target language. The learning impact of the course should not be diminished when it is translated. Doing this requires a deep knowledge of subject matter, languages, local customs, and e-learning tools. Hence, translating courses in-house can become a big challenge as hiring and handling a team with a diverse skill set is very difficult.
To achieve world-class translation, it is always best to hire an experienced translation vendor. Let's see some of the major benefits translation vendors bring to the table:
Access to Expertise
When you outsource your translation needs to a vendor, you immediately gain access to their expertise and experience. A translation and localization vendor would already have put together a highly qualified team of linguists, SMEs, and technical personnel. This team would already be well tried and tested and yours won't be the first project they are handling.
So along with language translation, they take care of the cultural nuances, do a thorough quality check, and provide you a complete product – that meets your needs. The good thing about working with experts is that they don't leave anything to chance. They can identify areas that can create problems and get working on a solution beforehand. As they say, there is no teacher like experience.
Quick Turnaround
With an e-learning translation vendor, everything is planned and follows a schedule. They have a well-defined project management system and clear cut processes in place. Owing to their vast experience, they know the amount of time each task and module will take, hence they will give you an accurate estimate of the completion date.
Also, remember that vendors work a lot with all e-learning authoring tools. Hence, they can deliver a project faster as compared to it being done in-house. When you get a quick turnaround, all your time-sensitive training programs meet their deadlines and you can get more of your courses translated, in various other languages as well. This helps you cover greater ground among your geographically spread audience.
Allows You to Adapt
Hiring a translation vendor gives you a great deal of flexibility. Over a period of time, your translation needs are not going to remain constant. With a translation vendor, you don't have to worry about your highly specialized team of experts sitting idle or being overworked. As per your changing business and learning needs, you can scale up or down your translation requirements with the vendor. This frees you from all liabilities and creates a highly efficient global digital learning program.
Helps You Focus On Your Business
As it is clear from the above points, translating and managing e-learning courses is a big task. Performing this task in-house can take up a lot of your time and effort. The constant hiring-firing of highly specialized experts can also become a frustrating job. Not to mention the fine quality control you need to do with each translation also becomes a cumbersome task. All of these will distract you from your core business. Hiring a vendor takes away this huge chunk of work and restores your focus.
All of the above advantages of hiring a vendor culminate in one thing ultimately: it saves on translation costs. Hiring a translation vendor saves you a lot of money as compared to doing the entire thing in-house. So when it comes to truly globalizing your e-learning course, rely on the experts and do it the right way.