Six Factors to Consider for Successful Implementation of mLearning – Part 2
There are six main factors that need to be considered before implementing mLearning.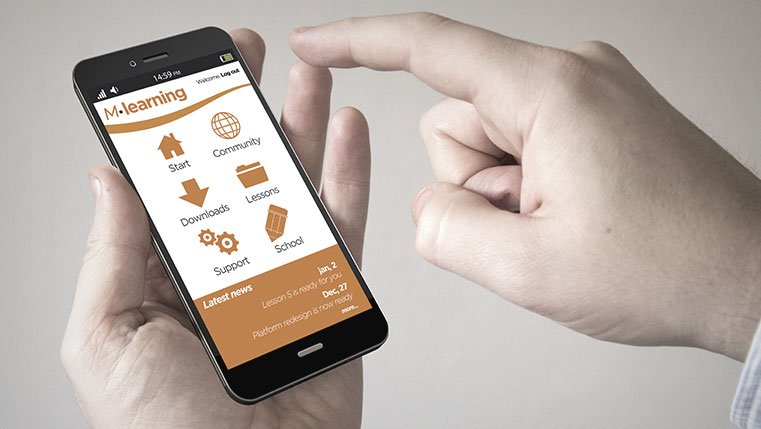 In my previous blog, we have discussed three factors that are needed to consider for successfully implementing mLearning. Here let us see the remaining three.
4. Learning Design Considerations
As there is a certain difference between eLearning on mobiles and PCs, developers need to adapt to a kind of design that makes eLearning courses compatible to small screens.
Here are some key considerations for designing mLearning courses.
mLearning is all about just-in-time learning
Learning should be concise and self-contained
Courses should be designed to suit mobile browsers
Interactivities should be kept simple
Let us see them in detail
mLearning is all about just-in-time learning
Learners find it tedious to access learning for hours via mobiles or handheld devices, because of the small screen sizes of these gadgets. So you cannot offer them courses of long duration and ask them to search for the information they need.
You need to choose only the key points (like Top tips, best practices, guidelines) and break them down into small capsules for mLearning, to help learners in their job field.
Content chunking is the key!
Learning should be concise and self-contained
The byte-sized learning should address the context, but should not come with lots of content. For example, if a learner picks up a small module, he should be able to get all the information that he needs. Information could be in the form of graphics, interactivities or videos.
And if you really think that you need to have the whole content included, then chunk the content into more number of modules.
The whole idea of mLearning is to give a complete knowledge of a particular task to learners when needed.
Courses should be designed to suit mobile browsers
When designing learning for tablets or smartphones, the learning environment must be designed to suit the differences in the user interface of a touchscreen device.
The user interface design must be simple and consistent, allowing the learners to quickly get used to it.
The content and interactions (like hot spots and movable objects) should be designed for broader fingers.
All the buttons should be sized appropriately for selection with fingers.
Some space or text entry fields must be placed at the top of the screen, so that the learners can input their answers.
A challenge with mLearning is that it does not work on IE6 but supports IE9 and above versions.
Interactivities should be kept simple
You cannot push highly interactive content or flash animations via mobile devices. Instead, those animations can be converted to videos and then presented.
As mLearning is expected to offer just-in-time learning, you can always choose to have text with images (in the format supported by the devices), keeping it simple and avoiding too many interactivities.
If you still want to have interactivities, you can have
Simple interactivities or animations with text-level explanations.
Interactivities like rollovers that can be converted to single or double click selections.
Case scenarios that can be presented as videos, with questions at the end.
Product demos that can also be presented as videos (without audio to avoid loading issues).
Quizzes and assessments in the HTML5 format.
5. The right authoring tools have to be chosen
Since HTML5-based content works well on mobile devices, consider tools that can make your courses run on iPads and PCs. We have seen organizations sitting on mountain of eLearning courses developed in Flash, which do not run on mobile devices due to compatibility issues.
This is where the authoring tools can assist you. They can help to convert Flash-based courses to the HTML5 format. (for more information click here)
Let's look at some popular authoring tools in the market.
Adobe Captivate has publishing options to Flash and HTML5. You can create a single course for both desktop and mobile devices by just publishing the course to HTML5.
Articulate Storyline can facilitate the conversion of traditional Flash-based eLearning courses to HTML 5. This tool has the potential to produce iPad-compatible courses and is as capable of producing courses in Flash, HTML 5, and iOS format, from a single source file.
Lectora makes it easy to publish your course to HTML, AICC, and SCORM to make the course accessible on mobile and tablet browsers.
iSpring is a PowerPoint to HTML5 converter; it is an add-on for PowerPoint. You can play your presentation on iPad and other mobile devices with iSpring pro.
6. The delivery model has to be decided Select an LMS
If you have to track your mobile learning activities, your LMS must be compatible to all mobile devices. So you have to ensure that your LMS supports all your devices and if not you have to think of ways of switching over to a new LMS. Many commercial LMSs are now made compatible to mobile devices but they charge huge amounts for the customization.
So in order to get started with a minimal investment, you can start with an open source LMS like Moodle that supports all mobile devices. It can track the learning data accessed from any device.
Any course that is developed in HTML5 and published to SCORM/AICC works well in Moodle. Moodle doesn't need any additional customization to host mobile compatible courses in the LMS.
These are the six factors you need to consider while implementing mobile learning. Have anything to say? Do share!