Steps to Test SCORM Course Using ADL Test Suite
One of the best things about SCORM (ADL test suite) is that it is easy to test and diagnose the problems. This blog post shares steps to test SCORM course using ADL test suite.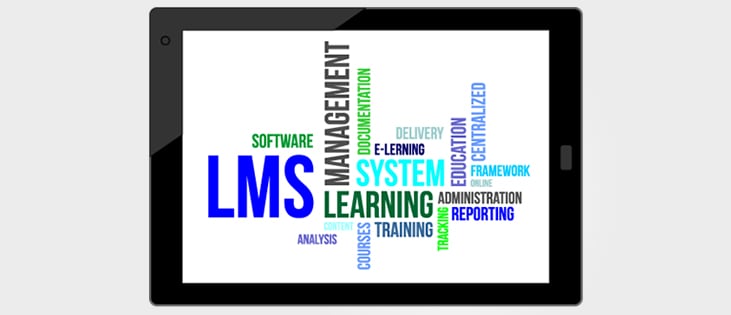 In most of the organizations, e-learning stands out to be the best training method. The online training medium helps improve the skills, knowledge, and capabilities of employees, which in turn helps in organizational success and development. An employee will become more productive when his knowledge and skills are constantly updated, as per the needs of the organization.
As a training manager, making e-learning available to your employees is not enough to create a true e-learning environment; you need to keep yourself abreast of the new, emerging technologies in the e-learning industry,which will help you to track the learners' scores. Most of our clients ask us to keep a track of the scores and also the course progress or completion status.
We usually develop SCORM or AICC – compliant courses for our customers using authoring tools that are either customized or used as default tools. Many times during the launch of the e-learning, we find ourselves running into some tight situations like some integration issue – the score or completion does not get set appropriately. This situation calls for an emergency situation where we have to make changes to the course in order to fix the problem. I am sure these situations sounds familiar to most of you. How can we handle such last-minute stressful situations? Here is what we do at CommLab.
First and foremost, we develop a prototype of not more than five slides. These five slides include one static, animation, video, interactivity and a few final quiz questions. We develop these five slides, publish a SCORM version and test the prototype. Testing at this level help us to resolve any integration issues even at the startof the project and saves us from last-minute confusions.
SCORM 1.2 is the first version that was widely used. It is still widely used and is supported by most Learning Management Systems. Developing SCORM courses means that the courses are built in a specific standard way so that they communicate with any SCORM-conformant LMS and support tracking. SCORM is a technical standard given by the Advanced Distributed Learning (ADL) for web-based training. It is a combination of specifications and standards for e-learning. It interacts with LMSs and courses to support the tracking of courses. It helps in determining score tracking and course completion status, while at the same time it also helps in tracking the assessment scores, percentages, points gained, the number of times the course has been accessed, and so on.
One of the best things about SCORM (ADL test suite) is that it is easy to test and diagnose the problems.Let us now see the steps.
1. Click open the ADL SCORM conformance test suite and click the Content Package Conformance Test.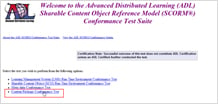 2. Click and run a file named xml, which basically defines the SCORM course structure, resource location and other aspects.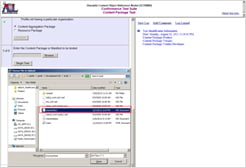 3. Check the course in the ADL test suite. It is important to check the course twice, once with incomplete status and once with complete status. This will help you to crosscheck the score tracking and also the course progress/completion status. We can also save the test log reports.

The idea behind making courses SCORM compliant is to ensure that your courses run in any LMS that is SCORM compliant. My advice is to use ADL test suite for testing e-learning courses before you hand it to your client because it gives you cover in case any issues surface at the last minute.