Top 5 Features to Look for in a Second LMS [Infographic]
Having a second LMS can prove to be beneficial but only if you need some extra work done. Check this infographic for five features that can help you decide if you really need a second LMS.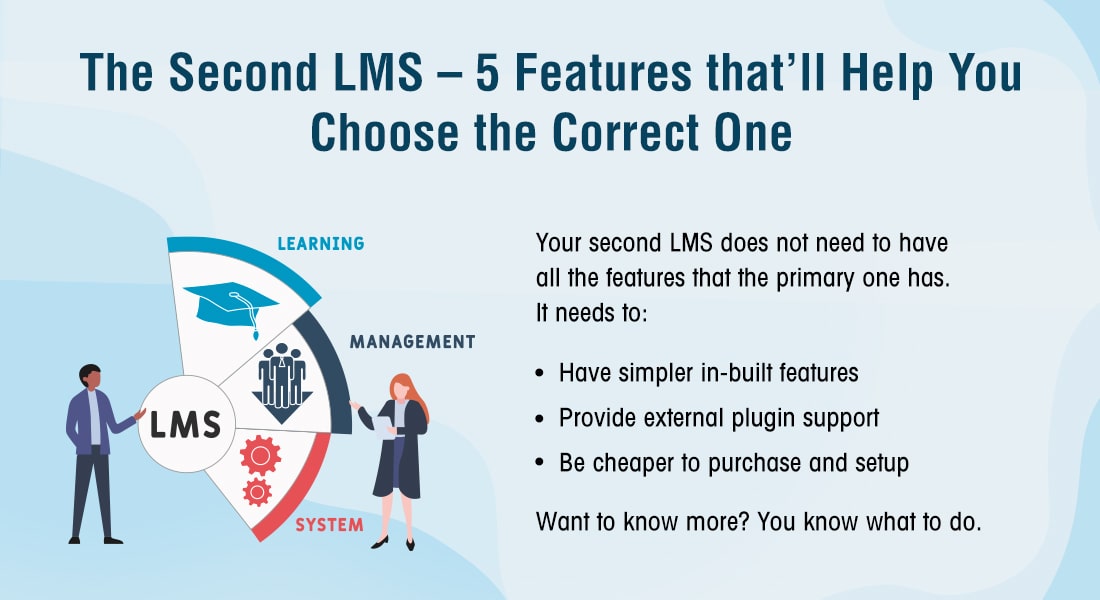 As a global organization with thousands of employees, training management must be quite tough. Aren't you thankful that a strong Learning Management System (LMS) is taking care of the complex parts? If yes, then you must also agree that sometimes, a single LMS falls a little short.
You start asking the question, "Is my current LMS really enough or should I invest in a second LMS?" And if this question has popped up in your mind, then it's quite possible that you are finding managing some tasks through your current LMS, hard to achieve.
Luckily, having a second LMS is not a bad idea, but you need to be clear about what exactly you will use it for. If your existing LMS is managing the majority of your training programs quite well, but failing to provide for:
Customer and Partner Training
Specific Learner Groups' Training
then chances are, you need a second LMS, specifically to reduce the burden of additional training management from the primary one.
Truth be told, your secondary LMS will not be much different from your primary LMS. It will also have several features like tracking and reporting, gamification elements and mobile support. It is what you exactly need in the LMS so that the price remains under a margin, which determines how customized your second LMS needs to be. And that is what I am here to help you decide. Use the infographic below as a 5-point guide to a second LMS for your organization.



Do not forget to check our eBook on how to choose the correct LMS for your business.