Rapid eLearning Development: Myth Vs. Reality
Decode the myths associated with rapid e-learning development.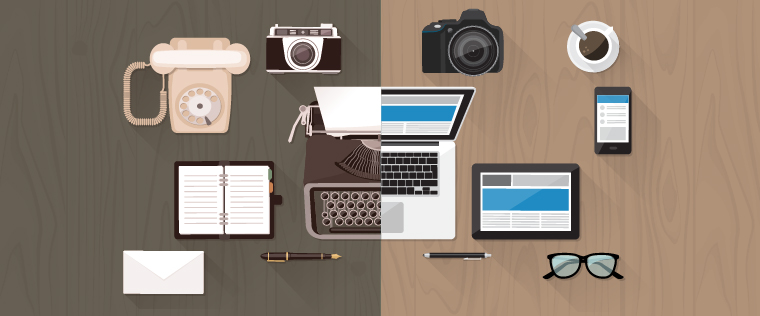 Rapid e-learning refers to the process of quickly creating e-learning courses using powerful authoring tools. Using rapid authoring tools allows developers to circumvent many technical and design considerations and helps them directly dive into the learning process. Owing to the fast-moving landscape of today's business-world, this approach has become necessary to deliver trainings quickly.
However, rapid authoring wasn't always the go-to approach to develop courses. Way back in 1996, when e-learning gained popularity, courses were developed using Adobe Flash. Flash revolutionized the online experience as it enabled e-pages to display video content and high-end animations. Flash is a powerful medium that helped e-learning move away from simple text display and toward the process of creating a more visual learning experience.
So, when a course has to be developed using traditional methods, it is built from the ground up, defining each and every element of the course. By taking complete control of the environment, traditional methods allow you to create highly personalized and customized courses. But consequently, having to work everything from scratch increases the development time and cost exponentially.
Below, I am going to decode some myths about both rapid and traditional e-learning development. This will help you make a more informed decision on which approach should you opt and why:
Myth 1: Compared to traditional development methods, rapid e-learning delivers a low quality course that lacks effective learning
As the development timelines in rapid e-learning are shortened, many people believe that the quality of course might be compromised. They believe that since the tools used in rapid eLearning can be used by anyone, e-learning development is robbed of quality.
Reality: Sure rapid authoring tools are quick and easy to use, but that doesn't make them any less powerful. Low quality e-learning courses are a result of not following instructional design principles and poor execution of the entire development process. These things will still exist even if you build your course from the ground up using traditional methods. Even though, unlike traditional methods, using rapid authoring tools doesn't require any technical expertise, developers still need to be instructional designers and subject matter experts to create an impactful course.
Myth 2: Rapid development cannot fulfill your need for customization
Many people might believe that using authoring tools puts up boundaries for creating company-specific customization.
Reality: Using traditional development methods gives you an extensive playground for customizing your course. You can fine-tune the smallest element of the course according to your need. But, in order for you to do this, it is essential to have excellent coding skills. Luckily rapid authoring tools are not very far behind in the customization game, and they allow you to do it without any technical knowledge. Authoring tools give you ample ready-made and easy to use options to modify elements of the course according to your requirements.
Myth 3: Interactive courses can be developed only with traditional development methods
Many people believe that rapid authoring tools lack the power of Adobe Flash, which was used to develop courses rich in interactivities, prior to the advent of rapid e-learning.
Reality: Flash was a pioneer when it came to developing media rich interactivities. But using Flash to its full potential means having sound technical expertise and experience. Authoring tools on the other hand come with in-built templates having ready to use graphical interactivities. Tools also allow you to create game-like interactions for a thoroughly engaging experience. In addition to this, you also have the option to make any element of the template interactive according to your needs.
Myth 4: Rapid e-learning takes the creativity out of the development process
The ready-made nature of templates and the ease of use of the authoring tools has garnered a notion that the development process will lose its creativity, making all courses similar to each other.
Reality: Using traditional development method was a daunting task that required developers to rack their brains for each course to be developed. Thereby, it added a newness to everything that was developed. Unfortunately, most organizations do not have the luxury of time for developing courses. Above all, the shelf-life of courses may not be long to warrant a high degree of customization or investment of time. That said, authoring tools do have enough scope to showcase your creativity.
They might have made things easy for us, but by no means have taken out the need to think out of box. With the advancement of tools and technology, the needs of today's users have also advanced. The attention of today's learners is not grasped by simple text or multimedia. Your content and presentation has to stand out to create an impact. It is up to the creativity of today's developers to explore its innumerable options.
It is clear that traditional e-learning development methods had their heyday, but now it is on a decline. Sure traditional methods can still be used to create highly specific courses requiring specialized interactions and customizations, for e.g. a simulator training for a pilot. But, for the larger organizational purposes, rapid authoring tools have taken a forefront.