Using the Pros and Cons of HTML5 to Enhance E-learning
This blog explains how the pros and cons of HTML5 can be exploited to benefit e-learning.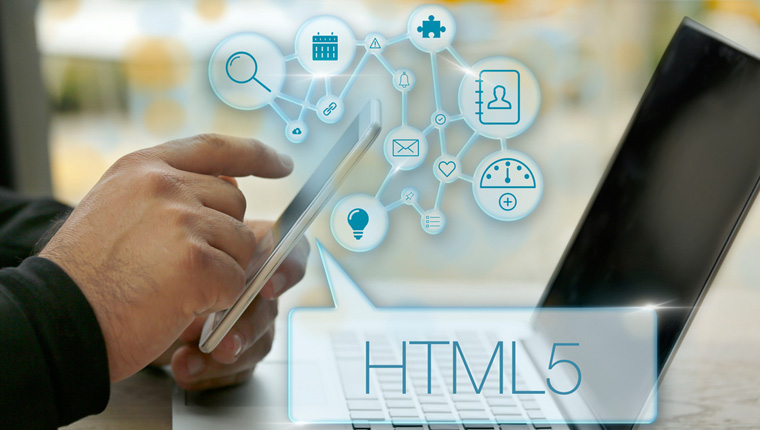 The Learning industry is talking a lot about HTML5 these days. Its compatibility with multiple devices, augmenting mobile learning, has made it the hot favorite of L&D circles. However, HTML5 has cons along with its much talked about pros. As learning experts, we can use even the cons of HTML5 to benefit e-learning.
A short detour to look at the positives first.
Pros of HTML5 – How They Support E-learning
1. Supports the latest versions of major browsers
Your organization can make good use of this feature to develop an e-learning course that is compatible with Internet Explorer versions 9 and 10, or Google Chrome.
2. Allows simple interactivities without external plugins
If you are planning for a 'light' version of online courses without heavy graphics and videos, HTML5 is the best option. Audio and video elements can be integrated with coding and embedding, without external plugins. So, e-learning developers have greater flexibility to handle multimedia elements.
3. Is compatible with mobile browsers
You can use HTML5 to develop mobile-friendly e-learning courses that can be accessed on iPads and tablets, and web apps. Mobile-compatibility also facilitates the development of m-learning courses without any constraints.
Confused about Flash, HTML5, and the conversion? Check our insightful blog: A Mini Guide on Flash to HTML5 Conversions.
4. Takes less time and efforts
You can develop eLearning courses effortlessly and quickly, with HTML5. Minimum coding skills will suffice.
5. Supports offline access
With HTML5, you can design online courses that are accessible in the offline mode too. This will help your learners who might face issues of limited or no Internet connectivity at times.
Want to convert your Flash courses to HTML5? Check our free e-book Steps to Make Flash Courses Mobile-compatible.
HTML5 Cons – How to Transform them for Good
1. May not support old browsers
HTML5 doesn't support Internet Explorer versions 6, 7, and 8. If you want to modify or update legacy e-learning courses which are compatible with legacy browsers, you can do that with HTML4.
2. Restrictions on multimedia
HTML5 allows embedding of audio files, graphics, interactivities, and videos in your e-learning courses, but there are limitations. Unlike Adobe Flash, you don't get HD videos and rich visuals. However, e-learning developers can use JavaScript and Cascading Style Sheets (CSS) to incorporate multimedia elements. They can also use tags to create these, without external plugins.
3. Inconsistencies in delivery
HTML5 content is rendered differently on different browsers. So, you may experience inconsistencies in learning content delivery. Adopting responsive design for your e-learning courses will solve this issue.
4. Security concerns with web apps
As HTML5 is mostly used for web-based mobile applications, data security and privacy concerns are high. Assigning login credentials to access e-learning courses and installing antivirus programs can work as precautionary measures.
HTML is evolving constantly and has huge potential. Compatibility with various platforms and multiple devices is its strength. You can exploit these strong points to develop interactive e-learning experiences. Though some limitations exist, there are alternatives and ways to override them too.