A Quick Roundup of 17 Popular E-Learning Authoring Tools
Discover some key features of the top e-learning authoring tools available in the market.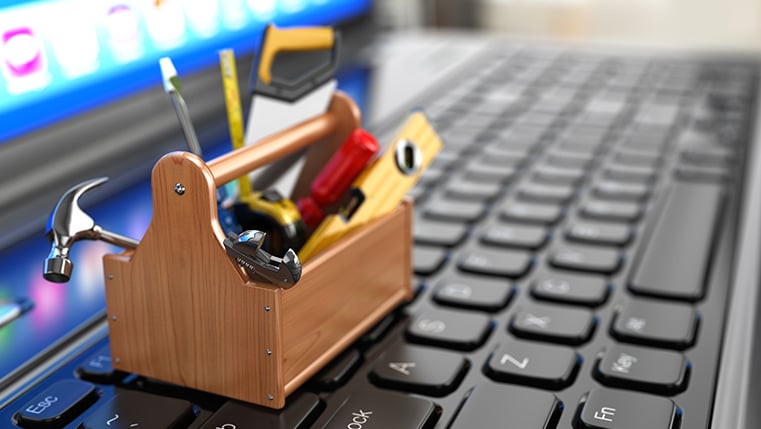 In today's dynamic world, business practices keep evolving in every industry. To keep up, organizations need to constantly train their workforce. This makes e-learning development a necessary and continuous process. The focus and challenge for e-learning development is keeping costs down without compromising on the quality.
Earlier, e-learning courses were developed using complicated coding techniques. E-learning developers created courses from scratch using programming languages such as Flash, Dreamweaver, XML/HTML, and Java Script. This approach requires a high amount of technical knowledge along with considerable skill. This is where authoring tools come into picture. These are tools that help organizations develop e-courses with much more efficiency compared to traditional methods.
But which tool is the right one for you? The market is flooded with e-learning authoring tools, each one having its own set of pros and cons. Let's explore 17 of the most prominent authoring tools based on their key features:
a. Ease of Use
1. Articulate Storyline
Articulate Storyline 360 is one of the most reliable HTML5 based e-learning authoring tools. It is a really easy to use tool with a lot of advanced features. It automatically optimizes mobile responsiveness for flawless playback on all devices.
This tool also houses a content library that offers 100,000 combinations of photographic and illustrated characters, making the job of e-learning creation all the more easy. Watch Storyline 360 in action by checking some impactful courses developed by CommLab India.
2. IMC Content Studio
IMC Content Studio makes e-learning content creation very easy with its Ribbon toolbar. This toolbar keeps basic functions at the fingertips for faster development and ease of use. You can also import an array of content types as well as utilize the text-to-speech tool to create audios from existing texts, to further speed up course creation.
3. Camtasia Studio 8
Camtasia Studio 8 is considered one of the most effective and simple to use HTML5 e-learning authoring tools in the industry. Its powerful editing features, and potential to create quality learning content is pretty much limitless. It allows you to edit course content with intuitive drag-and-drop features in the Preview window.
4. Easygenerator
Using the Easygenerator authoring tool does not require any coding background. The easy-to-use interface enables developers to jumpstart on the content creation process almost immediately. It comes packed with Next-Gen authoring features that eliminate the need for the developer to focus on issues of optimization for different devices or result tracking, and just focus on things that actually matter.
5. Adapt
Adapt is an open source HTML5 eLearning authoring tool with an intuitive user interface and easy to use features. This tool is fully responsive and provides great playback features across all devices. Its complete SCORM compatibility makes sure that all courses run well with all Learning Management Systems. What's great about this tool is that it can be used by both developers as well as people with no programming experience.
b. Innovative Assessments
6. iSpring Suite
Want to create assessments that are out of the box? Then iSpring Suite is the right tool for you. It enables the creation of assessments that are out of the ordinary, having features such as branching, drag-and-drop, videos, and flexible scoring. Check an interesting microlearning module created using iSpring to give you a better idea of its true potential.
7. Live Content Studio
Live Content Studio enables e-learning content developers to create unique live scenario assessments. These tests can be extensively used for customer service and call center teams as well as to create quality e-learning materials that engage online learners.
8. Instancy
This tool's assessment and survey editor features allow content developers to create assessments and quizzes with great variety in question types. Be it true or false, single select, multiple choice, fill-in-the blanks, long form, drag and drop, and single or multiple matrix questions, this tool has it all. The Knowledge Article Editor feature enables developers to add images, screenshots, videos, or hyperlinks to related knowledge articles to the solutions of the assessment.
c. Smart Interactivities
9. Kitaboo
This authoring tool provides a cloud-based way to author e-learning content that does not have device limitations. It also comes with great interactive features that allow you to include interactive widgets for quizzes, videos, or audios using simple drag and drop movements.
10. Adobe Captivate
This is one of the popular authoring tools with lots of great features. It comes with an inbuilt library that has more than 75,000 free eLearning assets, including advanced interactions, themes, templates, people cutouts, royalty-free images, and much more. This innovative tool enables you to convert your ideas into storyboards, by adding interactivities, question slides, branching scenarios, and much more. Check how CommLab used this tool to create some interesting learning modules.
11. Gomo Learning
Gomo Learning is a HTML5 eLearning authoring tool that offers great variety in interactive media assets that can be directly included in your e-learning courses. You can even embed web content from numerous well-known sources such as YouTube, Google Maps, or Twitter feeds directly into your course.
d. Game-based Content
12. ITY Studio
This tool enables the creation of games with interactive maps and behavioral simulations. It also offers a number of settings to choose from including Retail, Medicine, Public Buildings and Works. Combine that with many characters like an estate agent, doctor, salesman, marketing professional etc., and you can create some high quality game-based content.
13. Genie
Looking for a game-based authoring tool that enables online learners to learn and not even realize it? The Genie is the tool you need to consider. With this tool, you will only be concerned with the content. Genie comes with responsive inbuilt templates and additional features to ensure that your content will be optimized for playback on any device. Also, you can export your game-based content to multiple platforms that are compatible with Genie.
14. Shift
E-learning game creation is an integral part of Shift. This tool offers 15 e-learning game themes you can utilize to put together impactful e-learning game experiences for your online learners. It also allows you to create realistic scenarios with its lip-synched human avatars.
e. Video Creation Tools
15. Obsidian Black
This tool makes video creation a breeze. It allows for automatic syncing of voices with your text, images, or animations. E-learning course developers can produce quality videos or animations that engage online learners in less time. In addition, as this tool complies with all major format standards such as SCORM 1.2, 2004 and Tin Can API, videos run equally well on all available platforms.
16. Trivantis' Lectora Inspire
Lectora Inspire can be integrated with Snagit 13 for all your video recording and image editing needs. With these integrations, e-learning authoring can be taken to a whole new level by including out-of-the-box videos for your courses.
It also includes features such as visible focus indicators, language declaration, reading order control, and closed caption ability that make video creation all the more easy.
17. Zenler Studio
This tool comes with a built-in screen-recording tool that eliminates the need for third-party screen recording applications. You can also include existing audio or video files as narrations or record new ones with the Zenler Studio's recording tool.
As you can see, the options in the market for your authoring tools are plenty. Although I have just pointed out specific features about each tool, they are filled with loads of other features as well. Here is a table that will help you segregate tools better:
| | | | | |
| --- | --- | --- | --- | --- |
| Ease of Use | Innovative Assessments | Smart Interactivities | Game-based Content | Video Creation Tools |
| Articulate Storyline | iSpring Suite | Kitaboo | ITY Studio | Obsidian Black |
| IMC Content Studio | Live Content Studio | Adobe Captivate | Genie | Lectora Inspire |
| Camtasia Studio 8 | Instancy E-learning Authoring Tool | Gomo Learning | Shift | Zenler Studio |
| Easygenerator | | | | |
| Adapt Authoring Tool | | | | |