A Handy Checklist for Implementing Microlearning in Your Organization
In this blog, let's take a deeper look at how microlearning can be implemented in your organization and where it fits in your overall training strategy.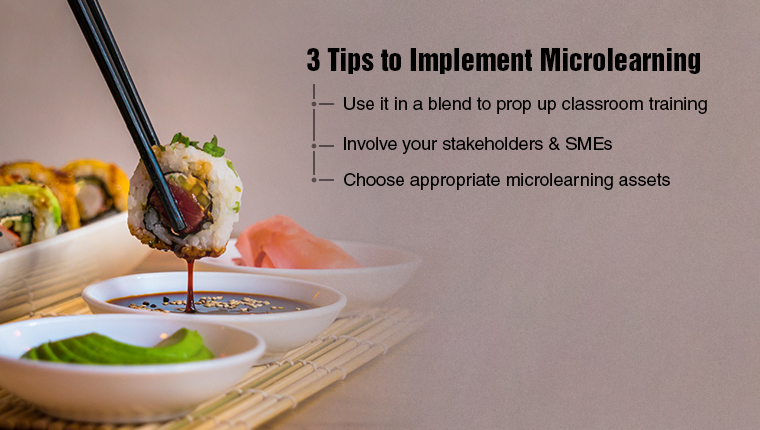 What is Microlearning Anyway?
Is microlearning just taking classroom material (or an online course), dividing it into small chunks, and delivering it to your learners? Though many seem to think so, microlearning is more than just a clever way of chunking training content into small modules, and its implementation… even more so! Microlearning is a learning strategy that delivers learning in small chunks. Each microlearning module deals with one learning objective, with a duration ranging from a few seconds up to 15 minutes or more—short enough for learners to retain the information and use it to improve their work performance.
About Microlearning
What is Microlearning?
Microlearning is a learning strategy that delivers learning in small chunks.
How is Microlearning Implemented?
Analyze the Existing Content

Convert the classroom content into microlearning modules
Use microlearning along with classroom training and e-learning

Get Your Stakeholders & SMEs On Board
Choose the Appropriate Microlearning Asset(s)
Let's take a deeper look at how microlearning can be implemented and where it fits in your overall training strategy.
How is Microlearning Implemented?
Before converting instructor-led training (ILT) material to an online format, it's important to understand that not all classroom training content can be converted into an online format like microlearning.

Also, as I already mentioned, simply slicing and dicing classroom content will only make smaller courses; it will not make the content suitable for online learners. That will require a proper instructional strategy, as we shall see.

Let's take the example of an organization looking to change from classroom training to eLearning and microlearning.
A 3-Step Process for Implementing Microlearning
1. Analyze the Existing Content
Analyze the existing training content first, and then determine the format that most suits the content—e-learning or microlearning. Here are a couple of ways you can add microlearning into your training strategy. Convert the classroom content into microlearning modules. A classroom-based sales training material can be converted into multiple, short microlearning modules instead of hour-long online learning sessions. This works well because sales personnel find it difficult if not impossible to sit through long eLearning courses as they are often in the field. On the other hand, microlearning is short, need-based and, more importantly, does not interrupt their work schedule as it only takes a few minutes to go through the micro course. There are other types of training that can be delivered in the microlearning format, for example: Use microlearning along with classroom training and e-learning. Microlearning modules can be used along with other formats of training for a more holistic and engaging experience.

Microlearning for Pre-training: Introduce the basic concepts of the training content via microlearning videos and case studies to introduce the training before the classroom or eLearning session.
Microlearning during Training: Augment the classroom sessions with short learning videos and infographics to demonstrate complex processes and procedures.
Microlearning Post-training: Q&A sessions at the end of classroom training can be turned into micro FAQ modules to offer performance support at the point of need. Conventional quick reference guides can be turned into 'how to' micro demo or explainer videos or interactive PDFs.
2. Get Your Stakeholders & SMEs On Board
Successfully implementing a microlearning training program takes team effort. So, involve your stakeholders (line managers, functional heads, or anybody with a stake in the training) and the subject matter experts (SMEs), project managers, reviewers in the conversion project. Here is how your stakeholders and SMEs can help you.
Your stakeholders will be able to provide you information on the objectives of the course, the target audience, the conditions and criteria under which the performance is supposed to occur, and the type of content at your disposal (as we discussed earlier). This information is also crucial for choosing the right microlearning format for your training.
Subject Matter Experts (SMEs) are your most important assets as they have first-hand experience in the concerned domain/field. Get them to plug any instructional gaps the training content may have.
SMEs are also involved in classroom training, which means they are in a better position to offer suggestions to the development team—internal or external—on how to teach a concept.
If your organization already has an internal development team, check if they have the required expertise—such as experience with rapid authoring tools and scaling up/down the microlearning development process—to pull off an ILT-to-microlearning conversion project; otherwise, outsource the project to an eLearning vendor. (Either way, use a style guide for streamlining the microlearning design and development process.)
Form an internal review team consisting of SMEs and various stakeholders such as reviewers, functional heads, and quality analysts. As already discussed, SMEs should ensure content accuracy; reviewers can collect and resolve conflicting feedback. The reviewers need to check the microlearning courses on various mobile devices (Android smartphones and tablets, iPhones, iPads) as well.
3. Choose the Appropriate Microlearning Asset(s)
You may have noticed that I have used examples of microlearning modules (micro videos, micro FAQs, and infographics) throughout the blog. That's because there are many different types of microlearning assets, and each asset has its own unique strength and role.

E xamples of Microlearning Assets Below is a table showing a few microlearning assets and how each can be used in your corporate training strategy.
| | |
| --- | --- |
| Microlearning assets | What they can be used for |
| Infographics | Infographics offer information at-a-glance, and summarize the key points of a longer training. It can also be used to draw comparisons, organize similarities and differences by visually creating parallels that complement the information being presented. |
| Interactive PDFs | PDFs are considered the simplest and easiest way to present online course content on mobile devices. They can be a compilation of text, images, graphic, videos, and are most often used as handy job-aids. |
| Videos | Videos can be used as standalone courses or as part of a blended learning strategy. They can be used to explain abstract ideas or provide step-by-step procedures for visual learners. |
| Quizzes | Quiz-based microlearning can be used for pre-training assessments (to assess the existing knowledge of learners) as well as post-training assessments to determine the need for reinforcement training. |
| Podcasts | Podcasts can be used to provide snippets of information. They are a good alternative to videos for auditory learners, and act as good reference tools especially when learners are commuting or traveling. |
| Game-based nuggets | Games offer a high level of interactivity, and keep learners engaged. Game-based nuggets involve work-related challenges that are transformed into a game, each nugget focuses on one challenge or learning objective. |
| Simulations | Simulations are a powerful tool to get employees perform a task in a safe environment without the consequences of wrong choices that would ensue in real life. In some simulations, the learner receives points for each decision s/he makes, helping them understand the effectiveness of their decisions. |
| Branching scenarios | Mini scenario-based modules resemble the real-world environment and workplace challenges learners face at work. |
| Whiteboard animations | Whiteboard animations are essentially explainer videos that involve drawing and recording an illustrated story using a whiteboard. They are excellent tools to supplement classroom training sessions to explain complex of ideas without boring the learners. |
| Scenario-, simulation-, and game-based assessments | These microlearning assessments foster performance-based learning in learners. They use real-world scenarios, and challenges and task the learners to use their critical thinking skills and execute performance-enhancing tasks. |
Concluding Remarks
As you can see, there is more to implementing microlearning than just slicing and dicing—although that it just one small part of the overall process. Right from analysing the content for microlearning to picking the right kind of microlearning asset(s), its implementation involves careful planning and strategizing. Rapidly developing and delivering bite-sized learning to learners is the need of the hour. Here is a webinar recording on the proven rapid development techniques for microlearning!
Editor's note: This post was originally published in November 2019 and has been updated for comprehensiveness.