Shift to the New-Age LMS for Your New-Age Learners [Infographic]
Looking for a new LMS or migrating to a better one? Check this infographic to know the features your new-age LMS should have!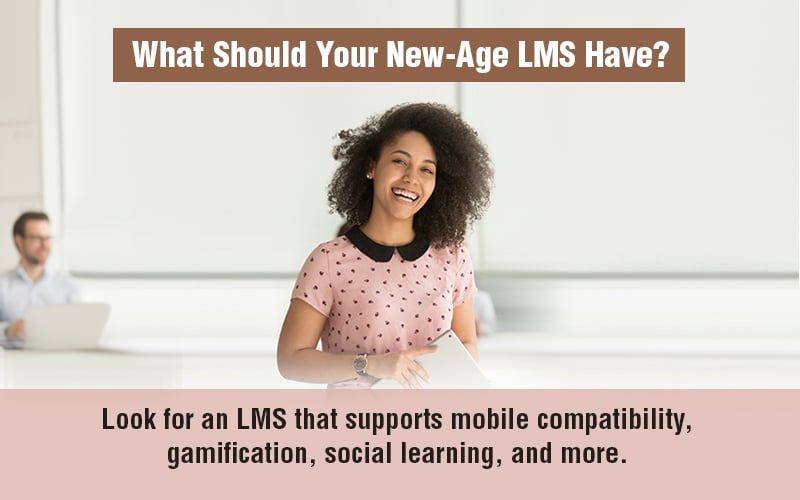 Are you still using a traditional Learning Management System (LMS)? Earlier versions of LMSs are more or less like software applications and have traditionally focused on the basics such as course administration and learner enrollment. Some of these legacy LMSs came with a lot of complicated, cumbersome navigation features. They lack modern features such as gamification and mobile compatibility.
Organizations today cannot afford to mess up while going for an LMS, especially with the raging number of millennials and new-age learners entering the workforce. To provide a learner-centric learning experience, it is essential for organizations to invest in the right Learning Management System.
The basic, technical LMS was good enough for organizations to fulfill their training requirements back in the day, but modern organizations need to go a step ahead and adopt a new-age LMS. The new-age LMS reshapes learning and development initiatives. They facilitate social learning, mobile learning, and support indepth learning analytics.
The new-age LMS is more than just a means of delivering training. It comes loaded with a range of functionalities. So whether you are selecting a new LMS or looking to migrate to a user-centric LMS, this infographic lists the features you need to look for!


I'm sure you are looking for these features in your next LMS. But we're not done yet! There are a bunch of other amazing eLearning trends you can incorporate in your training programs! Take a look at this eBook to check them out.