21 CFR Part 11 Compliance: What Does it Mean for Your LMS?
Do you know what 21 CFR Part 11 compliance is? Do you know what it means for your Learning Management System (LMS)? Keep reading to know why you need a 21 CFR Part 11 compliant LMS.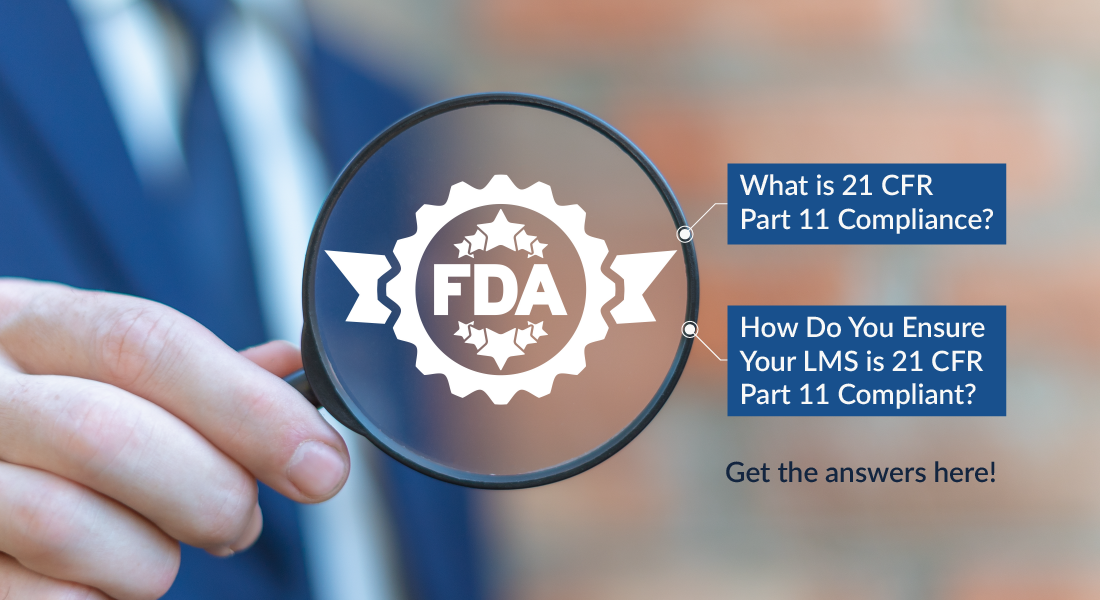 Why is workforce training important? To be able to sell more? To increase employee efficiency? Yes! However, there's another important reason for training your employees – to keep them compliant. Every industry has a set of standards, rules, and regulations, some common and some not so common, that everyone has to adhere to. Recently, during our webinar on 'New-Age Learning Management Systems (LMSs)', we were asked about a compliance regulation that doesn't come up in conversations often, but is extremely important, nonetheless. We are talking about the 21 CFR Part 11 Regulation.
21 CFR Part 11 Regulations
What Should an LMS Offer to be Compliant?
Restricted data access and a robust user authentication process
Secure electronic signatures
Audit trail tracking
Course versioning
Report generation for inspection
Have you heard of it?
What is 21 CFR Part 11 Compliance Regulation?
21 CFR Part 11…sounds like a cryptic message from a James Bond movie. A missile launch-code or perhaps the code to a secret vault. However, it is nothing as dramatic as that. 21 CFR Part 11 stands for Part 11 of Title 21 of the Code of Federal Regulation (CFR). 21 CFR Part 11 is the FDA's (Food and Drug Administration) regulations for electronic documentation and electronic signatures.
You may think, "What has that got to do with training?"
Well, for the past two decades, corporate L&D has been gradually but steadily shifting from classroom to online training. Today, most employee compliance training in the Food and Pharmaceutical Industries on SOPs (Standard Operating Procedures) and other required certification training is done through eLearning.
Since food and pharmaceutical and other clinical and life sciences-related industries come under the FDA, the LMSs used by organizations in these fields have to comply with the 21 CFR Part 11 regulations. This is to ensure the security of online training content and reliability of employees' compliance certification.
If you work for the food and drug-related industry or if e-signature capability is a key element for your business, then it is necessary for your LMS to be 21 CFR Part 11 compliant. Here are a few features you must avail through your LMS provider to ensure 21 CFR Part 11 compliance.
How Do You Ensure your LMS is 21 CFR Part 11 Compliant?
1. Restricted Data Access and a Robust User Authentication Process
Learning Management Systems have to maintain a careful balance between being 'open' and 'secure', even more than usual if your eLearning content deals with sensitive information. The LMS should allow learners easy access to courses and at the same time, keep content and records secure.
The best way to achieve that is by limiting access only to authorized personnel. Their access to the LMS should be controlled and limited to their roles as learners, authors, managers, and admins so that after signing in, each can access the features available to their assigned role.
Another way of ensuring LMS security is through a robust user authentication process. You can do that by:
Creating strong usernames and passwords for every user
Adopting a verified password recovery process
Assigning a unique e-signature for every user
Using an API for Single Sign-on (SSO)
2. Secure Electronic Signatures or e-Signatures
According to FDA guidelines, e-signature is the 'computer data compilation of any symbols or series of symbols executed, adopted, or authorized by an individual to be the legally binding equivalent of the individual's handwritten signature.'
Since the e-signature is unique for every user, the LMS should validate it before any important operation or proposed change in the platform. The LMS should prompt for an ID, password, and the reason for changing or updating the information. That way, your eLearning system remains secure, trackable, and recorded.
3. Audit Trail Tracking
Your LMS should be able to track every change – small or big – to its setting, training materials, and records stored in it, and record it in the database for auditing. These audit trails should have information about the type of change that has occurred, who initiated it, when, and why. These changes can include creating, updating, and deleting sensitive data from:
Records of training sessions
eLearning courses and modules
eLearning assessments, questions and scores
Transcripts, enrollments, and records
Courseware design and content
The LMS should be able to self-record and self-update these audit trails, so that the LMS can be inspection-ready any time.
4. Course Versioning Tracking
Our knowledge about the world and technology is evolving and improving every day. Today's news becomes tomorrow's history. That means your online training courses need to be updated regularly with the latest information. That happens quite frequently in food and drug-related industries where SOPs change regularly, and employees need to know and follow the changing rules at a moment's notice.
According to the 21 CFR Part 11 compliance guidelines, your LMS should have complete information about all the versions of such courses. It should have records of online transcripts regarding:
The latest version of the course, how many employees have completed it, how many have been certified, and how many did not
Details of every learner who logged into the new training version, including the record of training activities
The date, time, and user who last updated the course
Complete information on previous versions of the course
5. Report Generation for Inspection
The FDA can call for record inspection without any notice. That means you have to keep everything updated and ready for inspection all the time. A 21 CFR Part 11 compliant LMS will make this job easy as it will be able to generate reports of all tracked and recorded information in both electronic and printable formats (PDF, Excel, HTML, or CSV) for inspection.
You can also make it easy for inspection if you customize reports based on searchable parameters.
Summing it Up!
I hope this blog has cleared the mystery of 21 CFR Part 11 LMS compliance for you. These compliance features are a must-have when you're looking for an LMS, especially if you are in the food, pharmaceutical, and life sciences sectors. Even if you're not, these guidelines will make for a secure LMS that will keep your sensitive training information safe.
If you want more information on how to choose the right LMS for your organization, download our eBook.