How to Create A 30 Minute Course in Articulate Storyline
This blog post explains how you can create a 30 minute e-learning course in Articulate Storyline quickly and cost effectively.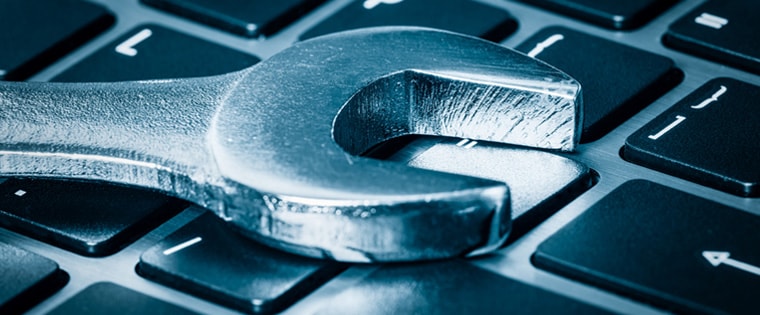 Creating a 30 minute e-learning course is no child's play; but not an impossible task either. It's true that you need to be a jack of all trades working with SMEs, communicating with stakeholders, developing content, coming up with a sound instructional strategy that is meaningful and engages learners, designing and developing the training, and increasing the bottom-line. Sounds too much to do? Not really; designers today have access to various authoring tools that help create great e-learning courses in a short span of time, and the authoring tool winning this race is none other than Articulate Storyline!
Articulate Storyline is every e-learning designer's dream; with its PowerPoint-like intuitive interface and easy to use Triggers, you feel right at home when creating your e-learning course. The best part of Articulate Storyline is, you don't have to be an expert to work with it. Let's take a closer look at how you can create a 30 minute course quickly in Articulate Storyline.
Create the Storyboard Within the Tool
Many designers don't realize that Articulate Storyline's resemblance to PowerPoint enables them create the storyboard in the tool itself. Doing this saves you tons of time and energy, instead of first creating the storyboard in PowerPoint and then importing to Storyline. For example, if you start creating the storyboard in Articulate Storyline, you'll know the dimensions of your screen and the space needed for your text and graphics. This saves rework in the latter stages of course development.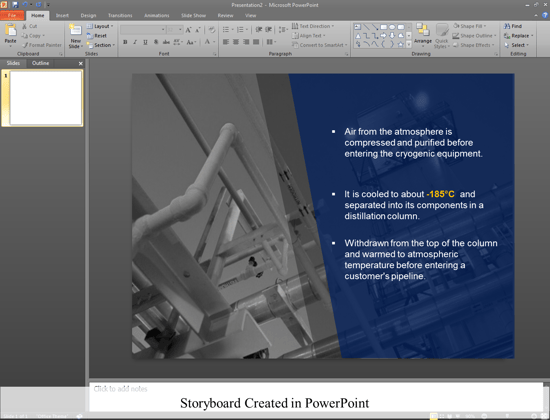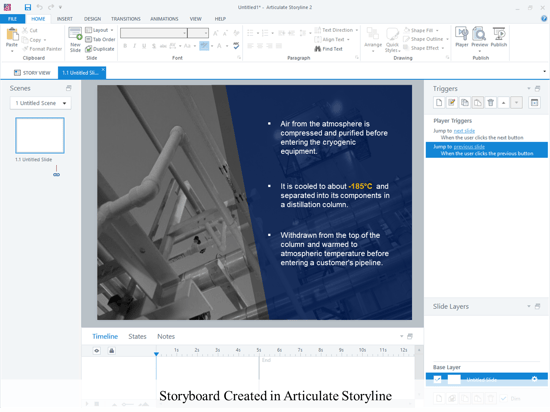 Rich Visuals with Built-in Templates
The aim of any great e-learning course is to help learners achieve their learning goals and keep them engaged; now this is quite hard to do if you only have an image and text on your screen. You can pep up your e-learning course with built-in characters to enhance the learning experience; Storyline offers 47,000 combinations of illustrated characters. So you don't need to put in that extra effort of creating your character from scratch, saving valuable time. Using avatars you can create scenarios for your e-learning courses; they come in handy especially when you want to create a scenario between a sales person and a customer, or between two employees about sexual harassment. The name Storyline itself indicates the tool gives you the power to develop story-based learning for your e-learning courses.
Apart from this, you also have built-in color themes that help you create consistent slides with a central theme.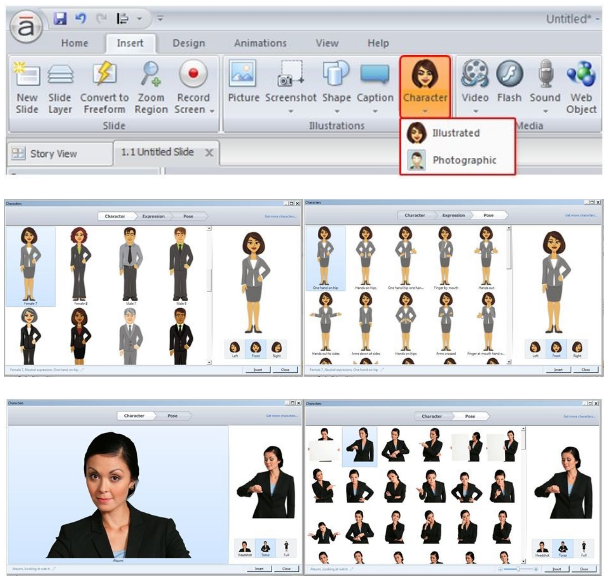 Interactivities With Easy-to-use Triggers and Variables
Gone are the days when a simple click on tabs or images would entice your learner; today's learner needs more variety and complexity to be interested in your e-learning course. This is where Articulate Storyline stands out from its counterparts; you can literally build any interaction just by adding the right Triggers to your object. Sounds confusing? Like I said earlier, you don't have to be an expert nor do you need to hire someone who knows how to code to assign Triggers in Storyline. The tool offers an easy menu that allows you to combine Triggers and create an interactivity of your choice in a matter of seconds! You can take your interactivity to the next level by adding variables that let you track learner actions and create dynamic activities. You can create games, scenarios, software simulations using the tool. Take a look at this blog that talks about various games developed using Articulate Storyline.
Easy-to-use Quizzes
The ideal way to finish your course is by testing your learners on what they've learned. Articulate Storyline understands your need to develop assessments and has a set of 20 predefined question templates that range from single select questions all the way to drag and drop to matching. Additionally, the tool lets you play around with freeform questions to create engaging assessments. You can also randomize your quiz with the help of question banks and link them directly to your Learning Management System (LMS).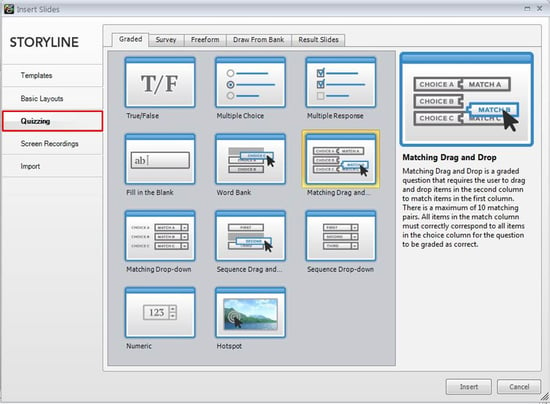 Creating a 30 minute e-learning course is not an easy task, but with Articulate Storyline in your kitty, you can create great e-learning courses in a matter of days with minimal resources, saving time and increasing your training bottom line!
Give this awesome tool a try for your online training programs and share your experience with us.