4 Reasons Why you Should Consider Outsourcing Flash to HTML5 Conversion [Infographic]
Flash is ending by the end of 2020! It is high time you start making plans for Flash to HTML5 conversion. And if you are unable to find the time, consider outsourcing Flash to HTML5 conversion. There's a lotto gain.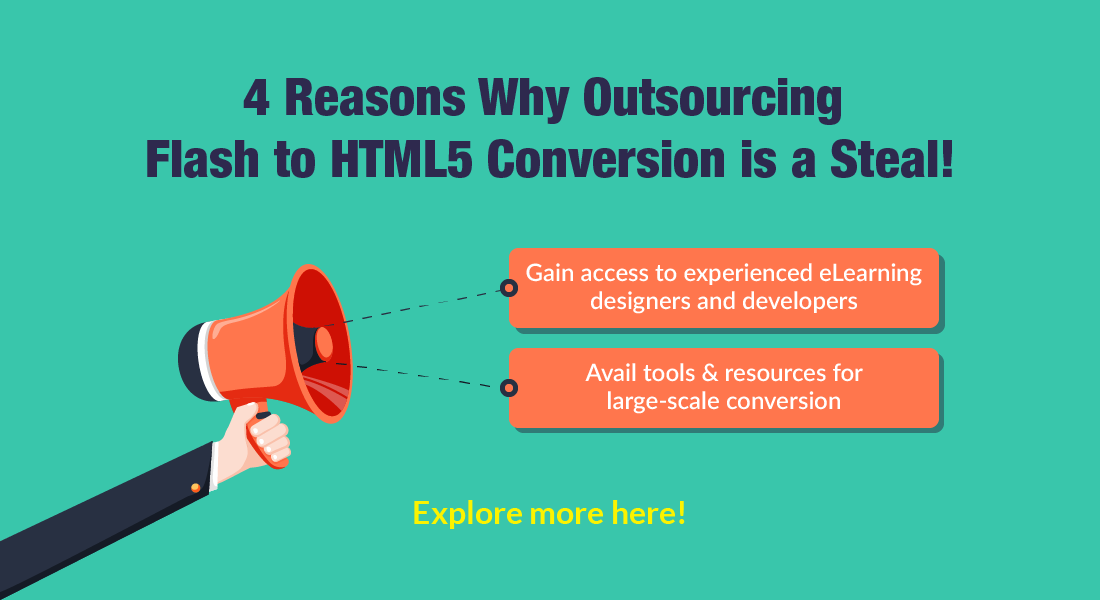 Change is the only constant in this world. And if you don't change with times, you are going to be left behind. This is especially true in this rapidly advancing digital world. Take for instance the evolution of online training – we have come a long way from computer-based training programs and floppy disks to mobile responsive microlearning, haven't we? Another such change that is looming on the horizon, and by that I mean the end of 2020, is the Flash to HTML5 conversion of eLearning courses. And since, you have only 5 months left, it is high time for you to start making plans for Flash to HTML5 conversion.
Flash courses were considered the best of the best for a long time. Flash was the best means we had for creating nuanced interactivities in eLearning courses. But it had a lot of security and proprietary issues that couldn't be resolved and hence, after much ado, Adobe declared a Flash phase out by the end of this year. This is not just a trivial change that you can ignore. Considering Flash was the go-to authoring format for years, most of your legacy courses are most likely Flash-based or at least have Flash scripts embedded in them. And once Flash is commissioned out, all those courses will lose browser functionality and you won't have any chance of using them ever again!
Losing your entire repository of eLearning courses will be such a waste of time, money, as well as efforts. Don't you think you should salvage all you can before the real damage is done? This is why we have worked out a clear process for Flash to HTML5 conversion. And if you are busy with other training responsibilities, you can always consider outsourcing it and getting the expertise of professional eLearning designers and developers.
Here is an infographic highlighting why outsourcing Flash to HTML5 conversion is your best possible option right now.