Revisiting the Fundamentals of Flash to HTML5 Conversion of eLearning [Video]
This blog examines the relationship between HTML5, eLearning, and the factors that organizations should consider before adopting HTML5. We will also see why HTML5 is seen as Flash's successor, the purpose of Flash to HTML5 conversion, and how to go about it.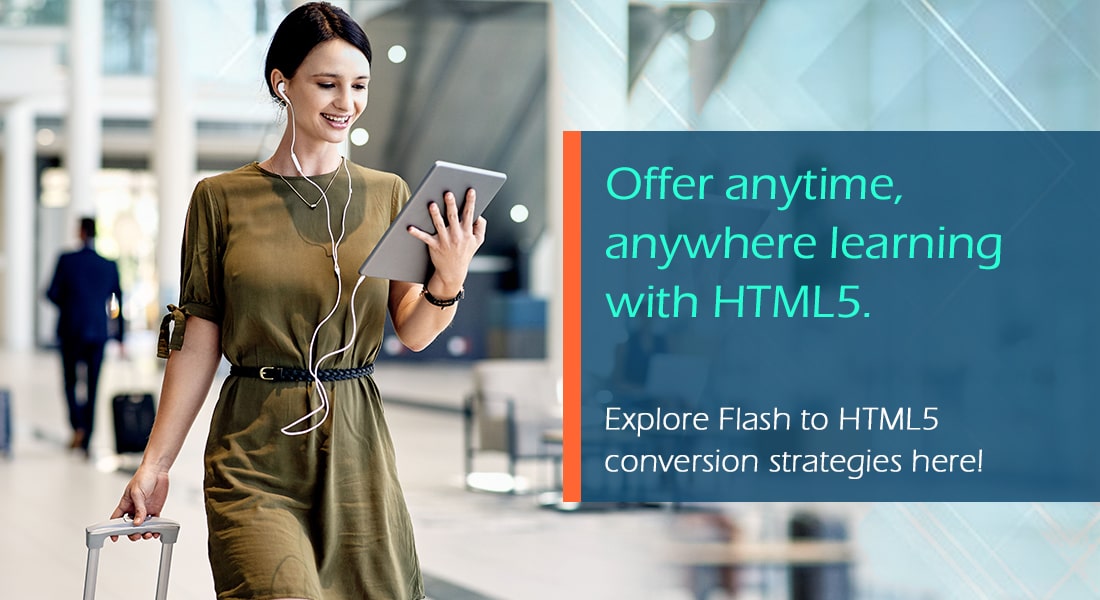 Why do we need Flash to HTML5 conversion for eLearning? As HTML5 has become the industry standard in the web and eLearning domains, many organizations are looking to roll out online courses on mobile devices – for extended reach and to meet learner preferences. Flash is not a feasible solution for mobile learning since many mobile devices and browsers do not support it. Modern learners want to access online training programs on their mobile devices, which is why HTML5 is gaining popularity.
Why HTML5?
HTML5 is open source, doesn't need plugins, and learners can access courses from any device with a compatible browser over any internet connection. HTML5 also allows the development of responsive eLearning courses that play on a variety of devices.
Aside from the formal training programs learners are expected to complete, there are additional circumstances in which learners seek online learning, including:
A desire to learn (they genuinely want to learn, but at their own pace).
On-demand learning (when they are looking for performance support or just-in-time training).
When learners in these settings have access to eLearning courses, it instantly contributes to the development of a learning culture, improves performance and thereby training ROI.
Leveraging HTML5 for eLearning
Developing New eLearning Courses
HTML5 is offered by all modern authoring tools and is the best option to design and develop highly interactive eLearning courses for your current and future training needs. Rapid eLearning leverages authoring tools to save a lot of time and offer scalability, with quality.
Converting Existing Flash and Legacy Courses
A thorough audit can help you identify Flash-based courses that are still relevant to your learners. Courses may be prioritized based on their importance (for example, compliance training, code of conduct training, or safety training) and the frequency with which they are accessed.
Convert them to HTML5 to extend their reach and also avail the opportunity to:
Update content, visuals, branding, interactivities, engagement
Repurpose as microlearning
Refurbishing legacy courses is an easy, effective approach to increase the ROI from training. And the good news is, you can pick from 4 Flash to HTML5 conversion strategies – that meet your unique requirements. Here's a sneak peek of the 4 strategies.
Wrapping Up!
Now that you understand the need of converting legacy courses to HTML5, if you want to know more, download our eBook. Leverage your Flash courses for improved training outcomes.