Differences Between Adobe Flash and dominKnow for eLearning Development [Infographic]
What is dominKnow? How does it help eLearning development? How does it compare with Adobe Flash? All this and more explored in the post.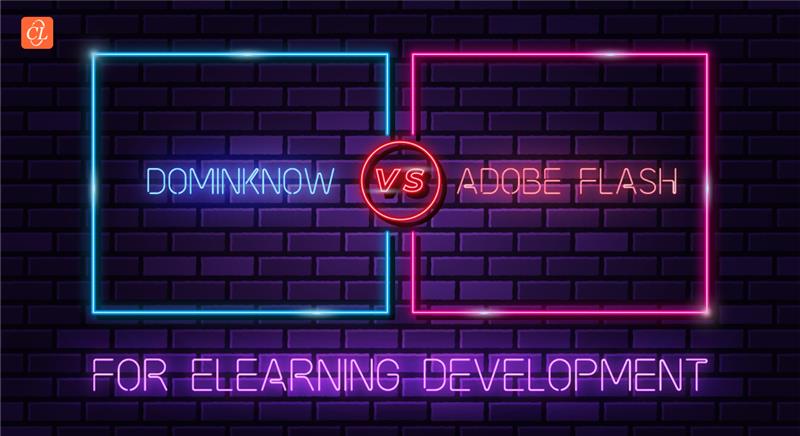 Before the advent of modern authoring tools, eLearning courses were developed using Adobe Flash. However, given their capabilities, authoring tools can now develop eLearning courses quickly and efficiently, saving both time and money. donimKnow is an emerging rapid authoring tool and this blog delves into its features, and explores how it fares against Adobe Flash.
Features of Adobe Flash
Adobe Flash is a fantastic software for developing extremely interactive eLearning courses. It helped developers include intricate animations, complicated interactivities such as drag and drop, simulations, and role plays, among other things. However, Adobe Flash couldn't publish eLearning courses. That was possible by using HTML and Javascript.
However, with authoring tools, there is no need to put in so much effort. They have in-built Publish settings – all we have to do is select the Publish option and pick the custom option that meets our requirents.
Features of dominKnow
dominKnow is a powerful eLearning authoring tool that is cloud-based. The dominKnow platform includes Claro, Flow, and Capture – each with its own set of features. When you need to develop eLearning courses with fixed layouts that are HTML5-based and scalable on mobile devices, dominKnow Claro is the way to go.
You can use dominKnow to manage your elearning assets as well as to create, share, reuse, and collaborate. Grid boxes available in dominKnow help you create eLearning courses, using rows and columns. This robust authoring tool comes with a slew of features and benefits. One of its important features is the capacity to create enjoyable and engaging interactivities for your learners.
Now that you know what Adobe Flash an domiKnow are, let's look at the primary differences between them in this infographic.



It's a Wrap
dominKnow, and other modern authoring tools make it quick and easy to develop eLearning courses that are learner-centric and memorable. Rapid eLearning powered by authoring tools is the way ahead. Explore rapid eLearning and it's role in corporate training here!
This blog is co-authored by Pratyusha Marreddy.