Is Converting Classroom Training To E-courses A Big Hassle?
Converting classroom training to e-courses just made easy.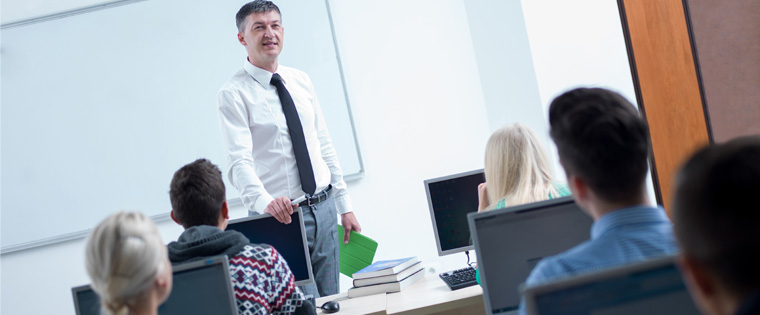 Classroom training is an excellent method to train employees for practical skills. However, due to the changing work habits of a dynamic generation and the emergence of Internet-driven mobile devices, the training needs of organizations have also changed. In addition to this, organizations have embraced globalization due to various monetary and productivity reasons, making the world a much smaller and more connected place. This means that classroom training alone may not be the right solution to train your workforce.
To overcome such challenges, organizations are increasingly adapting e-learning courses into their learning programs. But what happens to old classroom courses when the digital world takes over? The answer is simple – you convert the classroom course into an e-course. Existing classroom course content might still be relevant and can be used to impart knowledge to your employees. Plus, countless hours have already been spent in creating classroom courses; if you convert them into a digital medium, you can continue to make the most out of that investment.
Converting classroom training to e-courses can prove to be a big hassle as the digital medium uses very different methods to convey knowledge as compared to classrooms. On top of that, the digital medium won't have a teacher who can channel the information for the learners, this makes course conversion all the more difficult. But let this not be a cause for concern. Below are some tips that can make your conversion process streamlined and smooth:
Analyze Your Content
It could be that only a limited section of the instructor-led training material is available in written or digital format. Take help from a subject matter expert to make sure that you have comprehensive course material. Once this is done, ask yourself some primary questions, like, will the currently-defined ILT class transfer well to an online format? Will the audience gain just as much, if not more, from that format? Finally, consider the audience: Gender, age, education, and prior knowledge; all of this will have a say in how the e-course will turn out.
Develop a Framework
This can be viewed as forming an overall strategy as to which e-learning methods you can use to effectively impart the classroom course. Are you going to rely solely on e-learning or adapt a blended learning approach? How much multimedia, like videos, infographics or animations, are you willing to use? What are the best design practices in terms of length, interactivity, social components, and actual instruction? Developing a basic course framework on this will give you a better picture of how your e-learning course is going to look and feel at the end. Also, it gives you an actual idea of the amount of time and money you will need to invest in your conversion project.
Break the Content Into Layered information
Instead of converting the entire source information as it is to an online format, layer it into the information aligned to meet the learning outcomes and information that is just secondary. Online training formats allow you to do an effective layering of your source content, thereby reducing the seat time, but still provide learners with additional supporting information that would enrich their learning. Well-layered content allows developers to form effective strategies around portions that are of high importance.
Map Classroom activities Into Digital Interactivities
Replicating the interactivity of a physical classroom in a digital world can come off as a big challenge. Where can you include interactive opportunities in an e-course? Think beyond simple multiple-choice and drag-n-drop components. If you're walking the learners through a process, have them attempt the procedure as realistically as possible through a simulated game-based environment. If conceptual, have learners work through a limited-path scenario to understand different responses and reactions.
Form Assessment Strategy
A digital learning environment gives you more means of knowing how effective your course has been. You can include quick interactive tests after every section to give you an exact idea of how much your learners are actually learning. This also allows you to gauge the ability of your content to make effective behavioral changes in learners. Unlike ILT courses, you can track this user data and make necessary modifications in your courses.
Make the most of your old ILT courses by giving them a digital twist. At the end of the day, this will mean more convenience and learning for your employees.