5 Benefits of Rapid eLearning [Infographic]
When it comes to speed and efficiency, rapid eLearning offers a comprehensive solution. Check the infographic to know 5 amazing benefits of rapid eLearning.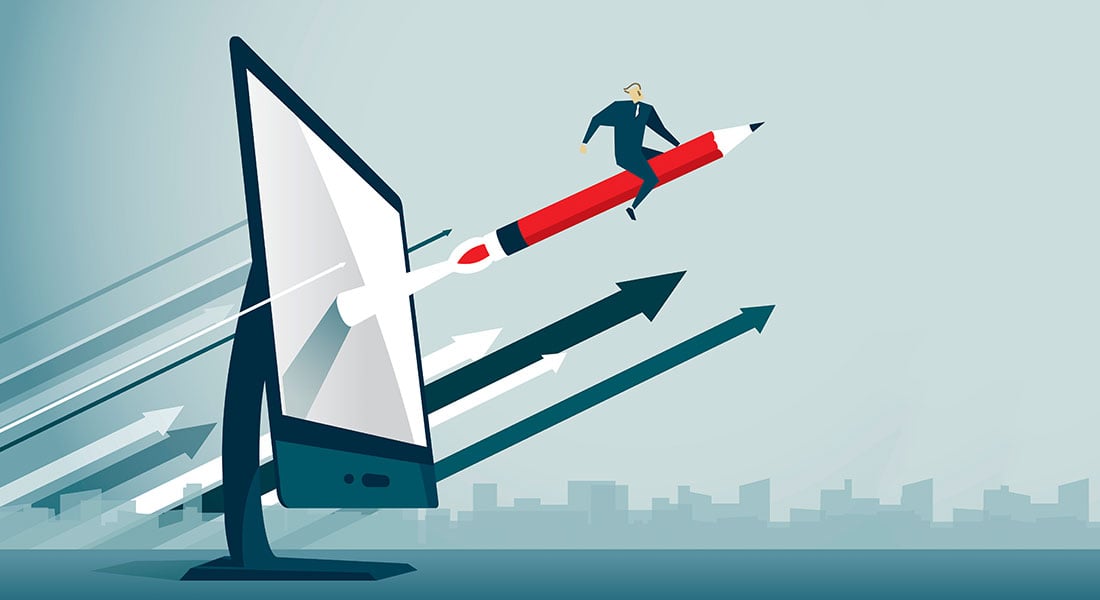 Let me ask you a question: When the business world is moving so fast, is there any point in investing in training methods that take a long design and development time? Of course not. By the time your course content is ready to be delivered, the market trends will have seen another round of change, leaving you far behind in the competitive world of corporate. To take on this challenge head-on and emerge victorious, the need for speed is the demand of the hour. And this is where rapid eLearning can help!
As the name suggests, rapid eLearning is the method to design and develop training courses quickly without compromising the quality. It enables you to bridge the gap between fast-changing business scenarios and training needs. In this blog, we'll explore the five key benefits of rapid eLearning and learn about the top five rapid eLearning authoring tools to help you create engaging and effective eLearning courses.
Are you ready? So we begin!
5 Amazing Benefits of Rapid eLearning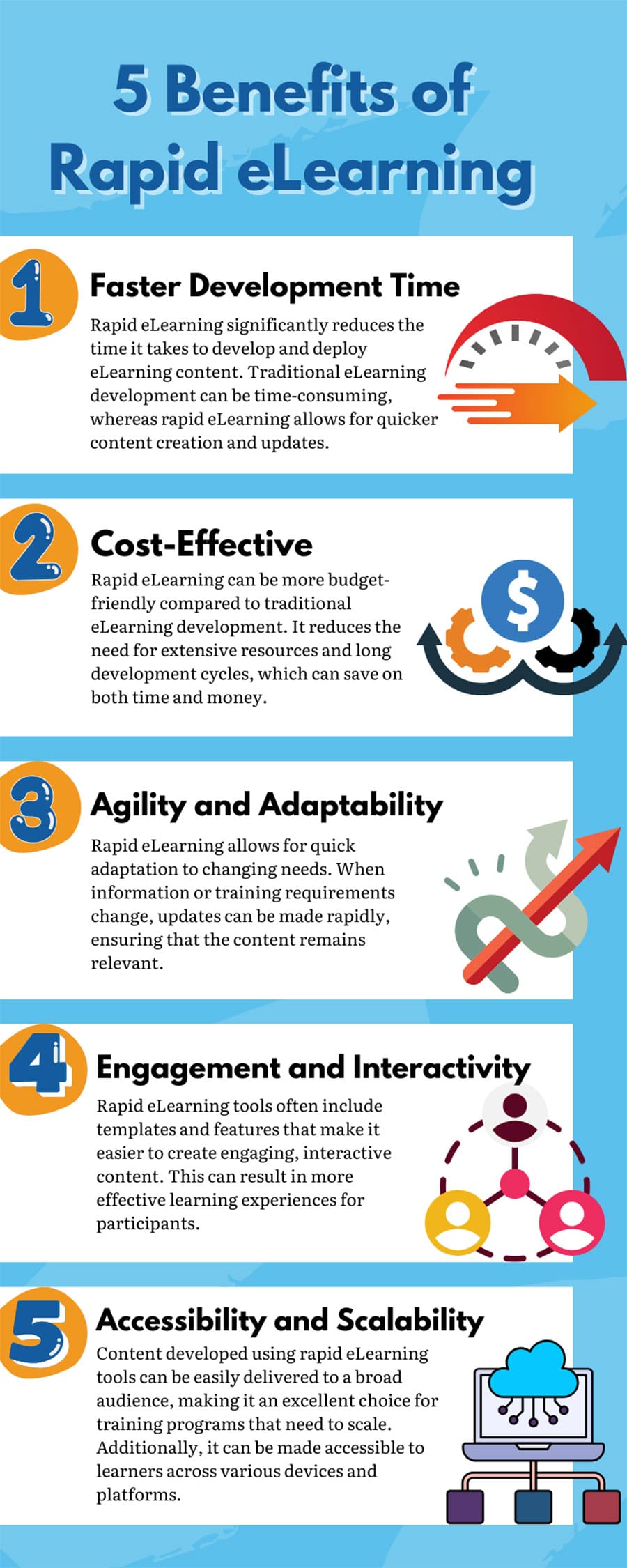 Top 5 Rapid eLearning Authoring Tools
Articulate Storyline 360
Articulate Storyline is a popular rapid eLearning authoring tool that allows you to create high-quality, interactive eLearning courses easily. It offers you a user-friendly interface with a plethora of top-notch features, such as responsive design, content library, easy collaborations, etc. It allows instructional designers, beginners or experienced, to develop engaging eLearning courses effectively.
Adobe Captivate
Adobe Captivate is another rapid eLearning authoring tool that allows you to create highly engaging and interactive training courses. It offers a host of standout features that make it a compelling choice for eLearning development. Some of the noteworthy features include hotspots, branching, and quizzes.
Moreover, Adobe Captivate pushes the boundaries of engaging eLearning with its support for virtual reality (VR). It allows the development of immersive VR eLearning experiences perfect for training in complex or hazardous tasks. On top of this, Adobe Captivate supports 3D simulation which helps learners gain hands-on experience.
iSpring Suite
iSpring is an effective rapid eLearning authoring tool with a user-friendly design. It caters to both novice and experienced eLearning developers. iSpring improves the creative process in eLearning design and development by providing a wide range of templates and assets. It helps instructional designers to craft customized eLearning courses with ease.
Moreover, the collaboration features enable various stakeholders to work on projects collectively, fostering efficiency in course development. iSpring also supports mobile learning and ensures that eLearning courses are accessible on a range of mobile devices, catering to learners on the go.
Camtasia
Camtasia is a great rapid eLearning authoring tool with premium multimedia capabilities. It is well-known for its video creation and editing features. eLearning developers can record, edit, and enhance videos for high-impact and maximum training ROI.
Camtasia allows trainers to record the screen, which is a valuable feature for creating video tutorials and walkthroughs. Complementing its recording ability, Camtasia includes an array of video editing features, like adding captions and annotations, smooth transitions, etc.
Lectora
Lectora is a powerful eLearning authoring tool that focuses on responsive design and accessibility. Its HTML5 feature is a great choice to ensure your content is accessible to all learners on any device. The responsive design element ensures courses automatically adapt to different screen sizes and enhance the learning experience. Lectora also makes it simple for instructional designers to create eLearning assessments and quizzes by offering a built-in question bank.
Parting Thoughts!
Rapid eLearning is the way to follow for speedy and effective eLearning courses. Its numerous benefits enlisted in this blog prove it to be an effective and reliable choice for organizations looking to keep their workforce up-to-date and engaged. In fact, now you even know the top 5 rapid eLearning authoring tools to bring your rapid eLearning training initiatives to life. So why keep waiting? Step into the world of rapid eLearning and start leveraging the benefits today! To make sure you select the right authoring tool, give our eLearning authoring tool finder a try. Check it out below!