Ancient Vs Modern LMSs : A Comparison
This blog shares tips on using the latest technology to train your team.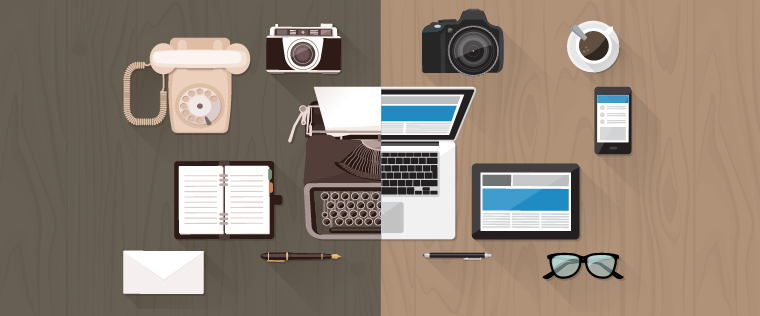 Now-a-days, almost all organizations have an online training portal or Learning Management System (LMS) to manage their online training programs. It's true that technology-enabled learning will largely impact the performance of an individual. Learning technology is growing so fast that now almost everything is becoming possible. Now, there is no separate concept of classroom training and eLearning. All sorts of training programs, such as eLearning, classroom, virtual, collaborative, or social can be merged into one platform and served as blended learning.
It is essential to secure thorough knowledge about the trends in learning and training technologies and then evaluate them based on your training needs. If all aspects match your requirement, it is wise to implement in your organization.
In this blog, I'm going to share my views on how the Learning Management System has been transformed, over the years, by the growth in technology. Let's have a look at the changes so that you can evaluate your existing LMS to list out the features that are missing. You can either upgrade your existing LMS and implement all the latest features or choose a new LMS with all the features you need.
| | |
| --- | --- |
| Ancient LMS | Modern LMS |
| | |
1. From administrator focus to learner focus:
Ancient LMS
Modern LMS

Earlier, LMSs were designed and developed by focusing on administration activities. Required and not frequently used features were also added on the user interface, which made it more complex.

The look and feel was mostly like a complex software application. Many clicks and complex navigation were required for every activity.

The entire focus has now shifted to the learner. Frequently used features are available on the dashboard. With just a couple of clicks, the user can complete any of his training activities.

For administrators, modern LMSs will help them manage all the training activities in simple steps. Enabling/disabling features as plug-and-play will make the LMS simple, as only the required features will be enabled.
2. From device/browser dependency to multi-device compatibility:
Ancient LMS
Modern LMS

Accessing an online training required a checklist, to ensure that the browser, operating system and additional plugins were compatible with the LMS.

It was mandatory for the learner to configure the computer/laptop according to the LMS. Due to this, a lot of technical support had to be provided.

Did not support mobile devices.

In the Modern LMS, there is no need for additional plugins and there are no limitations on devices. Modern LMSs work on all kinds of devices– Desktops, Laptops, Tablets, iPads and smartphones.

LMSs are developed considering learner devices, rather than forcing learners to use a particular operating system, browser, or a specific device.

Modern LMSs allow learners to download mobile apps for offline viewing. Training progress will then automatically sync with the LMS when the learner is connected to the Internet.
3. From forcing to motivating learners:
Ancient LMS
Modern LMS

Earlier, learners were forced to complete courses within a stipulated time. They were sent notifications and warnings to complete the training on the LMS.

Due to difficulties in accessing the LMS, learners subsequently lost interest in the course.

With the concept of Gamification, modern LMSs have attracted learners and motivated them to take the trainings.

Based on the number of courses completed, the rank on the leaderboard will increase.

Awarding badges on course completion will make learners proud as those badges will appear on the dashboard. They will be eager to add more badges, by completing the courses.
4. From complex to simple, intuitive navigation:
Ancient LMS
Modern LMS

The navigation was so complex that it required additional training to master the navigation. I remember one LMS where the LMS navigation training was included in the induction course curriculum.

Searching the LMS for courses was a tedious process.

Dashboards on modern LMSs are very intuitive. All the required activities, links, or buttons are found on the dashboard itself.

With a couple of clicks, the learner can do any activity on the LMS.

With HTML5 and other latest technologies, LMS dashboards adjust according to the screen size of the device and make navigation simple.
5. From plain tabular reports to graphical reports:
Ancient LMS
Modern LMS

In ancient LMSs, reports were generated in the tabular format and exported to Excel, like in software applications.

Though hundreds of reports were available in the LMS, only a few were useful.

Modern LMSs have transformed report generation with graphical representation. Learning analytics can be viewed on the dashboard, based on the role of the user.

In addition to graphical reports, data can be exported into Excel for further analysis.

Reports can be requested or enabled, based on the availability.
6. From standalone to integrated LMSs:
Ancient LMS
Modern LMS

Accessing the LMS required a URL link from the internal portal or website.

Multiple standalone systems caused a lot of manual work and inaccuracies in user accounts. LMS also had missing accounts or accounts which were available in the LMS, but unavailable in other applications.

Multiple logins were required to access the software applications.

With the advantages of APIs (Application Programming Interface) we can now integrate multiple applications with the LMS.

The single-sign-on feature helps learners switch to any application, without entering the login credentials.

User accounts are automatically synced between applications, to maintain accurate information about learners.
7. From limited to dynamic features:
| | |
| --- | --- |
| Ancient LMS | Modern LMS |
| Earlier, LMSs has limited and standard features. All features were interlinked. After each upgrade, it became a complex procedure to add or remove features from the LMS. | Now, at the click of a button, the learner can activate or disable features, without any assistance from programmers. Using the LMS' configuration settings, features can be enabled/disabled, by the administrator. |
8. From individual learning to social or collaborative learning:
Ancient LMS
Modern LMS

Initially, there was no scope for collaborative learning. The learner had to login to the LMS to take the eLearning or register for classroom training programs. There was no interaction between instructors or other learners, even though LMSs had the ability to provide collaborative learning through forums, blogs, or chat.

Now, with the increase of social media in the modern generation, learners want more collaborative learning than legacy training models.

Modern LMSs have improved collaborative tools, making them more intuitive, integrating the LMS with popular social media tools.
9. From on-premise installation to cloud-based setup:
| | |
| --- | --- |
| Ancient LMS | Modern LMS |
| Owing to security concerns, most of the LMSs were installed in domestic data-centers, allowing access only to the internal team. As learning and training became global, LMSs were installed on online servers, which were either shared or dedicated. | Now-a-days, most organizations seek cloud hosting for LMSs, for its cost-effective nature and many benefits. The only disadvantage is that, maintenance and support costs are high. |
It's time you reevaluate your existing LMS. Discuss with your LMS vendor and make sure you upgrade your LMS to have advanced features or look for an alternative LMS. Don't worry about shifting the LMS, you can easily migrate training data to any new LMS. Do share your views.