7 Amazing eLearning Templates of Adobe Captivate 2019 that Reduce Development Effort
If you are looking to save time on your eLearning development, Adobe Captivate 2019 has several visually rich, easy-to-use templates that can be used in eLearning. Explore a few of the templates offered by Adobe Captivate in this blog.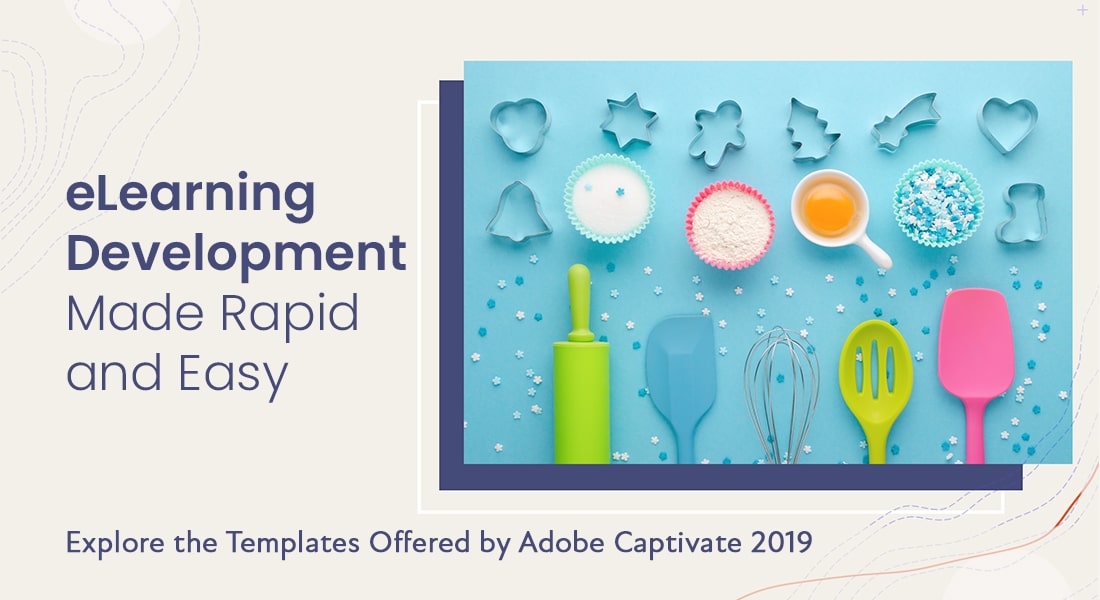 Adobe Captivate 2019 has several visually rich, easy-to-use templates that can be used in eLearning courses. It saves a lot of time on your eLearning development. They not only cut down the development effort, but also enhance the look of your course.
Adobe Captivate 2019 is one of the best eLearning authoring tools available today. It uses a combination of video, audio, text, and interactive elements to create high-quality, immersive eLearning courses.
Here are some amazing eLearning templates in Adobe Captivate 2019 that you can use for developing rapid eLearning courses. The best part is that you can do all this with just a few clicks.
A Closer Look at the Templates of Adobe Captivate 2019
1. Intro Screen
The first screen should reflect the personality of your course. It should grab the attention of your learners right at the start. Adobe Captivate 2019 offers rich customizable templates for your project, making it easy for you to do all that.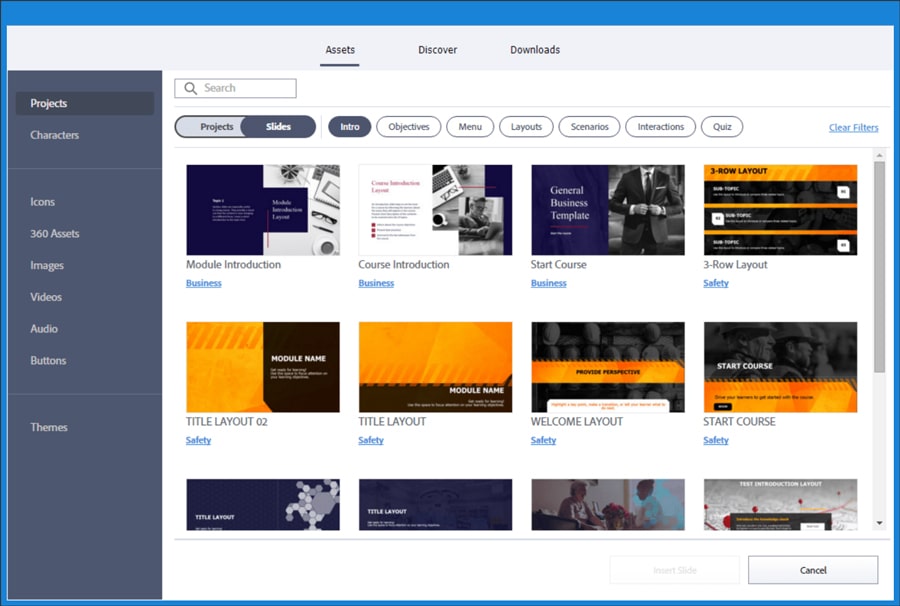 Templates Offered by Adobe Captivate
Intro Screen
Learning Objectives
Menu
Layouts
Scenarios
Interactions
Quizzes
2. Learning Objectives
Learning objectives define what you want your learners to know or be able to do when they have completed the course. The learning objectives should be specific and measurable. They are usually stated in terms of the desired outcomes or the intended performance.
Adobe Captivate 2019 has many templates to present learning objectives. You can design them just the way you want.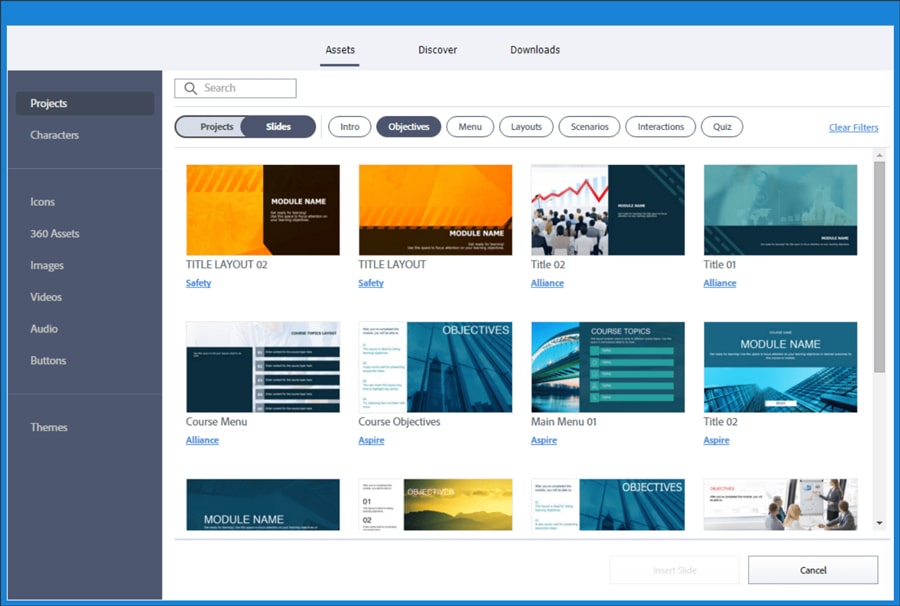 3. Course Menu
The menu allows learners to access any screen in the course quickly; they need not spend time in searching for it. Additionally, the Menu makes it easier for learners to make choices about the slides they want to visit – without any restrictions.
Adobe Captivate 2019 has a wide range of Menu templates to choose from. These templates provide different menu layouts, and each layout includes built-in triggers, which are easy to use and require no additional programming.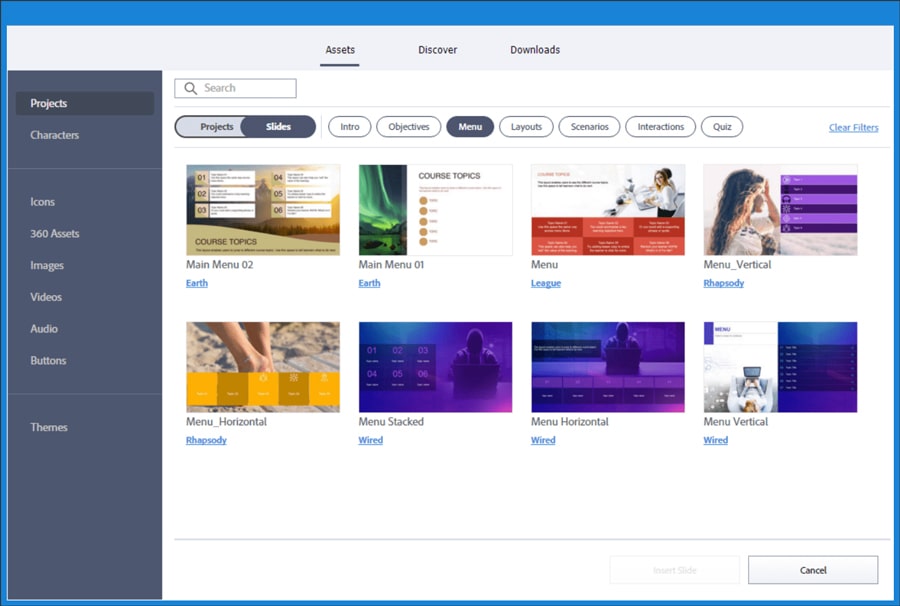 4. Screen Layouts
Designing and creating a slide takes a lot of effort – creating a layout, adding shapes and graphics, aligning text, incorporating videos, scenarios, and many more. All these tasks are difficult to do at once. eLearning templates eliminate much of these efforts.
A well-placed content layout can help keep your course uniform and consistent. There are predefined layouts that you can use or create using Adobe Captivate 2019. Adobe Captivate 2019 has many built-in designs for content and graphic layout slides for you to pick from.
Here are some of the built-in design templates – Grids with Text, Text and Icons, Text and Image, Summary Layout, Contact Layout, video layouts, and Slide show with arrows.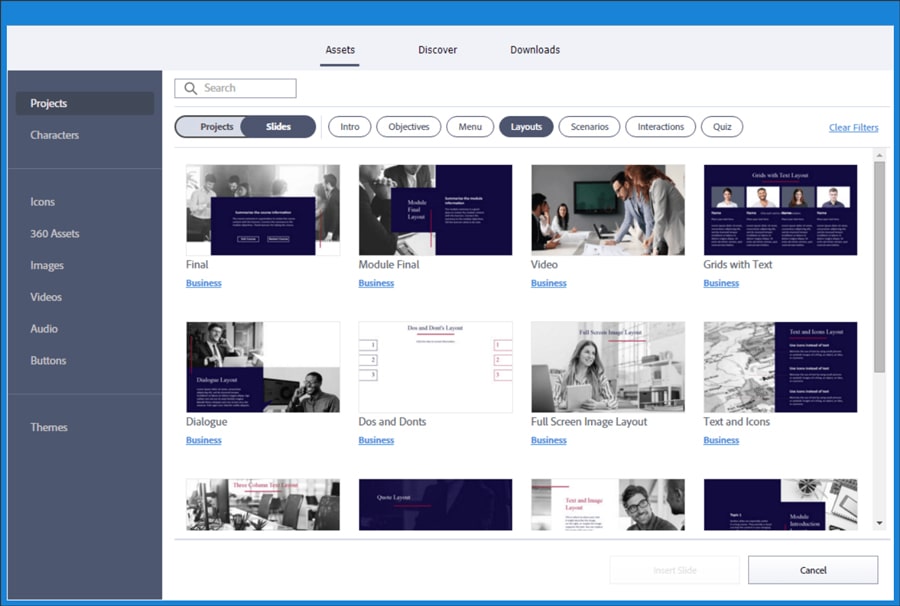 5. Scenarios
A scenario is a type of story, a series of events that learners are placed in to experience and interact with through the course. It presents challenges much like the ones learners will face in real-life situations. Scenarios are often written like a story, and learners must make decisions about the actions they need to take as they progress through the scenario.
Scenarios allow the learner to practice skills, apply knowledge, and make decisions. With Adobe Captivate 2019 you can create realistic scenarios using in-built templates and objects. This is great for creating personalized learning experiences that are relevant and engaging for your learner.
The templates include Conversational Scenarios, Dialogues and Scenarios, Carousel slides, Choose a Character, Scenario Introduction, and more. Each template is functional right you don't have to add triggers to them.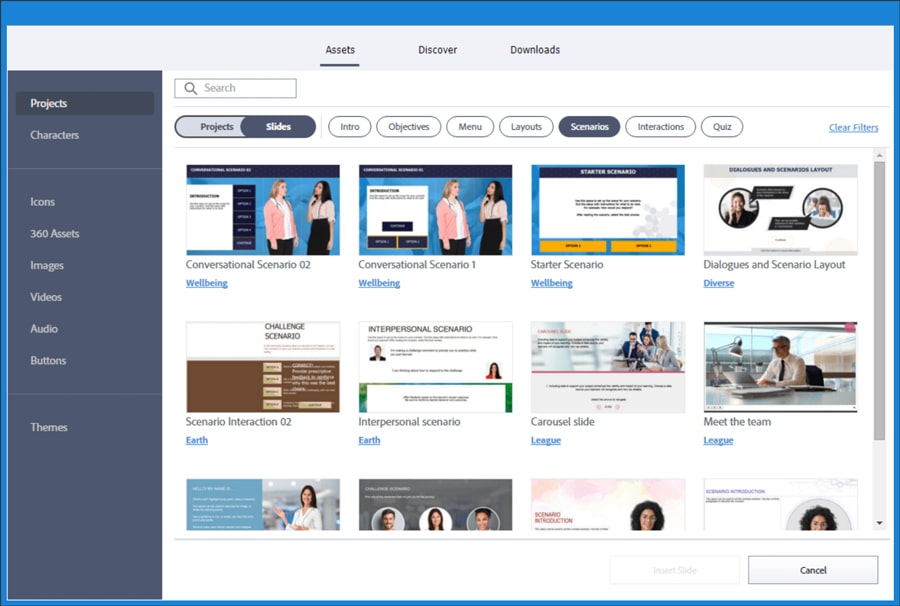 6. Interactions
In today's world, people are constantly being bombarded with information of all kinds. And your learners are no exception. To keep them from being distracted and help them absorb and retain what they learn, learners must interact with the content. This is where interactive elements come in, making learners shift from the role of a passive observer to an active participant, and engage with the content.
Adobe Captivate 2019 creates interactive experiences for your learners easily. It's very simple – just choose from a selection of predefined templates and copy and paste the text into the template.
Some of the templates are Drag and Drop Sorting, Drag and Drop Matching, Word and Phrase Buttons, Process Stages, Glossary, Hotspot, Tabs Click to Reveal, Process Flow, etc. Each template contains custom-designed objects that can be easily edited or removed.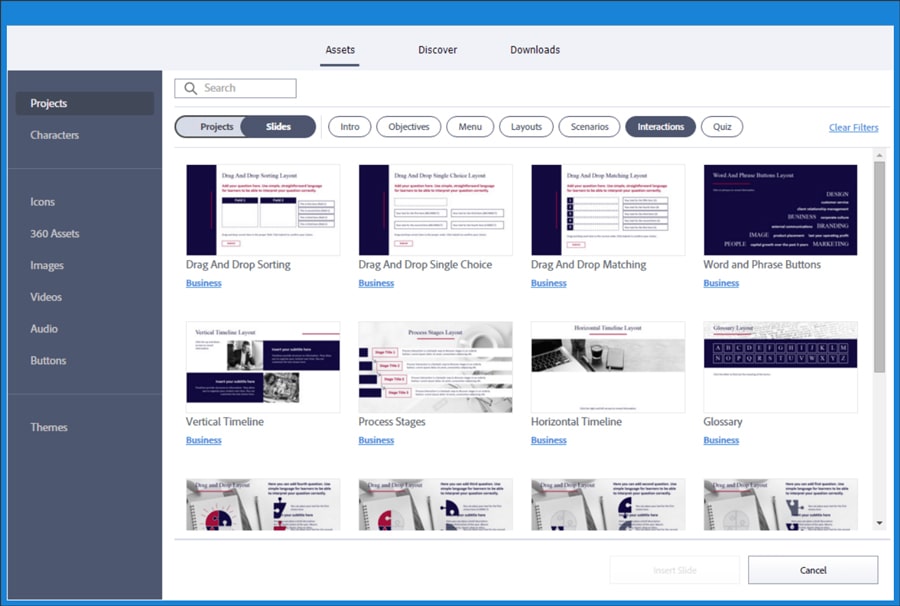 7. Quizzes
Quizzes are tools that help you assess learners' knowledge on a particular subject and usually come in either multiple-choice or True/False format. Quizzes in eLearning courses measure whether learners have achieved the intended learning outcomes and also offer them a chance to evaluate their knowledge.
Adobe Captivate 2019 has in-built templates for a wide range of question types that can be used for both formative and summative assessments. It allows assessing learners' retention through different question types such as multiple-choice, matching, drag and drop, etc.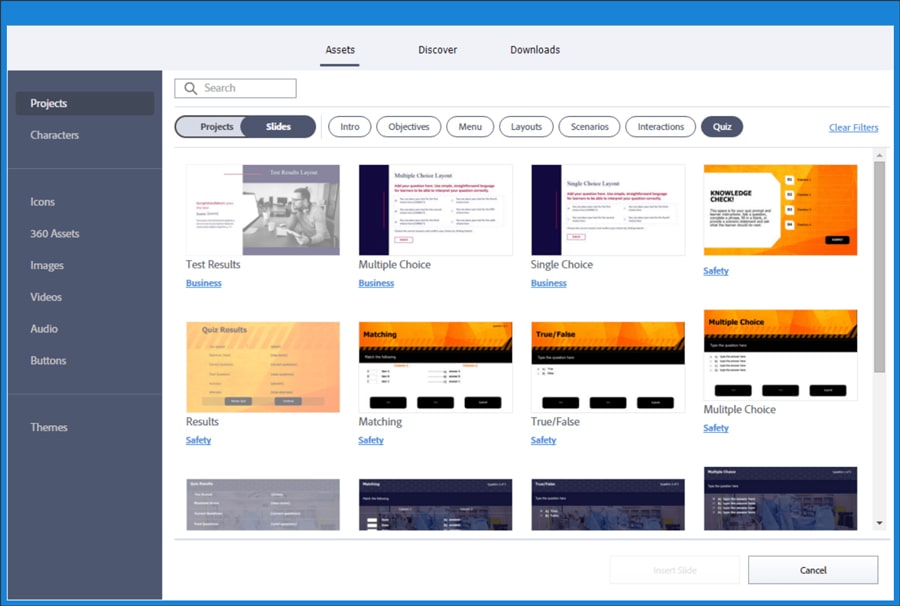 Parting Thoughts
These eLearning templates in Adobe Captivate 2019 are very easy-to-use. You can import these templates into any existing project or create a new project based on the template itself and start creating your courses instantly. Want to create rich and interactive eLearning courses faster? No problem, and no extra effort needed on your part!
For more insights on using authoring tools for rapid eLearning development, explore this knowledge hub.