VILT vs Webinar — Who's the Winner and Why?
Are webinars and VILT the same? Well, the answer is NO! Explore why a webinar isn't the same as VILT and four reasons why VILT outperforms webinars.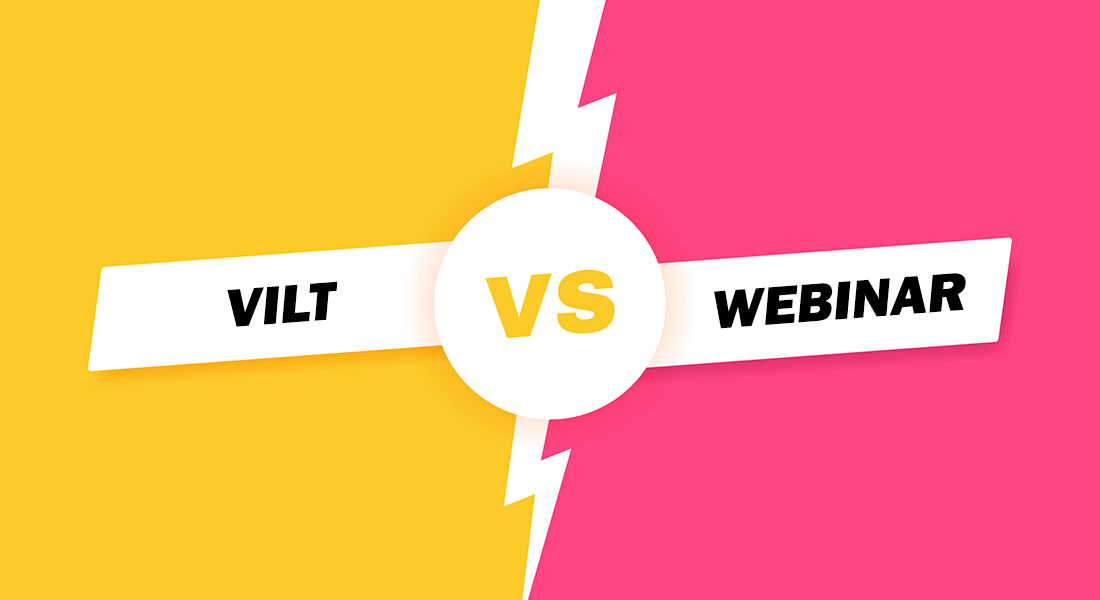 Movies or shopping, food from our favorite joint, or daily essentials, we prefer everything online. And why not if that saves time and effort? Exactly! Things are similar when it comes to corporate training. Gone are the days of attending long training sessions in a brick-and-mortar setup. The world is going virtual and online training is the new norm for corporate learning and development. Among all the other formats that come under the umbrella of online training, virtual instructor-led training (VILT) has been one of the most popular formats. Wait! Are you picturizing a webinar? Hold on! Here's the catch. Read on to find out how VILT is different from a webinar and what makes it stand out.
VILT or Webinar — What's Right for Your Corporate Training?
Here are 4 Reasons to say yes to VILT as it:
Offers a greater degree of interaction and drives learner engagement
Promotes social and collaborative learning
Encourages learner-centricity and boosts immersive learning experiences
Offers real-time feedback
How is VILT Different from a Webinar?
VILT is often mistaken for a webinar or a classroom training session via video conferencing. However, VILTs are much different from webinars. The basic difference is the way in which the information flows from the trainers to the learners. Webinars are a one-way flow of information without much scope for the learners to engage in the discussion. Although the learners are allowed to ask questions at the end of the session through the chat forum or participate in quick polls, there's limited audience interaction.
On the other hand, VILT offers continuous interaction between the trainer and the learners and provides them with ample opportunities to participate in the discussion. VILT offers a collaborative learning environment with the feel of a real classroom and learners get the opportunities to interact with their trainer and peer learners throughout the session. This instills a sense of belonging among learners.
This is just the tip of the iceberg. There's much that goes into a virtual instructor-led training session. Let's see why you should choose VILT over webinars for corporate training.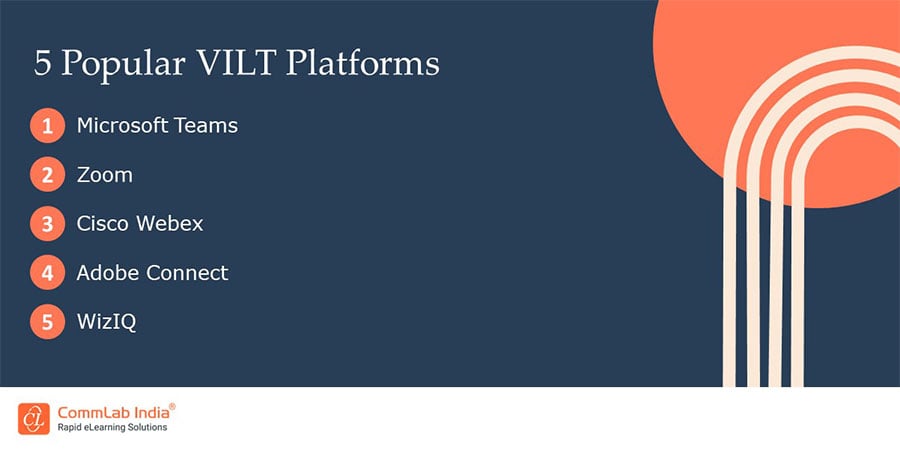 Why VILT Outperforms Webinars — Top 4 Reasons
VILT is becoming a favorite for imparting training in many organizations. And for good reasons. Let's see why it is garnering all the attention from L&D pros.
1. VILT Offers a Greater Degree of Interaction and Drives Learner Engagement
This is what separates VILT from webinars, as the biggest benefit VILT offers is learners' active participation and involvement. This training format facilitates an environment conducive to learning as it keeps the essence of a real classroom intact. In contrast to the webinars where the trainer's major focus is to disseminate maximum information to the learners within the set timelines, VILT's focus is on driving engagement through active learner participation for improved learning outcomes.
Unlike webinars, where the learners are passive consumers of the content, VILT encourages active participation. Icebreakers at the beginning of the sessions and frequent pulse checks through polls, quizzes, and games keep the learners active throughout the VILT session. Leaners can raise their hands or unmute themselves, post their questions, or share their thoughts at any point during the session. Not only do they learn from the trainer during the session but also from the thoughts shared by their peers. This promotes a healthy learning environment and learners get to reap the benefits of the real classroom setup in a virtual environment.
Watch this video for tips to maximize engagement in your VILT sessions.
2. VILT Promotes Social and Collaborative Learning
Social and collaborative learning are the most effective ways of learning as they involve learning by doing and interacting with others. They not only drive learner engagement but also hone critical thinking abilities and instill healthy competition among learners that motivates them to excel. VILT does just that. It offers a platform for learners to interact with the instructors and peer learners and promotes a sense of belonging. Webinars, on the other hand, do not offer much scope of interaction and limit knowledge sharing to the trainers.
VILT supports collaboration by offering features like live chat forums, breakout rooms, interactive whiteboards, games, polls, and Q&A sessions. Breakout rooms help learners divide into small groups and participate in group activities to solve real work-life problems. They can share their thoughts and opinions on the various points of discussion during the session using the interactive whiteboards.
3. VILT Encourages Learner-Centricity and Boosts Immersive Learning Experiences
Webinars usually have a larger audience that VILT sessions. And hence it's difficult to offer personalized learning experiences through webinars. However, VILT sessions target a lesser audience as compared to webinars and thereby ensure personalized learning experiences.
The content for VILT sessions is customized as per the learning needs, multiple learning styles, existing skill gaps, technological competencies, and past training experiences of the learners. This makes VILT a learner-centric training format that ensures immersive learning experiences. Not only this, the trainer in a VILT session can tailor the sessions according to the learners' responses. They can vary the delivery of the content based on learner participation. Learners get access to the session recordings, and they are also offered post-training support in the form of short microlearning lessons (infographics, podcasts, and short videos) to reinforce the crucial concepts covered in the main training session. This helps in better retention and boosts employee performance and productivity.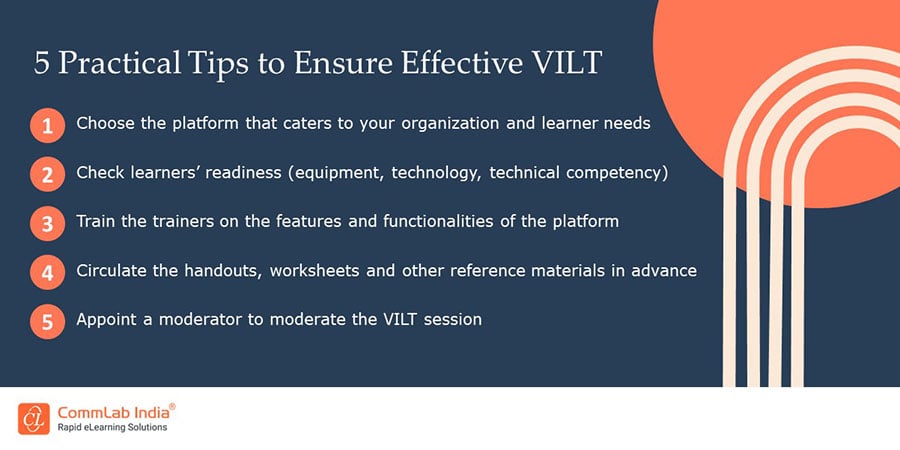 4. VILT Offers Real-Time Feedback
One of the solid reasons to choose VILT over webinars is that VILT sessions offer the scope of instant feedback. Learners in a virtual classroom can share their thoughts, ideas, and opinions on a common platform. They can use the 'raise hand' option or unmute themselves to ask questions related to the learning point covered and get instant clarification. The trainer can assess the learners' progress throughout the session and decide upon their course of action depending on the learners' responses and participation.
In a webinar, learners need to wait till the end of the session to raise their concerns and can only get answers over a chat-styled Q&A. Modern VILT platforms like Zoom and Microsoft Teams offer features like clap and other emoticons to express learners' feelings and facilitate personal level interactions between learners and trainers.
Parting Thoughts!
With work-from-home or remote work models becoming the new norm, virtual instructor-led training is gaining popularity as it maintains the human touch of conventional classroom training while offering other benefits of virtual learning. It is important to choose the right platform to deliver the VILT sessions, ensure a sound technological infrastructure for seamless delivery and check your learners' and trainer's readiness for a successful VILT session.
This is not all. If you are planning to make VILT a part of your corporate training strategy, then here's a 7-point checklist for you before the launch. Follow this checklist to launch a well-structured, comprehensive, and effective VILT program. Get a sneak peek at it now!